8/10/18news article
Dayton Children's family resource connection honored with patient engagement award
Dayton Children's family resource connection received the Sherman Citation for Excellence in Pediatric Patient Engagement from Taylor Healthcare and the IHI/NPSF Lucian Leape Institute for the creation of the Family Resource Connection. Mark O'Leary, president of Taylor Healthcare, presented the award to Jessica Saunders, director of the office of community health and engagement programs at Dayton Children's.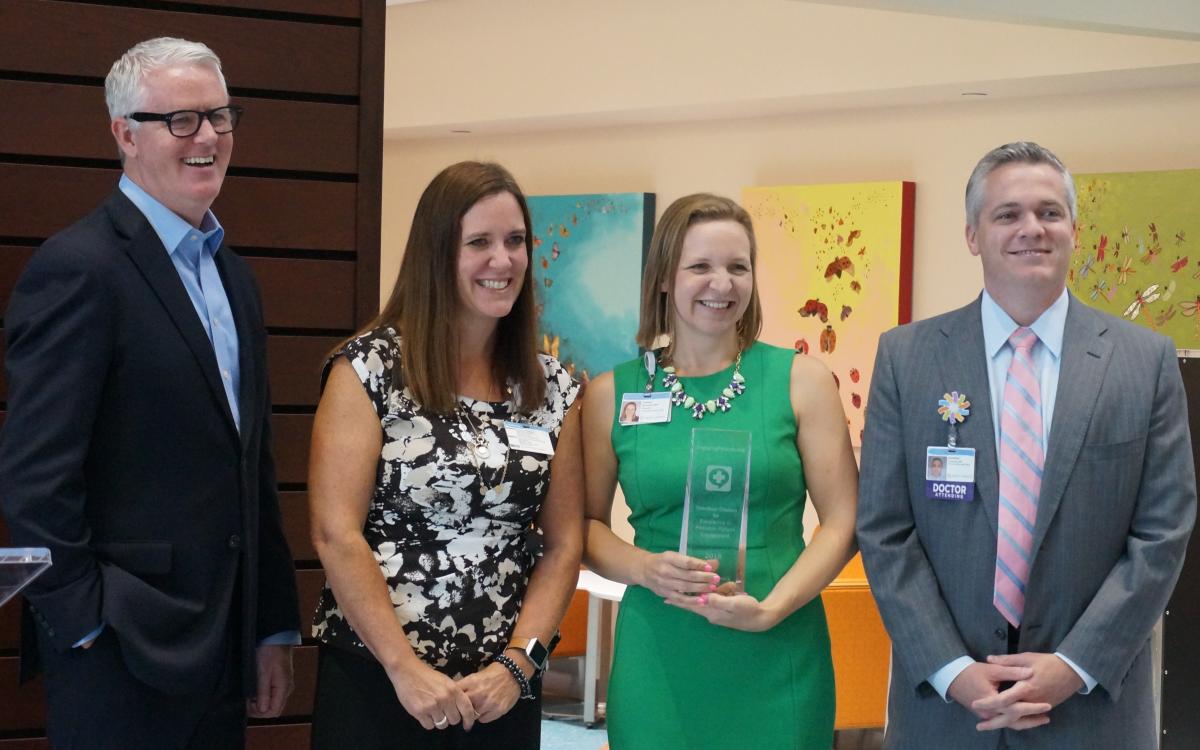 The family resource connection is an innovative and cost-effective program that matches families identified through their primary care clinic with resources to address social needs including food scarcity, unsafe housing and utility bills. This allows a medical visit to serve as an opportunity to bridge gaps in other areas of life that may also impact health.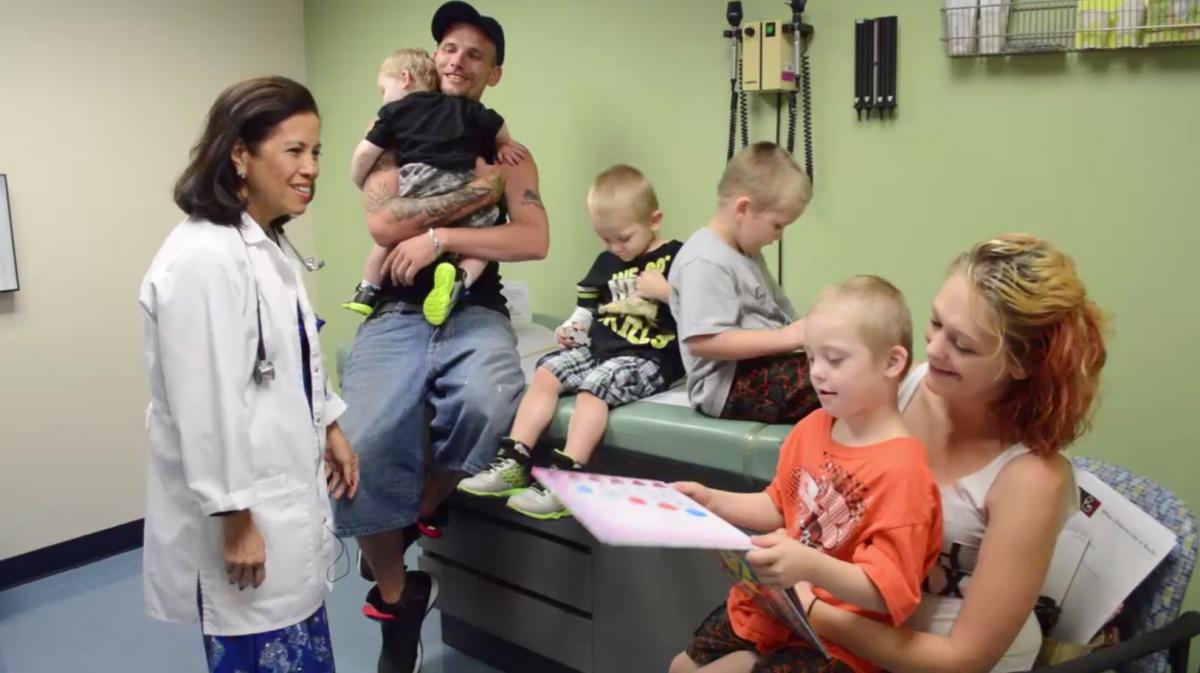 "As healthcare evolves, we need to recognize the non-medical causes of poor health, such as access to food, job skills and training, healthy housing and poverty," said Saunders. "If we can ensure families have access to the appropriate community resources, the likelihood that they will need the health care system for preventable illness and injury will decrease. The open and trusting relationship between a physician and patient offers the unique opportunity to ask these often difficult questions about social needs."
Once a need is identified, the family is referred to a student advocate in the center who connects that family to resources. The advocates follow up with the family every seven to 10 days. The program already has screened 3,000 families for social needs and engaged more than 1,800 patient families resulting in nearly 4,000 referrals and almost 700 documented resource connections.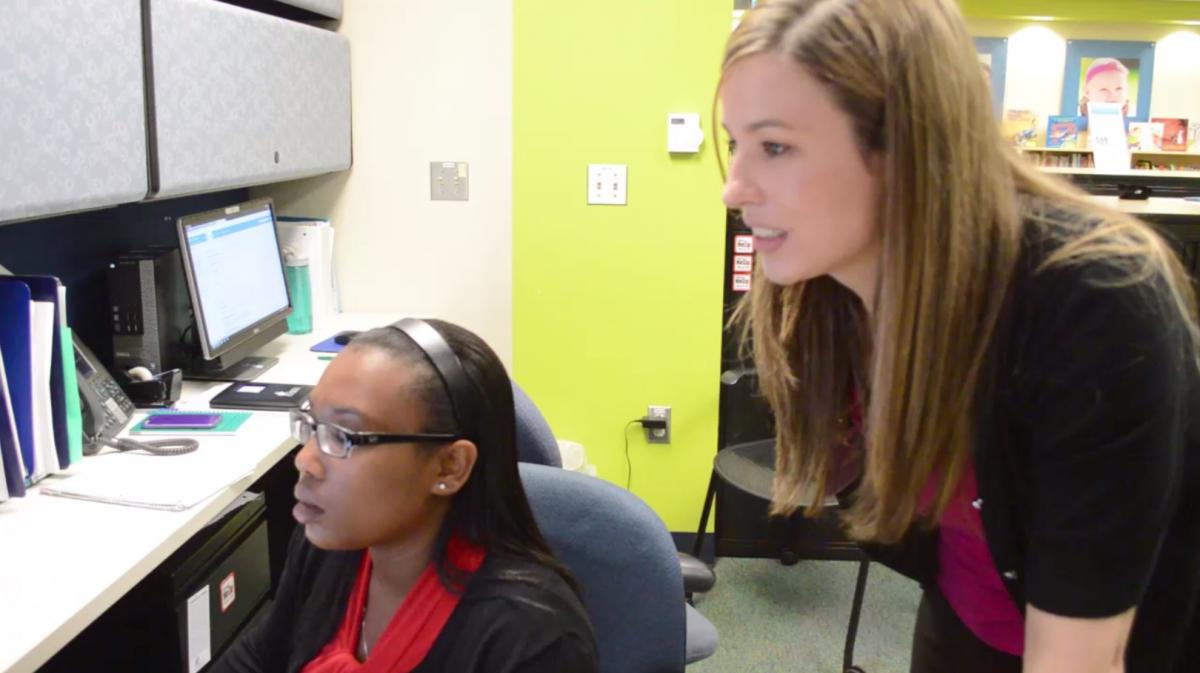 "This year's honorees demonstrate that engaging patients and families in care can have significant impact on outcomes," said O'Leary. "These programs ticked all the boxes for our judges: addressing critical issues, tremendous patient and family engagement and proven results. Their proactive approach led to concrete changes that improved patient care."
Judges' comments included:
"Wholistic view of patients—focus on health and health care in a respectful manner.  Resources provided to assist in other aspects needed to improve health beyond health care. Program incorporated into existing structures. Significant improvements: patients saw improvement; advocates saw improvement: inspirational in how the problems were addressed."
"Engaging families by listening to them and understanding needs outside of clinical ones, that might affect their outcomes/successes."
"This ticks all the boxes. Innovative, important, high impact, replicable, patient and family involvement at every level, cost-effective, well-articulated."
"Unbelievable! Exceptional! Educational for providers and recipients of services. A "Feel good!" and "Boots on the ground in action!" story."
Established in 2014 by EngagingPatients.org in partnership with Taylor Healthcare and the IHI/National Patient Safety Foundation Lucian Leape Institute, the Sherman Awards recognize innovative work that has resulted in better, safer care and improved outcomes by engaging patients and families in their care. This year, the Sherman Citation for Excellence in Pediatric Patient Engagement was created to recognize the remarkable work of children's hospitals in patient and family engagement.
Programs and projects are judged on the degree to which patient and families are involved in project design and implementation; measurable results; sustainability; and the ability to replicate the project.