5/2/17news article
Welcome to Dayton Children's new virtual front door!
New website launches with mobile responsive design with expanded features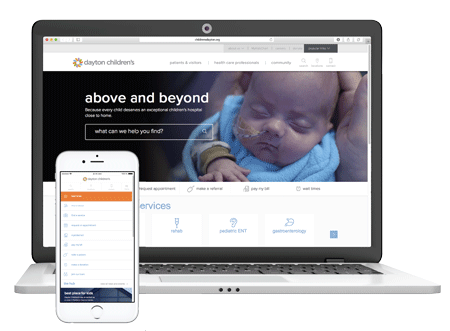 Dayton Children's launches a new website that is mobile responsive, features a new look and upgraded navigation, as well as refreshed content and expanded features.
While the physical doors welcome 300,000 children every year, Dayton Children's website hosts 700,000 visits with more than a million views!  It's the first interaction many families have with Dayton Children's and the spot where many of them go for health and safety information for their children.  This new design makes it even easier for parents to find what they need and stay informed on news impacting children's health and wellness.
"At Dayton Children's we know that a good patient experience often begins long before a family ever sets foot inside our doors," says Deborah A. Feldman, president and CEO. "By providing a website that is designed well, easy to use and full of relevant information, we can make sure their virtual experience is as great as each actual visit will be!"
"This is just one more way that we are transforming care for our children," says Kelly Kavanaugh, vice president for marketing and strategic planning.  "Millennials are our newest moms and dads – and they have high expectations for what they want to find online at their fingertips on their phone.  This new website is designed to give them that – and more!"
What's new on the website?
Throughout the process of building a new website, every page of content was edited to make sure it had the most up-to-date content written in a way that makes sense for the intended audience. Some of the new features on the site include:
Mobile responsive: With more than 60 percent of web traffic for Dayton Children's coming from a mobile device, the website needed to adjust depending on what device the viewer is using.  This was a feature the previous website did not have.  Now whether visiting from a phone, tablet or desktop computer, families will have an optimal experience - in many ways it will almost feel "app" like!
Upgraded navigation: Families have different needs when they visit the Dayton Children's website based on where they are in their journey with the hospital – before a visit, during a visit or after a visit.  By placing popular items such as cafeteria information or billing in these specific areas we hope this will help patient families have a smoother experience as they navigate their care at Dayton Children's.
Doctor star ratings: Doctor biography pages now include star ratings and patient comments, compiled from surveys families complete after their visit. As parents research who will be caring for their child, these ratings and comments provide a transparent look at the experiences other families had at Dayton Children's with that provider.  Parents then have peace of mind knowing their child is in great hands!
Expanded service line pages: Having the right information can help ease a parent's mind about what to expect from their visit at Dayton Children's.  Every single service line was reviewed and rewritten to ensure families had the information they needed in a concise and easy to understand manner. 
The Hub: One of the biggest new features on the website is called "The Hub." The Hub is a one stop shop for all things happening at Dayton Children's. From news and press releases to events, blogs and research articles, the Hub will always be updated with the latest stories coming out of Dayton Children's. Articles from the Hub will also appear on related areas of the website. For example, if you are on a neonatal intensive care (NICU) page you will see Hub articles related to the NICU.
Fun facts about the new website:
There are more than 6000 pages on the new website.
Three people did all the writing and refreshing of all content on the site.
More than 75 subject matter experts weighed in on website content.
From request for proposals to vendors to launch, the website took 17 months.
The website was built by local brand agency Upward Interactive.