2/10/17news article
a trifecta of talent expands the gastroenterology department
From Colorado to Kentucky, Michigan to Alabama, the three newest additions to Dayton Children's gastroenterology department have experience all over the map. Each brings a unique perspective but they all share the same goal – to give kids the very best care.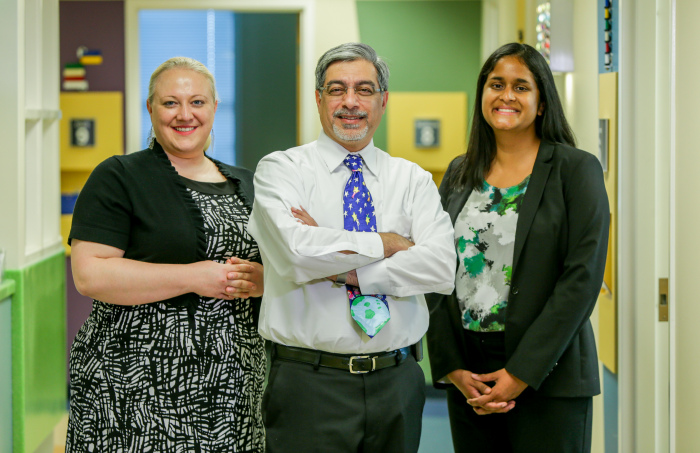 Each year, the gastroenterology department cares for nearly 13,000 children, with troubles ranging from constipation to complex chronic conditions of the esophagus, stomach and bowels. The addition of these specialists allow more children to get help for their tummy troubles faster.

Shelly Rustagi, MD, is originally from Fort Wayne, Indiana, and comes from a fellowship at the Children's Hospital of Colorado. She served her residency at Los Angeles County + University of Southern California Medical Center and got her medical and bachelor's degrees at the University of Missouri. Dr. Rustagi is particularly interested in caring for children with celiac disease and eosinophilic esophagitis, in which the esophagus becomes inflamed due to allergens. She also has special interests in resident education. Dr. Rustagi loves to travel – she's been to four continents already - and loves to swap travel tales!

Kathryn Williams, DO, comes from a fellowship at C.S. Mott Children's Hospital in Michigan and completed medical school at the University of Pikeville - Kentucky College of Osteopathic Medicine. Originally from just down the road in Hamilton, she served her residency at Dayton Children's so it's a pleasure to welcome her back! Dr. Williams is particularly interested in caring for children with inflammatory bowel disease, as well as in resident education. She is also a big movie buff – bet she can put you to shame on Star Trek questions!
Shehzad Saeed, MD, comes from Cincinnati Children's and is nationally known for his work in inflammatory bowel disease. In his first week, he saw three patients from out of state and continues to add states to the list like he's playing the license plate game on a road trip with mom and dad!
With more than 25 years of experience, positions in Alabama and South Carolina and training at prestigious programs in Chicago, Boston and Utah, Dr. Saeed is also serving as the Chief Medical Value-Based Care Officer. In this role, he is overseeing the formation and implementation of a clinically integrated network – Dayton Children's Health Partners. This collaboration with community physicians will strengthen care coordination, improve communication and save costs. He's also a dedicated Harry Potter fan so have your wand at the ready!
This trio joins the board-certified pediatric gastroenterologists and clinical care team at Dayton Children's who provide expert multidisciplinary care for infants, children and adolescents with diseases of the gastrointestinal tract. The physicians' extensive training and experience allows them to diagnose and treat all gastrointestinal conditions, from common concerns such as constipation to complex diseases, such as Crohn's or celiac disease. They develop personalized care plans to address each child's unique needs, collaborating as needed with other pediatric specialists at Dayton Children's. The team also participates in research and quality improvement projectsin order to better understand and advance the care of diseases of the gastrointestinal tract.
For more information, contact:
Stacy Porter
Public relations manager
Phone: 937-641-3666
newsroom@childrensdayton.org