7/30/15news article
taking safety to new heights
Dayton Fire Department uses Danis construction crane at Dayton Children's for a high-level rescue drill

It isn't always easy to save endangered lives on the ground, much less 200 feet in the air. That's why Dayton Children's, Danis Construction and the Dayton Fire Department are conducting a three-day, high-level rescue training exercise. Crews will practice scaling the crane that looms over the middle of Dayton Children's campus to rescue the crane operator. This will allow all teams to be prepared to provide the most efficient and effective solution for getting the crane operator, or any other worker, out of a dangerous situation.
In this simulation, Dayton Fire and Rescue climb the crane tower with medical equipment, ropes and other pulleys to lift a rescue basket and then lower a secured mock patient, along with a rescue team member, to the ground. "A situation happened in Oklahoma City just last week in which the crane operator suffered a medical condition during his climb," says Captain Adam Landis with the Dayton Fire Department. "So we know a crisis like we are training for does happen and the more we can prepare, the more efficient we can be in our rescue."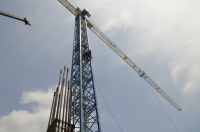 "Safety at Dayton Children's is our number one priority and it doesn't just apply to our patients and employees," says Cindy Burger, vice president of patient/family experience and clinical executive overseeing our master facility renewal plan. "It extends to our partners at Danis in the event that a worker becomes injured or ill while on our campus. Construction will continue for the next two years, so all participants needed to be prepared for the appropriate response to emergencies on the construction site."
Dayton Children's code team, safety team and facilities team partnered with Danis construction and the Dayton Fire Department to develop a response process in the event of an emergency on-site. The "construction code" is an extension of the hospital's existing "code blue" which is a response to help someone in need of immediate medical care.
It's incredibly important to create that cross-functional team from Dayton Children's, Danis and Dayton Fire and Rescue. "The response to an emergency at a construction site is different from our normal code response," Cindy shares. "Construction sites are an unfamiliar environment for our employees, so we needed a process that ensures our response team's safety. That's why working with Danis and the Dayton Fire Department is critical; they have the experts to 'clear' the site so it's safe for our employees to enter if there's an emergency."
"Construction can be a pretty dangerous job so making sure you have all the safety bases covered is important," says Jim Albertson, project director at Danis construction. "Having the experts at Dayton Fire get comfortable with our site means help gets to our guys faster in case of an emergency."
The training is scheduled for three days in total.
About Dayton Fire
The Dayton Fire Department provides core public safety services for Dayton citizens. With 12 stations and 368 personnel, the department provides the Dayton community with professional firefighting, citizen rescue services, pre-hospital emergency medical care and transportation to emergency rooms. The Fire Department manages various training activities for fire, EMS and rescue operations as well as fire and threat reduction management programs. The City self-manages its fire facilities and emergency and non-emergency fleet. It also maintains and repairs small motors, tools and other emergency equipment and provides vehicle repair services to 28 other jurisdictions.
For more information, contact:
Stacy Porter
Communications specialist
Phone: 937-641-3666
newsroom@childrensdayton.org