5/31/19news article
spared by the tornado, Dayton Children's pays it forward
As a tornado barreled through Dayton Children's neighborhood, the hospital was unharmed. Staff is now coming together to pay it forward to neighbors who were devastated by the storms.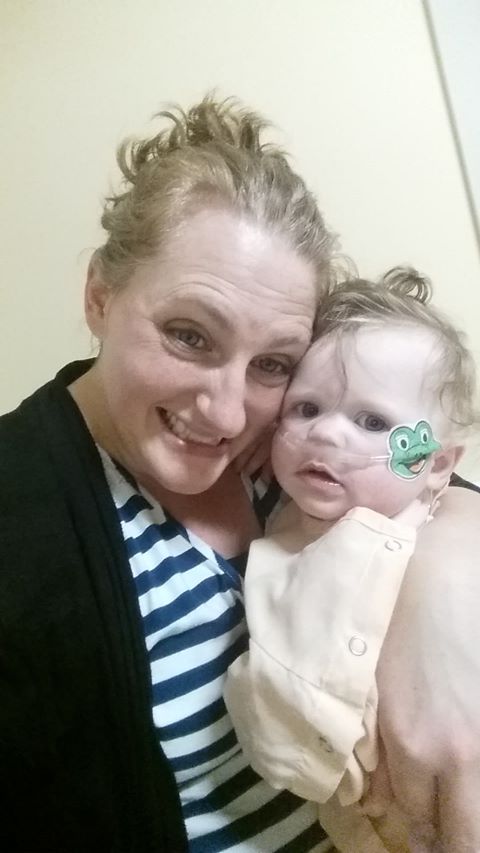 Out of her seven kids, it was her 9-month-old daughter, Faith, who Elizabeth Kilby found herself at Dayton Children's with Memorial Day weekend. Little did she know when Faith was admitted on Saturday for respiratory issues, that her daughter's namesake would be just what she was going to need as tornadoes targeted the Miami Valley and barreled past Dayton Children's Monday night.
As a parent with a child in the hospital, little else matters than getting your child better. So on Monday night, Elizabeth had no idea storms were coming until a respiratory therapist entered their room.
"He brought in an extra oxygen tank for Faith and I asked why we needed that. He told me that they were preparing for severe weather, but at that point there was nothing visible out the window so I wasn't worried."
Elizabeth texted her husband who was at home with their other children. He told her about the 'craziness' of the storms raging above I-70.
"It was then when I realized we might be a little bit more involved than I thought," remembers Elizabeth. "I hate tornadoes so I was extremely concerned. But at that time I was more concerned for my husband and other children at home than for me and Faith at Dayton Children's."
A nurse then told Elizabeth that they would need to move into the hallway for their safety. Elizabeth carried Faith attached to her oxygen tank and joined the other families in the center of the pediatric intensive care unit (PICU).  
That evening, 104 patients were at Dayton Children's including 25 babies in the newborn intensive care unit. All of them and their family members were moved into the hallways for their safety. This has been the protocol for a tornado warning for more than 30 years at Dayton Children's. This policy was reaffirmed as best practice after St. John's Mercy Hospital in Joplin, Missouri, took a direct hit from a tornado in 2011.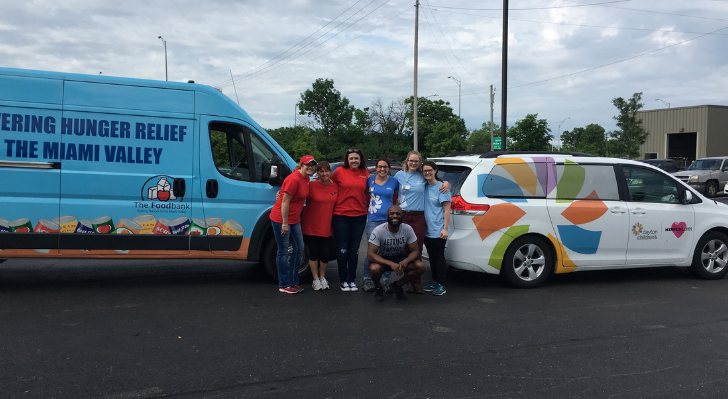 Elizabeth Kilby shares her story of being at Dayton Children's during the tornado with her daughter Faith
 "When the staff moved us into the hallway it made me grasp the magnitude of what was happening," shares Elizabeth. "I knew the staff was taking it seriously and that every possible thing was being done to take care of us."
One of those staff members was PICU nurse, Kyle Frysinger, RN. Kyle was supposed to be off duty at 11:00 that evening, but when he heard the tornado warning, he jumped into action to help, ensuring patients were safe.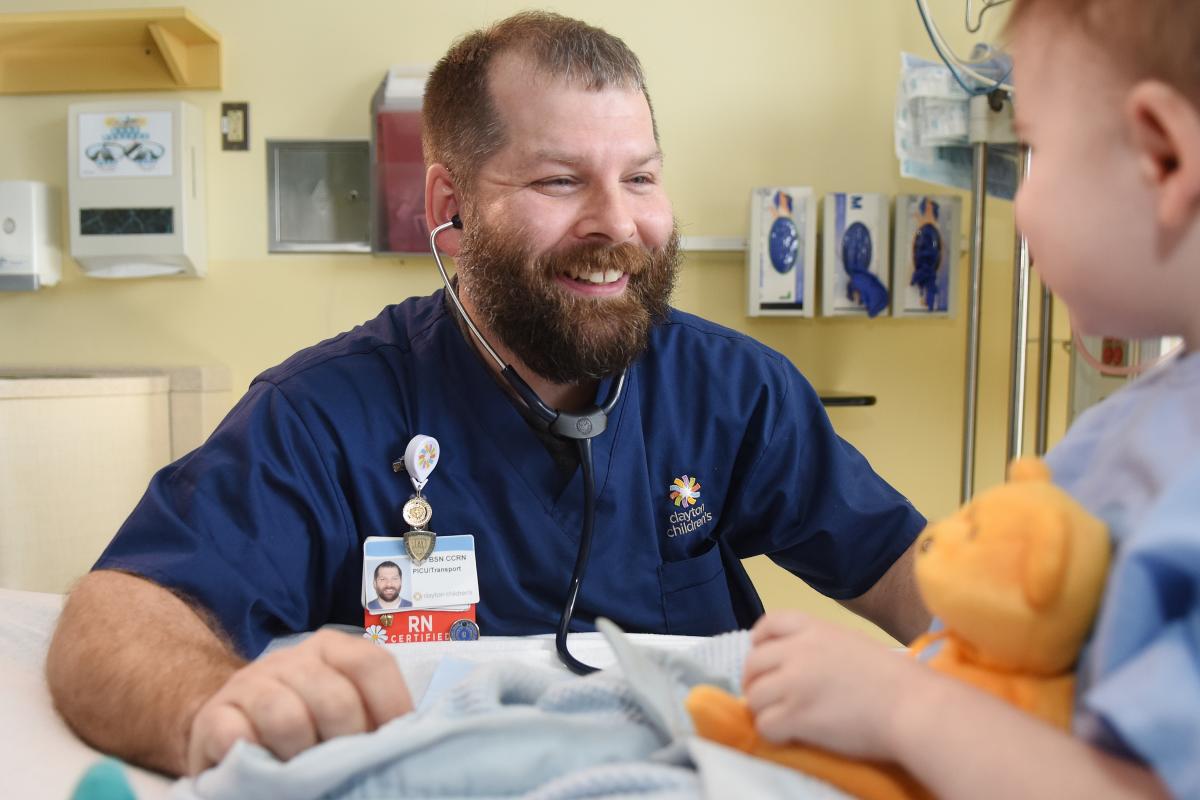 As patients, parents and staff waited out the storm, everyone was on high alert but remained calm. Both Elizabeth and Kyle remember how composed everyone was and how the staff came together to make sure everyone had what they needed.
"At one point I turned to a nurse and asked 'are you real calm or are you pretending to be calm?,'" says Elizabeth. "She promised me she was 'real' calm. The staff in the PICU were amazing. It was incredible to watch them take care of their patients while simultaneously checking on the safety of their own families. I am so thankful for them."
Kyle agrees that the attitudes of the staff that night were key to keeping panic at bay.
"The teamwork was amazing. Everyone pulled together and people from other parts of the hospital came to the tower to help move patients and ensure their safety."
Less than a mile down the road in Dayton Children's neighborhood of Old North Dayton, the tornado raged its destructive course. But at Dayton Children's, a veil of protection covered the hospital and all the babies and children inside. 
 "We never had any idea how close the tornado was to the hospital," says Kyle. "It wasn't until everything was done that we found out how close it really was. It gives me chills to think about it. It was truly a blessing."
The magnitude of the protection bestowed upon Dayton Children's this week has not been lost on hospital leadership or staff. After power was restored to both the main hospital and the Child Health Pavilion that houses Dayton Children's community health programs, staff began working on plans for paying forward the favor bestowed upon the hospital by helping the neighborhood which was not as fortunate.
"We do not take our survival for granted," says Jessica Saunders, director of community engagement at Dayton Children's. "The fact that we were not hit means we can continue to go on caring for our kids that need us the most. We want to pay it forward to our neighborhood that we have called home for more than 50 years by doing as much as we can to help with recovery efforts."
Currently, donations are being accepted at the Child Health Pavilion for residents of Old North Dayton and a clean-up day has also been planned for June 1. The community engagement team at Dayton Children's has been canvasing the neighborhood talking to residents and learning what their needs are so that the hospital can continue to provide items such as baby formula, diapers, pack n plays and more.
Faith was discharged from the hospital Wednesday afternoon and since then Elizabeth has spent a lot of time thinking about this week's events and the protection given to those at Dayton Children's. She speaks highly of the staff who gave her the confidence that evening that she and baby Faith were safe.  
 "People say you shouldn't pray for patience because God will give you opportunities to have to use it," jokes Elizabeth. "Apparently, you also shouldn't name your child Faith!"
how to help
Dayton Children's stands with our Dayton community as we work to restore, recover and rebuild from the storms that devastated portions of our community, especially in Old North Dayton – the neighborhood Dayton Children's calls home. Learn more about what donations are being accepted. 
resources for families
While the storms will impact all community members, we can't forget that children will be impacted differently – they aren't simply little adults and will need support long after the storm has passed.  Learn more.