12/24/14news article
show me the sugar
Dayton Children's provides video to explain how much sugar is in your child's favorite drink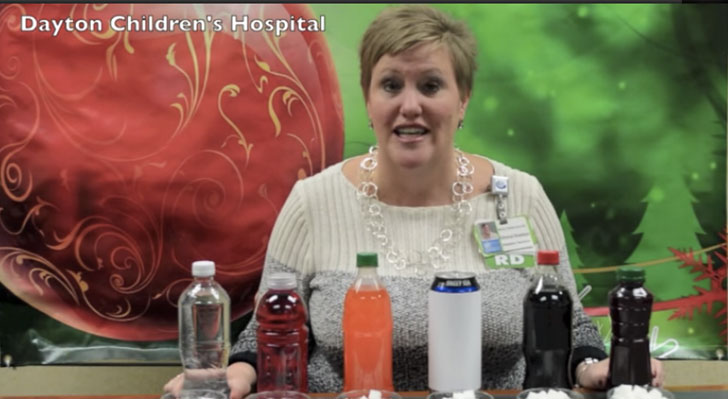 sugar content of some of your kid's favorite drinks
Watch this video to learn about the sugar content of your kid's favorite drinks.
The holidays are known as a time for indulgence, but before parents let their children choose a soda or sports drink at the family gathering, they should know exactly how much extra sugar that drink is adding to the diet.
"Sugary beverages are the number one source of added sugar to the daily diet of children and a key contributing factor to childhood obesity, according to the American Academy of Pediatrics," says Becky Gonter-Dray, RD, CSP, LD, pediatric dietitian at Dayton Children's Hospital.  "Each 12-ounce sugared soft drink consumed daily has been associated with a 0.18-point increase in a child's body mass index (BMI) and a 60 percent increase in risk of obesity."
Dayton Children's took six drinks that children commonly ask for and determined how much sugar is in each, then placed that amount in sugar cubes in separate cups.  It's a visual reminder of how much sugar is in that bottle. "It can be as much as 14 teaspoons of sugar in sodas and 17 teaspoons in a fruit juice drink," says Gonter-Dray.
With this visual representation, experts at Dayton Children's hope to give parents the information they need to make good choices for their children.  "To avoid all this sugar simply from drinks, parents can provide their children with water, low-fat milk or the no-calorie versions of their drink of choice," says Gonter-Dray.
Childhood obesity remains at the forefront of child health issues, according to the Dayton Children's 2014 Community Health Needs Assessment.  In the parent survey, 41 percent of children were identified as overweight or obese. The majority of parents of overweight and obese children did not perceive their children as having any weight problem.
In an effort to address this issue, Dayton Children's is leading efforts to decrease childhood obesity.  The hospital is working with local pediatricians, health care providers and organizations to deliver appropriate resources and education to help children and their families choose healthier lifestyles.
"It takes a joint effort from parents, children and doctors to recognize there's a problem and then act on it in order to prolong the child's life and provide a healthier style of living," said James Ebert, MD, lead physician of the lipid clinic.
To help in this effort, Dayton Children's eliminated the sale of sugar-sweetened beverages on the hospital campus back in May.  It's all part of the hospital's mission to improve the health status of all children and promote the value of health and well-being for patients, families and employees.
For more information, contact: 
Stacy Porter 
Communications specialist 
Phone: 937-641-3666