4/30/21news article
breaking stigmas around children's mental health: Dayton Children's launches the On Our Sleeves movement in the Dayton region
1 in 5 children are living with a mental health concern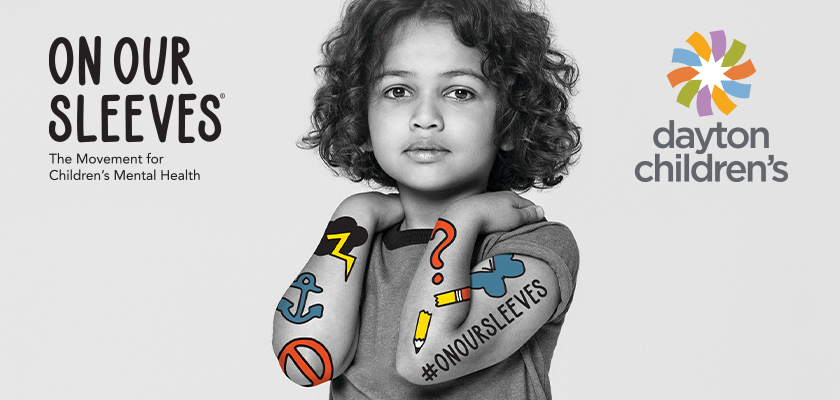 This week, Dayton Children's Hospital is officially launching the On Our Sleeves®  movement in the Dayton region to bring additional mental health resources to the community and to break stigmas around children's mental health.
Children don't wear their thoughts on their sleeves. With 1 in 5 children living with a significant mental health concern and half of all lifetime mental health concerns starting by age 14, we need to give them a voice. On Our Sleeves, powered by behavioral health experts at Nationwide Children's Hospital, aims to provide every community in America with free resources necessary for breaking child mental health stigmas and educating families and advocates, because no child or family should struggle alone.
"We are thrilled to be able to bring the On Our Sleeves movement to the Dayton region," says Nina Rains, certified prevention specialist. "The numbers surrounding children's mental health are staggering. Our community has gone through so much these past few years and our kids and families need these resources more than ever. Together we can break the stigma around mental health and make a difference in the long term."
May is mental health awareness month and this Friday, May 7, is children's mental health awareness day. All week long Dayton Children's will be inviting the community to sign up, join and spread the movement to help break stigmas around mental health and keep the conversation going. Those who join the movement will receive regular resources around children's mental health including ways to engage with the movement locally.
Funding for On Our Sleeves in the Dayton region has been provided by Montgomery County ADAMHS and the DP&L Foundation.
"We truly want to make an impact in our community around children's mental health," says Rains. "The more people who join the On Our Sleeves movement and commit to breaking stigmas the better. Together, we can make a difference. "
4 ways to raise your voice for children's mental health
Sign up to become an advocate and receive updates at childrensdayton.org/onoursleeves
Share about On Our Sleeves on social media tagging #OnOurSleeves, @DaytonChildrens @OnOurSleevesOfficial (Instagram)/@OnOurSleeves( Facebook)
Share mental health resources with friends and family. Visit onoursleeves.org for resources
Share a message of strength and support for children's mental health by using #OnOurSleeves on your social media.
Businesses, organizations or influencers interested in partnering with Dayton Children's during the
On Our Sleeves Dayton launch week in May or on an ongoing basis can email onoursleeves@childrensdayton.org .