3/31/20blog post
how to foster resilience and help children navigate uncertain times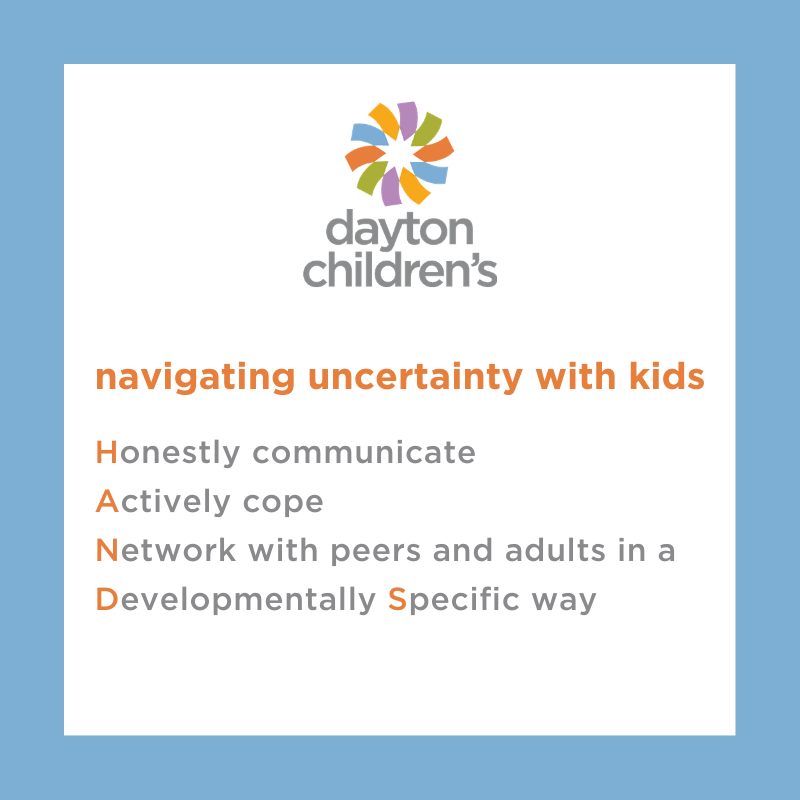 As we go through one of the greatest health challenges in history and watch the COVID-19 news evolve, many parents may be wondering how this crisis and all of its disruptions may impact their child's emotional development and well-being.  One of my favorite aspects of working with children is their strength in the face of uncertainty and the ability to bounce back from adversity.  As parents, caregivers, teachers, providers, and other important figures in a child's life, one of our roles is to guide them in actively coping with disasters and to provide them with "H.A.N.D.S." as they navigate uncertainty:
Honestly communicate
Actively cope
Network with peers and adults in a
Developmentally Specific way
By encouraging healthy discussion, we can promote emotional growth and learning and help children create their own narrative.  In addition, it is critical that adults model healthy coping behaviors for our children during this time.  While strategies for speaking with children about COVID-19 will be addressed in a separate blog post, the following strategies will help to foster resilience and help children navigate these uncertain times.
how to foster resilience and help children navigate uncertain times
Listen. By listening, we can express love and acceptance while children reveal how much they know and understand about world events.  We can help them correct or clarify any misinformation or misunderstanding.
Normalize that there may be a mixture of emotions.  Remember to listen first and pay attention to your child's signals.  Reassure children that they are safe and that it is ok to feel upset, scared, or confused.  Model your own coping strategies for children.
Restore balance. As much as possible, try to follow old routines and schedules.  Maintain family rituals and routines, such as bedtime stories.  Maintain household rules and discipline routines.  Find ways to help others - allow children to develop a sense of control and feel better about themselves by helping others.  For example, allow children to electronically communicate with older adults who may be restricted to their home.  Review your family's disaster preparedness plan.   Teach children to minimize their risk of infection by washing their hands often, getting sufficient nutrition and sleep, and cough into an elbow or tissue.  Let children know that they will be supported as they navigate this pandemic.
Promote family time. Speak with children about a plan for maintaining contact with friends and family during the time of shelter-in-place orders or a quarantine.  Practice physical distancing while maintaining social contact via electronic devices.  Go over a list of virtual activities (e.g., zoo and museum "visits").  Make time for active play, enjoy the bonus time with your children, and remember to emphasize positivity and hope!  The following link includes multiple activities that you can do with your children during the shelter-at-home order:
https://www.nctsn.org/sites/default/files/resources/fact-sheet/simple_activities_for_children_and_adolescents_4.pdf