2/18/14blog post
a "healthy" life is like a box of DARK chocolate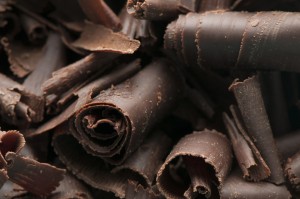 Are you familiar with the miniature Hershey bars? You know, the ones you can just so quickly pop into your mouth for an instant chocolate fix? When I was younger I remember Mom always wanting the Hershey Special Dark. I however would reach for Krackel. I always wondering, what was so special about that dark chocolate anyways? Speed ahead 30 some plus years…I now get it!
Why should we eat dark chocolate? Yes, this sweet luxury contains fat and calories. But, this kind of fat helps raise our good cholesterol. Research supports that eating some chocolate can even improve blood pressure and provide an antioxidant effect (good for our health). But, yes, fat also contributes to calories, so eat dark chocolate in moderation instead of counting it as a freebie.
What about white and milk chocolate? The darker the chocolate, the more health benefit because it is the cocoa that boosts our health. Start with 60 percent cocoa and gradually, to taste, increase the amount of cocoa. Pure cacao can be up to 90 percent cocoa!
How much can I eat? The jury is still out on the recommended amount per day. My suggestion is to not feel guilty when you reach for chocolate. Make your choice dark and at least 60 percent cocoa. Aim for no more than 100 calories at a sitting. Enjoy it shaved into greek yogurt, added as chips in low fat muffins or trail mix, and make your own hot chocolate with skim milk. It is okay to include dark chocolate into your heart healthy lifestyle! And, enjoy healthy heart month!!
For other chocolate ideas, check out Dayton Children's on the Kids Recipes and Nutrition Tips Pinterest Board.