3/3/16news article
a gift for the heart
The Springfield Foundation makes first-time gift to Dayton Children's to purchase heart monitors
Dayton Children's now has 22 more ways to help children manage their heart problems, thanks to a generous gift by the Springfield Foundation. The Foundation donated $34,000 to purchase 12 Holter monitors and 10 looping monitors for use in the Ohio Pediatric Care Alliance office in Springfield. This is the first gift ever to the hospital from the Springfield Foundation.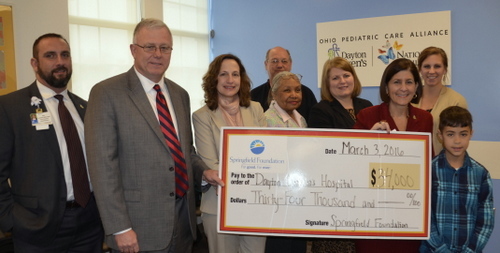 "We are so pleased to be able to partner with Dayton Children's to improve the health care of all the children in our community," says Ted Vander Roest, executive director of the Springfield Foundation. "The funds are provided from the Bruce Mayer Cardiac Fund. That fund was set up for the diagnosis and treatment of cardiac and pulmonary diseases, so this is a perfect fit."
The Ohio Pediatric Care Alliance is a partnership between Dayton Children's and Nationwide Children's Hospital to serve the medical needs of children in Clark County. At this location last year, Dayton Children's pediatric cardiologists saw 191 new patients and 133 established patients. Additionally, the clinic performed 96 echocardiograms and 330 EKGs.
Nick Jordan is one of those kids who knows the value of the heart monitor. The Northwestern third grader was diagnosed four years ago with a benign arrhythmia (irregular heartbeat). Dayton Children's cardiologist Joseph Ross, MD, monitors Nick's heart on a regular basis – and that includes wearing a Holter monitor.
"We are grateful to have Dr. Ross and the Dayton Children's cardiology staff so close to home," says Darci Jordan, Nick's mom. "A donation like this from the Springfield Foundation will allow quality care to continue in our home town. Especially for a child, there is no place like home when dealing with a medical situation. Our thanks to the Springfield Foundation for helping provide this necessary equipment for the children in our area."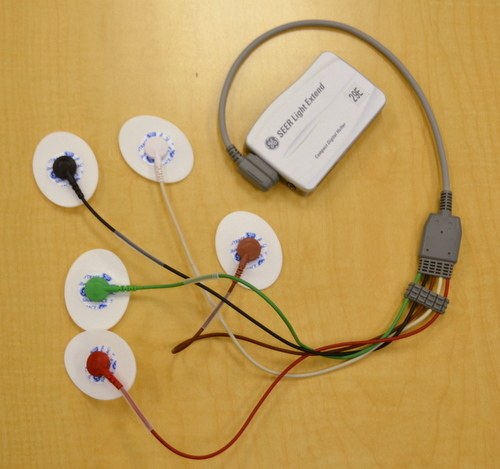 The monitoring devices are a key part of diagnosing and treating a child with a heart issue. Holter and looping monitors are battery-operated, portable devices that children attach to their chest with electrodes. The monitor records a child's heart rate over the course of time. A Holter is worn for 24-48 hours at a time, while the looping monitor is worn for 30 days. The child can also push a button when symptoms arise, such as chest pain, fast heart rate or dizziness, and that moment is marked on the readout. Reading this printout gives the clinical team more information about the nature of the child's heart problem.
"I am grateful to the Springfield Foundation which graciously stepped up to help us care for these children," says Deborah A. Feldman, president and CEO of Dayton Children's. "Of our 20-county service area, Clark County is the third largest, and last year, approximately 20,000 kids from this community received care at Dayton Children's. We are proud to be the children's hospital for Clark County and work with our partners here to best serve this community."
About the Springfield Foundation
The Springfield Foundation is the 15th largest community foundation in the state of Ohio. It is Clark County's center for philanthropy, where Clark Countians make a difference every day. Founded in 1948, the Springfield Foundation has helped generations of Clark Countians create a charitable legacy.. Families, individuals, and businesses have established nearly 500 charitable funds that we invest and administer in accordance with their wishes. Together, these donors, along with our competitive grant-making programs, contribute nearly $3.8 million each year to support nonprofits in Clark County and beyond.
About the Ohio Pediatric Care Alliance
The Ohio Pediatric Care Alliance is designed to reduce duplication of services and improve efficiencies and allow for two independent children's hospitals, Dayton Children's Hospital and Nationwide Children's Hospital, to work together in the Springfield area to improve access to subspecialty pediatric care, execute shared initiatives and evaluate needs for new services. Specialty services available at the joint location on Limestone Street not only include cardiology but also ear, nose and throat (ENT); endocrinology/diabetes, gastroenterology, neurology, pediatric surgery and pulmonary.
For more information, contact:
Stacy Porter
Communications specialist
Phone: 937-641-3666
newsroom@childrensdayton.org