1/30/15news article
get out your cape - it's superhero day!
Dayton Children's honors the super powers of kids, families and staff
Superheroes walk our hallways every day at Dayton Children's. A 2-year-old girl displays unyielding bravery in the face of needles. A 5-year-old boy has nerves of steel when confronted with an MRI machine that's 10 times his size.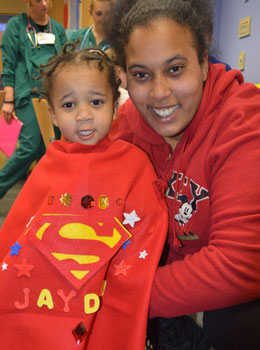 It's not only the patients, either. Moms and dads draw on superhuman strength to coax a smile from their child during difficult procedures. Dayton Children's doctors wield scalpels and stethoscopes like magic wands and our nurses and staff have the power of healing touch.
How do you honor those feats of herculean strength? How do you triumph the toddler with the spirit of a titan? Why, you make them superheroes for a day!
To celebrate these superheroes, Dayton Children's lets them shed their secret identities as ordinary children, parents or hospital staff for just one day. From the youngest patient to the oldest staff member, they are encouraged to dress in their superhero garb. Whether it be a simple t-shirt revealing their super power or capes, masks and tights, patients and staff reveal their true spirit.
"This is the perfect way to recognize how amazing everyone who steps foot in this hospital is," says Rita Falkenbach, CCLS, child life specialist. "We see superhuman feats performed every day. Our patients and parents have reserves of strength, resilience and determination that any superhero would envy. Our staff have the special gifts of knowledge, skill, compassion and dedication to help our kids feel mighty once again."
Superman greets visitors in the lobby to get the day started right. Patients create their own custom cape during a special activity time. Many others received Bravery Certificates and superhero bandages when needed. Stickers and coloring sheets keep the fun going and a group photo bursts with this super-special group.
"Play makes a huge difference in healing," says Falkenbach. "We always want to provide activities and distractions that ensure our patients can focus on their most important job – being a kid!"
For more information, contact:
Stacy Porter
Communications specialist
Phone: 937-641-3666
porters@childrensdayton.org