8/8/18news article
fruit and vegetable stand helps overcome food deserts and hunger struggles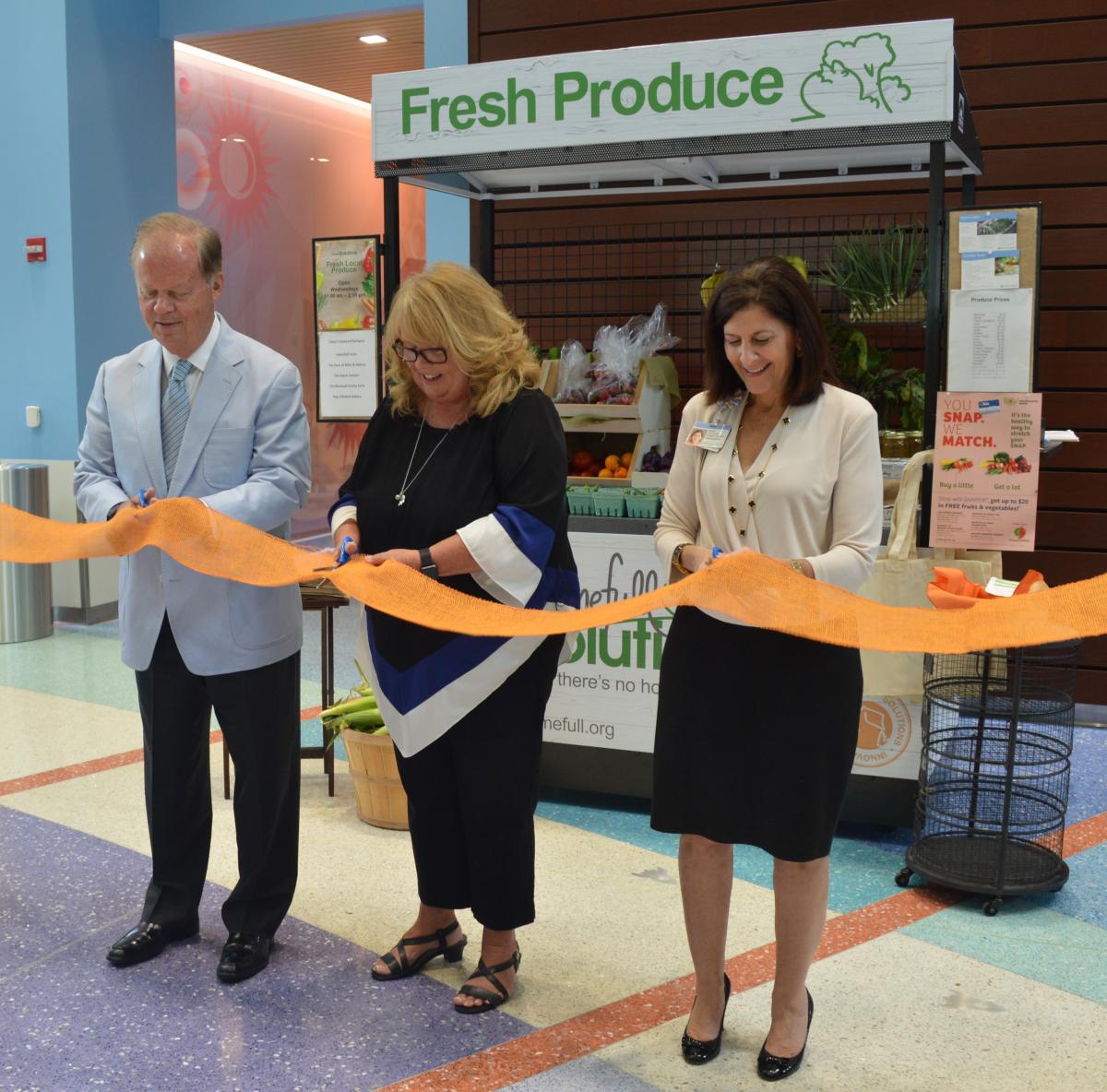 Every Wednesday, you can get more than medical advice at Dayton Children's Hospital. The Fresh Produce Kiosk is set up in the main lobby, courtesy of a partnership between the hospital, Hall Hunger Initiative and Homefull.  These affordable fruits and vegetables come from Homefull's urban farm, along with other local growers, and provide families who may struggle to find or afford fresh produce a healthier option.
"Dayton Children's mission is the pursuit of optimal health for every child within our reach - not just those who come through our doors with illness or injury," said Deborah A. Feldman, president and CEO, Dayton Children's Hospital. "By offering the Fresh Produce Kiosk, we can provide a boost toward optimal health for those inside our doors, and also for young people in our community by giving their skills, talent and hard work a place to take root and grow."
"This is a way to help people living in food deserts access to affordable, fresh produce," says Tina Patterson, CEO of Homefull, a network of services in Montgomery County that works to end homelessness. "We make it easy with multiple ways to purchase the produce, including SNAP/EBT and employee payroll deductions. The purchases will also support our programs, especially our workforce development, giving our clients jobs, and furthers our mission to end homelessness."
The kiosk is stocked with a colorful assortment of fresh produce from a variety of local farms – from urban to rural.  Every week there are new options from corn to tomatoes to okra, as well as baked goods like banana or zucchini bread and even raw honey.
"Given that almost a third of our families with children struggle with food hardship, I can see no more appropriate place to assist those in need of healthy and affordable produce than at Dayton Children's Hospital," said Ambassador Tony Hall.  Hall founded the Hall Hunger Initiative with the goal of systematically address the issue of hunger by collaborating with community stakeholders to reduce food insecurity and increase food access. "We at the Hall Hunger Initiative are honored to support our partners at Homefull and Dayton Children's in making this opportunity for our neighbors possible."
The kiosk is open Wednesdays from 11:00 am to 2:00 pm, and accepts cash, credit/debit, FVRx vouchers, Ohio Directions Card SNAP/EBT, Produce Perks and Dayton Children's payroll deduction.