11/8/17news article
donation is music to patients' ears
Gift of stringed instruments will help grow music therapy program
Dayton Children's new music therapy program receives a set of five premium acoustic instruments, thanks to the generosity of two musical businesses and a Dayton-area charity.  They include:
A Hawaiian Koa Little Martin guitar donated by Hauer Music in Centerville, similar to the one Ed Sheeran strums on his albums and tours around the globe
Three Flea brand ukuleles sponsored by Together We Fight
A Firefly banjo-ukulele donated by True Joy Acoustics in Liberty Township
Musical accessories
The combined value of the donation exceeds $1,500, however, that number pales in comparison to the therapeutic benefits the melodies will provide to hundreds of hospitalized children in the coming years.  
"Making music and expressing oneself under a music therapist's professional guidance can bring countless moments of joy among patients and families dealing with major health concerns," says Greg Huntington, founder of True Joy Acoustics. "Music therapy is 'heartfelt medicine' that makes an immediate emotional difference."
Dayton Children's music therapy program started in May, 2017, thanks to generous donations from PNC Bank and charity Sam's Fans, and the addition of Lindsey Steinbrunner, a board-certified music therapist and 2013 graduate of the University of Dayton.  The new instruments will serve as versatile tools to expand her capabilities and patient reach.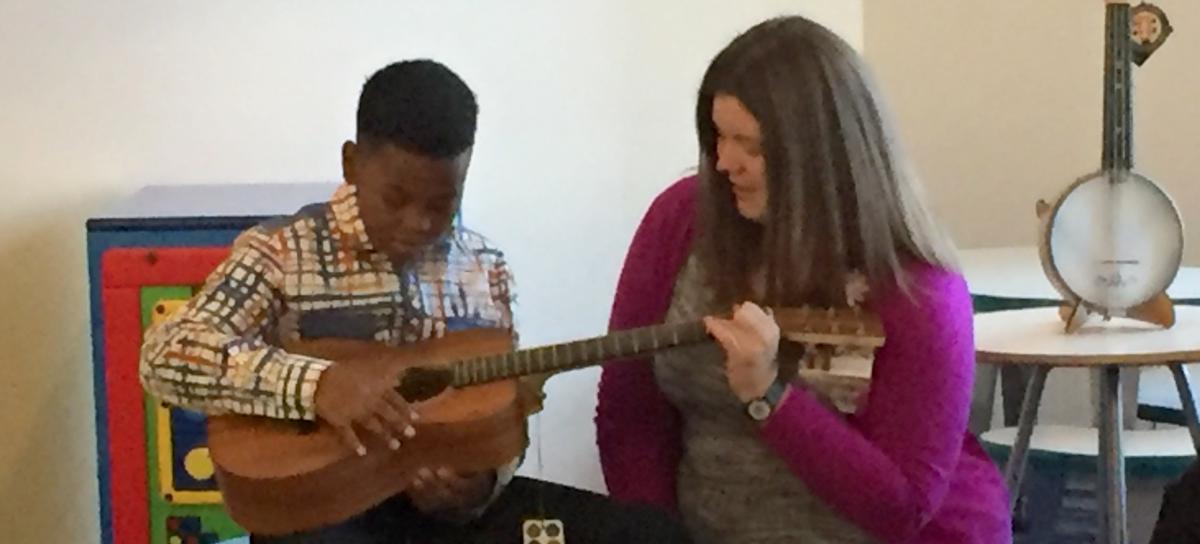 "Music therapy has so many uses – it can calm a child during a stressful time, it can provide an outlet for a child who doesn't like to talk about their feelings, it can provide a distraction, it can contribute to stabilizing a newborn's vital signs," says Steinbrunner.  "These instruments will provide hours of joy as well as a boost to healing and we are so thankful for the gift."
"My daughter is a leukemia survivor so we support programs that will help families going through what we went through," says Janel Barnett, mom of 16-year-old Ally.  The families of Ally Barnett and Caulin Booher formed Together We Fight after both children successfully battled leukemia at Dayton Children's.  The organization provides gift bags to newly diagnosed children and their families to offer support and encouragement.
"As the third generation to run Hauer Music, I know the power of music in people's lives," says Jim Hauer.  "I couldn't think of a better place for the power of music to uplift, encourage and entertain than Dayton Children's Hospital."
True Joy Acoustics began its hospital donation program in 2009, with the gift of a Little Martin guitar to Cincinnati Children's Hospital Medical Center.  Since then it expanded to include Flea brand ukuleles for their smaller size, softer nylon strings and easier mastery. True Joy Acoustics has donated more than 100 instruments to top pediatric hospitals across the country.