12/11/17news article
disturbing statistics show we need to cut the cord on mini blinds
previous safety measures have not reduced injuries and deaths in children
Despite safety standards, a study in the January 2018 Pediatrics shows that window blind cords are still a serious risk to young children's safety.  The study, published online today, shows that nearly 17,000 children younger than the age of 6 were treated in emergency departments across the country from 1990 to 2015 for injuries related to mini blind cords - 271 children died of strangulation.
The facts are enough to scare any parent.  Toddlers were most at risk, and most of them became entangled in cords when the child was left alone for just 10 minutes – often after being put to bed.  Children became trapped in the inner cords of horizontal blinds and roman shades, cords that raise or lower the blinds, and even loops tied by parents to try to keep the cords out of a child's reach.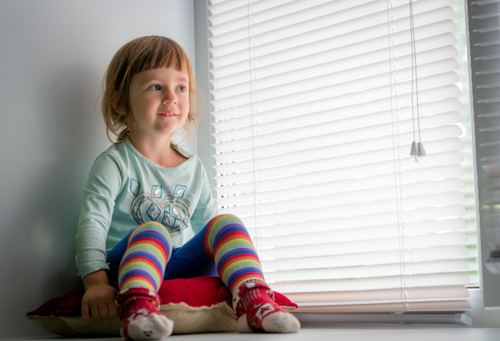 "Clearly the standards that have been put in place to prevent a child becoming trapped in the cords of window blinds are not working the way in which safety experts hoped they would," says Jessica Saunders, director of the Office of Community Health and Engagement at Dayton Children's Hospital.  "The death of any child from window blinds is unacceptable, so it's time to take drastic action."
The study's authors say window blind cords should be eliminated.  They suggest a mandatory safety standard that would make all window coverings cordless or with cords that are inaccessible.  
"No parent can watch their child every single minute.  They need help –  from products that don't put their children at risk," says Saunders.  "Toddlers are adventurous dare-devils who don't see danger.  We adults need to make sure home is as safe as it can be – and eliminating window blind cords is a big step in the right direction."