2/20/17news article
Dayton Children's recognized as best place for kids when they are seriously injured
re-verified as Level II Pediatric Trauma Center
After an exhaustive survey by the American College of Surgeons' (ACS) Committee on Trauma, Dayton Children's was re-verified as a Level II Pediatric Trauma Center. National re-verification recognizes that Dayton Children's is the best place in the Dayton area for children when they are seriously injured and need immediate care.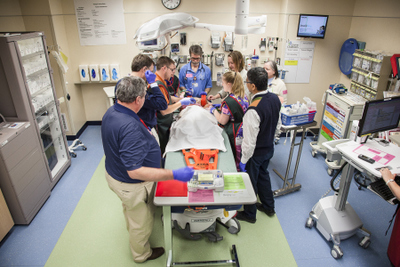 Of the 80,312 visits to Dayton Children's emergency department from July 2015 to July 2016, 16,527 visits were injury related. Of those visits, 779 were identified as significant traumas.
In order to be verified as a trauma center, hospitals must meet 366 established criteria to ensure trauma care capability and institutional performance. Dayton Children's trauma program was verified initially in 2002 and has been re-verified approximately every three years since.
Each hospital has an on-site review by a team of experienced site reviewers, who use the current Resources for the Optimal Care of the Injured Patient manual as a guideline in conducting the survey. ACS reviewers came for a site visit in October 2016 and identified 15 strengths regarding Dayton Children's trauma program including:
Leadership support
Our role in Regional Trauma system plans
Outreach and education with EMS providers
ED and PICU trauma nursing education
Child abuse evaluation team and process
The Trauma Nurse Leader Program and the value they provide to the trauma program
Trauma Service team members
Experience in the Trauma Registry
Evaluation of trauma data that drives changes in the trauma program
"I couldn't have been more proud to hear the surveyor's feedback," says Deborah Feldman, president and CEO. "We say that Dayton Children's exists because we believe that every child in our region deserves a great children's hospital close to home, and there is no program that reflects this belief more than our emergency and trauma programs. When a child in our community faces serious illness or injury, their families deserve to know that their child is receiving the finest emergency and trauma care possible, and this verification shows that's what we provide."
Established by the American College of Surgeons in 1987, the COT's Consultation/Verification Program for Hospitals promotes the development of trauma centers in which participants provide not only the hospital resources necessary for trauma care, but also the entire spectrum of care to address the needs of all injured patients. This spectrum encompasses the pre-hospital phase through the rehabilitation process.
As defined by ACS, a Level II Trauma Center is able to initiate definitive care for all injured patients. Elements include:
24-hour immediate coverage by general surgeons, as well as coverage by the specialties of orthopedic surgery, neurosurgery, anesthesiology, emergency medicine, radiology and critical care.
Provides trauma prevention and continuing education programs for staff.
Incorporates a comprehensive quality assessment program.
about the ACS
The American College of Surgeons is a scientific and educational association of surgeons that was founded in 1913 to raise the standards of surgical education and practice and to improve the care of the surgical patient. The College has over 72,000 members and it is the largest association of surgeons in the world. Longstanding achievements have placed the ACS in the forefront of American surgery and have made it an important advocate for all surgical patients.
for more information, contact:
Stacy Porter
Public relations manager
Phone: 937-641-3666
newsroom@childrensdayton.org