10/17/16news article
Dayton Children's officially opens new specialty care center to provide more options, convenient access to families in southern suburbs
growth is part of major expansion of south campus
Just minutes after seeing his advanced pediatric ENT doctor, 4-year-old Max Boston helped officially open the specialty care center on Dayton Children's newly expanded south campus.
He and his mom, Casey, counted down with Deborah A. Feldman, president and CEO, and additional families to light the unique staircase that frames the entrance of the building.
Max has seen 19 specialists in his life, most of them at Dayton Children's. He also lives in Miamisburg. Having his specialists available just minutes from his home will help his family better manage his care. "I have another child and I work full-time," says Casey Boston, Max's mom. "It is a struggle to get Max to all these appointments but now it will be easier for me to accomplish all I need to with this new care center so close to home."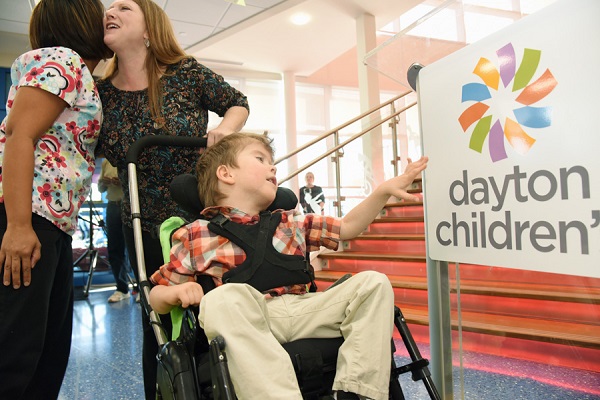 That is the main goal of this major expansion on Dayton Children's south campus located in Springboro, just minutes from I-75 and Austin Pike. There is a growing need for services in the southern Dayton/northern Cincinnati communities. This area has one of the highest percentages of children younger than age 5 and continues to grow every year.
"We are listening to our patient families who consistently tell us they want more services closer to home," says Deborah A. Feldman, president and CEO. "Expanding our Springboro campus will provide the world-class pediatric care for children that they deserve, right in their backyard. It is all part of our Destination 2020 plan to advance our role as the leader in children's health."
From the moment families walk in they know this is a special place, with a lighted staircase that changes colors and a ball maze that is sure to capture their child's imagination, and help make them more comfortable during their visit.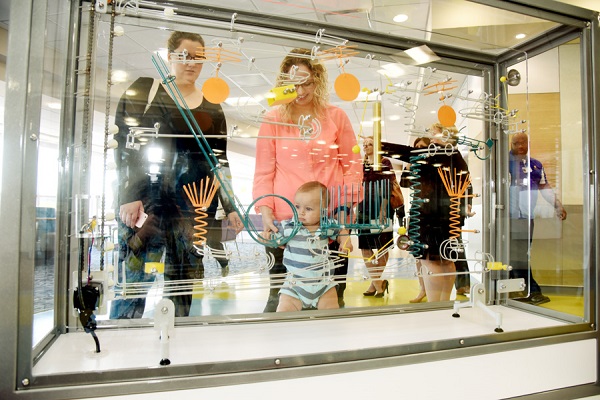 Meanwhile registration is quick and easy for mom and dad, either at a self-service kiosk or at a traditional desk with help from a member of Dayton Children's patient access team. The waiting room is spacious and bright with several charging stations to keep mom and dad connected. If parents needs a prescription or other essential item before they leave, the pharmacy is stocked and ready to supply those needs.
This expansion adds to the services already available on the south campus. Dayton Children's Urgent Care is here as well as a full complement of testing services including pathology, X-rays, MRIs, and CT scans with software designed to minimize radiation for growing bodies.
In addition, the rehabilitation department expanded in this location, offering physical and occupational therapy, audiology and sports medicine services. All of the services are delivered by a staff specially trained to care for babies, children and teens and customized for their special needs, both medically and emotionally.
This expansion also focuses on making the most of innovation and technology to advance pediatric care. A great example can be seen in the tools now is use in the orthopaedics, sports medicine and rehab areas, including:
GaitRite lab to ensure a child is walking and running efficiently
Biodex machine to measure strength, speed and range of motion
Sportsmetrics, an ACL injury prevention program
Outdoor sports field
Climbing wall and swing to enhance sensory systems
The specialty care center is part of a major expansion of the south campus located in Springboro that began in July 2015. This ambulatory destination center on the 11-acre campus includes:
An additional 95,000 square feet added to the campus, for a total of 115,100 square feet
A specialty care center with experts from the highest demand services

Cardiology
Endocrinology/diabetes
ENT
Gastroenterology
Neurology
Orthopaedics
Rehabilitation
Sleep medicine
Sports medicine

A 16-room pediatric emergency department
An outpatient surgery center with four operating rooms and pediatric anesthesia
Because Dayton Children's also believes children thrive in a strong community, the hospital is committed to supporting the local economy. Beavercreek-based Synergy Building Systems led construction efforts of the specialty care center and continues work on the project, with the emergency department scheduled to open in January and the surgery center slated for an August 2017 opening. Champlin Architecture, the local architectural firm which designed the original building at this location, provides design leadership on this project. Cindy Burger, MS, RN, vice president, oversees the project for Dayton Children's. The project is estimated at a total cost of $60 million dollars and so far has added more than 150 jobs in the community.
"Children are not just little adults," says Feldman. "Their growing bodies need different treatments and care than adults do. Our experts have the knowledge and skill to treat their health concerns with compassionate, comprehensive care that ensures the very best outcome. So we want to make sure that every child in our area can get to those experts as easily as possible."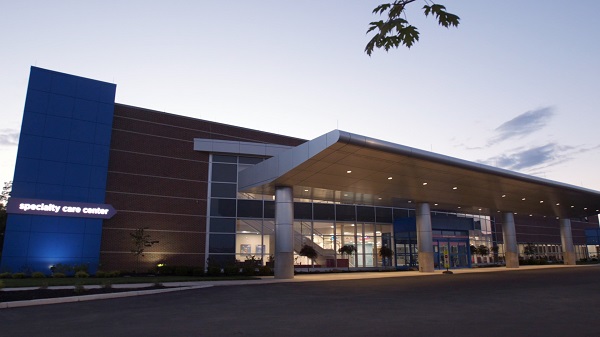 For more information, contact:
Stacy Porter
Public relations manager
Phone: 937-641-3666
newsroom@childrensdayton.org