10/22/15news article
Dayton Children's launches historic Reaching New Heights capital campaign with gifts totaling more than $21 million from lead donors
statue of iconic biplane will take that campaign into the community
Dayton Children's Hospital is asking the community to join in a campaign to reach new heights and transform care for the children in its entire 20 county service region. The Reaching New Heights capital campaign will help support a portion of the hospital's North Dayton campus revitalization project currently underway. It includes the construction of an eight-story patient tower in the center of the Valley Street location which will house modern patient care spaces, family-friendly amenities and the latest in technology.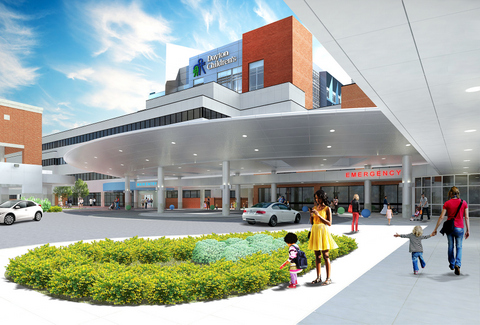 Throughout Dayton Children's rich history, philanthropy has always played a major role. The goal of this historic capital campaign is to raise a minimum of $25 million for the $153 million transformation of the 155-bed hospital. Thanks to excellent financial stewardship, the rest of the project will be covered by cash reserves and financing.
Dayton Children's broke ground on the 260,000 square foot patient tower in August 2014. The project will transform care by providing:
Better outcomes: The newly designed Newborn Intensive Care Unit will feature single-family rooms allowing for an enhanced care experience for our tiniest patients.
Continuity of care: For the first time, the Mills Family Comprehensive Cancer and Blood Disorders Center will combine inpatient and outpatient care in one location.
Life-saving technology: The new Wallace Critical Care Complex will allow for more space for critical technology while maximizing efficiency and improving patient safety.
Optimal healing environment: Patients requiring an overnight stay will benefit from the enhanced general pediatrics inpatient unit which will feature larger single-family rooms, improved technology and upgraded family amenities.
"This project is about so much more than bricks and mortar," says Deborah A. Feldman, president and CEO of Dayton Children's. "It's about reaching new heights in pediatric health care for the children of our region. Strong support from the community will take this project from good to great – helping fulfill Dayton Children's commitment to patients and families to provide the very best care close to home."
Strong support from community leaders
This phase of the campaign launches with strong and generous support. Donations have already reached $21 million dollars - more than Dayton Children's has ever raised for one project. It's a historic amount for a historic project. Eight major donors have shown their support with million-dollar-plus gifts. They include:
Mathile Family Foundation - provided the pacesetting gift for the campaign
The Mills Family – named the Mills Family Comprehensive Cancer & Blood Disorder Center
The Berry Family
The Soin Family
Speedway LLC
TWIGS Auxiliary
Virginia B. Toulmin Foundation
The Wallace Foundation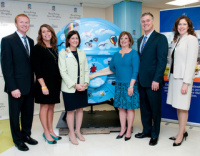 Dayton Children's employees and physicians are also rallying behind the project, with the donation of $1.1 million. "They see every day the difference quality, compassionate care makes in the lives of children so they were eager to be a part of this historic campaign," says Feldman. Dayton Children's Board of Trustees and Foundation Board members have also collectively given more than $5 million.
"We've had tremendous outpouring of support from our community leaders," says Jena Pado, CFRE, Dayton Children's chief development officer. "With the community's support, we will be able to create a lasting legacy for children for generations to come."
The family impact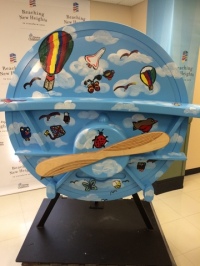 Two families are leading the charge to help rally the community around the Reaching New Heights campaign. They know how important it is to have expert pediatric health care close to home.
For Beavercreek parents, Jared and Janel Barnett, that was never more clear when their daughter, Ally was diagnosed with acute lymphoblastic leukemia. "Ally's treatment was 843 days long, and what people don't realize is, your life has to go on," says Janel. "My husband Jared and I still had to go to work and take care of our two other small kids. We couldn't drive an hour or more to every single appointment every single time we had to go to the hospital with Ally."
Oakwood parents and grandparents, Tami and Jim Whalen are thankful to always have the hospital nearby. "My wife and I have raised four children in this community and now have seven grandchildren," says Jim Whalen, Dayton business leader. "Having Dayton Children's Hospital in our backyard is such an asset. If you have ever had a child have to go to the hospital, whether it's a premature baby, or a really sick child, or a sports injury, you know how important it is to have a hospital of that quality in our backyard."
Iconic commitment
As a reminder of Dayton Children's commitment to the community, the hospital commissioned statues that will be showcased at various locations around the region. The 400 pound monuments will each represent an icon from the new "things that fly" theme of the patient tower and be decorated by Dayton Children's patients. The first statue is a bi-plane that honors Dayton's aviation heritage and will be on placed at the Carillon Park Heritage Center Children's Display. Future icons will include a humming bird, a hot air balloon and a shooting star, among others.
"The bi-plane will be the icon for our pediatric intensive care floor in the new tower," says Feldman. "We chose the things that fly theme because it represents the hope, possibilities and promise that this patient tower holds. These statues will bring that spirit into our community and be a constant reminder of our commitment to assuring kids for generations to come have a great children's hospital close to home."
To learn more about the Reaching New Heights capital campaign and donate, log on totransformcare.childrensdayton.org.
For more information, contact:
Stacy Porter
Communications specialist
Phone: 937-641-3666
newsroom@childrensdayton.org