2/5/15news article
Dayton Children's launches the Center for Child Health and Wellness
newly-named leader will focus on making the Dayton region one of the healthiest places to grow up
At Dayton Children's, the mission is to not just take care of sick kids, but to ensure that all children in our region are healthy and safe. That means helping children and parents in the community long before they ever come through the hospital doors.
That's why Dayton Children's just launched the Center for Child Health and Wellness. "As part of our Destination 2020 strategic plan, we are focusing on strong care alliances – the Center for Child Health and Wellness will help us meet these goals by aligning with community and child-serving organizations to improve the health status of children in our community," says Debbie Feldman, president and CEO. "If we are truly going to be an advocate for children's health – we need to ensure we're focused on children's health where they live and play."
The Center will focus on making the Miami Valley one of the healthiest places to grow up through education and outreach, child health policy and research. It will lead the community health assessment research, which is done every three years to determine the key issues facing the community and children. For example, the 2014 health assessment determined childhood obesity, mental illness and safe sleep were the top three concerns in the area. Based on that research, Dayton Children's launched initiatives targeting those issues to better serve the community's needs and keep kids healthy and safe.
The Center will build on the work of Dayton Children's MeadWestvaco Family Resource Center and offer a greater array of educational materials to parents and caregivers, as well as doctors and other professionals that serve children. The Family Resource Center currently offers programs such as the Cribs for Kids initiative, which provides a training session on safe sleep to new parents and sends them home with a safe crib and sleep sack. The Center will also be an active advocate for children's health in legislative issues. It will work with other community organizations as well as our political leaders to make sure children are the top priority in any governmental decisions.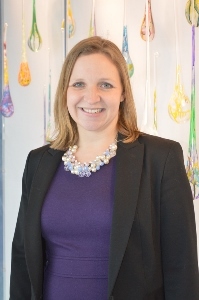 Jessica Saunders, MPA, leads this newly-created centerwhich willfocus on health and safety needs in the community to ensure all children thrive.She has worked at Dayton Children's for more than seven years as the community relations manager, leading health and wellness initiatives including the Kohl's A Minute for Kids campaign, Safe Kids Greater Dayton and the Regional Occupant Protection Program. She manages the MeadWestvaco Family Resource Center and has been project manager of the community health needs assessment over the last three cycles.
Jessica is also adjunct faculty for both the Wright State University Boonshoft School of Medicine Department of Public Health and the University of Dayton Department of Public Administration.She earned her Masters of Public Administration from the University of Dayton, as well.
"There are a lot of resources for families in our community, however they may not be aware of them or know how to take advantage of them," says Saunders. "Our goal is to align those programs and coordinate services here, as well as at a regional, state and national level to provide Dayton area parents and kids with the best tools to prevent illness, injury and other harm, as well as improve the overall health of our kids," says Saunders.
Key programs already established at Dayton Children's will continue under the Center's umbrella and Saunder's leadership, including:
Safe Kids Greater Dayton - A childhood injury prevention coalition led by Dayton Children's, which holds car seat checks, helmet fittings, walk- to-school events and community safety days throughout the year.
Stay Ahead of the Game – A program that gives free bike helmets and education to children, as well as providing fire and police departments in a 20-county service area with free helmets to be distributed and fitted during bicycle rodeos and other education-based events.
Region 6 Occupant Protection Program – A grant that allows Dayton Children's to increase injury prevention outreach – particularly in the area of child passenger safety in 14 surrounding counties.
Kohl's A Minute for Kids - Generous support from Kohl's Cares® allows Dayton Children's to deliver the Kohl's A Minute for Kidscampaign to reach parents and kids in our region with the latest pediatric health and safety information and equipment.
For more information, contact:
Stacy Porter
Communications Specialist
Phone: 937-641-3666
porters@childrensdayton.org