10/4/17news article
Dayton Children's gastroenterology department awarded first place in Crohn's and Colitis Walk
Emily Blosser, a Crohn's disease sufferer, fights back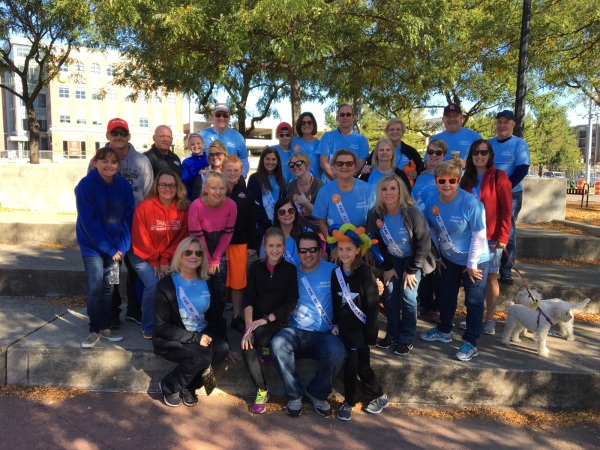 Dayton Children's gastroenterology department's team participated in the CCFA (Crohn's and Colitis Foundation) walk to promote funds supporting research for kids diagnosed with Inflammatory Bowel Disease or IBD. The team, affectionately called the "Poo Crew", not only had a great time together, but also raised the most money – a total of $4200!  
This would have never been possible without one patient in particular, Emily Blosser, whose mom, Beverly, works in the genetics department at Dayton Children's.
Emily raised a whopping $2,500! She is no stranger to Crohn's disease, as she has been learning to live with the disease for the past seven years under the care of Dayton Children's gastroenterologist Dr. Shehzad Saeed.
Emily's story told though the eyes of her mother Beverly:
"My daughter Emily was diagnosed with Crohn's disease and primary sclerosing cholangitis (PSC or progressive liver disease) back in 2010 when she was nine.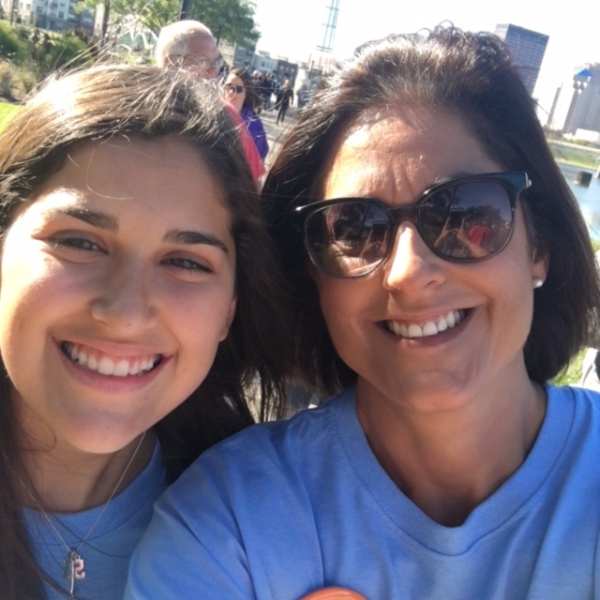 She has struggled with flare-ups from both Crohn's and PSC. In the past seven years, Emily has had comprehensive gastrointestinal diagnostic testing, including over 20 endoscopies and colonoscopies, imaging tests, ultrasounds and various other testing. She has had so much lab work and IV's for fluids and medicines that it is has become difficult for nurses to find a vein for lab work/surgeries/infusions. She now reacts to most adhesives due to the number of surgical procedures she has had in the past. She has been on three different medications/infusions to help keep her disease in remission and has failed them. 
It was due to the difficulty of getting Emily's disease into remission with medication that she underwent ileostomy surgery, where an external pouch was attached to her small intestine, when she was age 12. At age 14, she had a partial colectomy and, at age 15, she had a reversal of the ileostomy. Unfortunately, Emily did not do well after the reversal of ileostomy. 
During this time, she was hospitalized five times due to a Crohn's disease and PSC flare ups. This past July, Emily underwent surgery again to have another ileostomy to help with her disease. 
Today, Emily is doing well and is currently in remission. She is now on a new infusion medicine which we are hopeful will help keep her in remission. Now she only takes 15 pills a day (instead of over 20 pills a day). She is active in sports, student council and is a great student. She also received her driver's license this summer and is excited about her new-found freedom. 
This year was an important year for our entire family to participate in the CCFA walk. The foundation not only supports finding a cure for IBD, but it provides educational opportunities to local communities and summer camp for children with Crohn's disease and Ulcerative Colitis. 
CCFA has paid for Emily to go to Camp Oasis twice since she was diagnosed. Camp Oasis is staffed by GI nurses and physicians and allows Emily the opportunity to be a kid in the midst of her disease. CCFA has also provided our family with educational opportunities so we are made aware of what types of treatment options are available and what new medical options are on the horizon. These educational sessions have provided us hope for our daughter's future."
However, my biggest hope for Emily - and all who suffer from IBD - is for us to find a cure. The sooner the better. Perhaps one day then we will no longer need to walk for this cause but instead celebrate good health.