When most people look at 18-month Gwendolyn Carroll, the first thing they notice is a mop of chestnut curls framing a sweet face with matching eyes that have a spark of fire behind them. At a closer look, they'll see a t-shirt with "some assembly required" and a polka dot skirt that stops short on the right leg where her lower leg and foot should be – but is missing.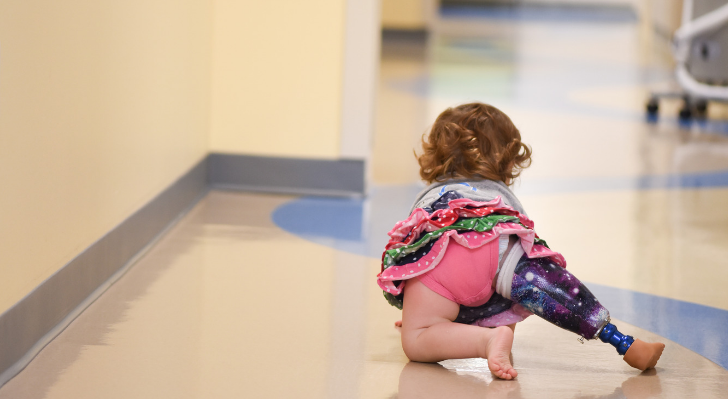 one a million 
Gwendolyn was born missing the tibia in her right leg (the lower leg bone that supports your body weight), two fingers on her right hand and three fingers on her left hand. She is described as a medical marvel, according to her orthopaedic surgeon who amputated her lower leg and foot.
"I describe Gwen as 'Stitch' from Lilo and Stitch, an energetic pistol that's built to destroy," laughs her mother Megan. "She's incredibly headstrong. When she wants something she'll push straight through to get it, all the while smiling at you."
Born missing the tibia in her right leg (the lower leg bone that supports your body weight), two fingers on her right hand and three fingers on her left hand, Megan describes her daughter as 'un-phased by any limitations she's perceived to have.'
"She can pretty much do anything else a child her age can do," says Megan. "She's not a medical miracle to us, she's just 'Gwen.'
But she is a medical marvel, according to her orthopaedic surgeon who amputated her lower leg and foot.
"A child born missing a tibia is extremely rare; happening in one in a million births," says Michael Albert, MD, division chief of orthopaedics at Dayton Children's Hospital. "The decision to do multiple limb lengthening surgeries or amputate depends on how stable the hip, knee and ankle are in the child. In Gwen's case, her knee was dislocated and she had a significant club foot, so amputation with a prosthetic was a better option because in today's world prosthetics are pretty awesome and can allow a child to do almost anything that other kids can do. "
"I can't find her foot"
At Megan's 20-week ultrasound during pregnancy, the technician thought the baby might have her right leg "tucked up" toward her tummy, and she was having a hard time getting a clear picture. Megan and her husband Chris were asked to walk around for 15 minutes and come back. The tech tried once again and still couldn't see the baby's right leg.
That's when the Carroll's were referred to the Fetal to Newborn Care Center, a collaborative between the newborn intensive care units at Miami Valley Hospital and Dayton Children's to improve fetal and newborn care across the Dayton region.
A week later, Megan was scheduled for a high-risk fetal anatomy scan where they learned that Gwen was missing the tibia of her right leg and most likely had split hand and foot malformations or "lobster claw."
"It was terrifying," Megan explains. "We knew about the missing tibia in her right leg from the ultrasound, but didn't know exactly what was wrong with her hands, we just knew something was wrong, which is the last thing you want to hear when you're pregnant," Megan says.
"The worst scenarios run through your head. We knew that we couldn't make any decisions until Gwen was born and didn't know the exact deck of cards we were dealing with… that by far was the hardest part.
We were overwhelmed thinking about the quality of life she would have, what types of surgeries she might need, would this be something she could pass onto her own kids one day? There were a lot of questions and limited answers at that point because she wasn't born. The waiting game was horrible, like you knew a category five tornado was coming, but didn't know when."
Megan was immediately paired with Sharon Orozco, MS, RNC-OB, IBCLC, nurse navigator for the Fetal to Newborn Care Center. Sharon helped Megan coordinate appointments with genetics and orthopaedics at Dayton Children's, before Gwen was born. At Megan's first appointment with Dr. Albert around 30 weeks pregnant, she knew the possibility of amputation would most likely be a reality.
The first few weeks of Gwen's life was a whirlwind of appointments at Dayton Children's. Genetic testing confirmed that Gwen's case was most likely spontaneous, not genetic. Knowing Gwen wouldn't pass on the condition to her own children one day was a relief to the Carrolls.
The decision to live with one foot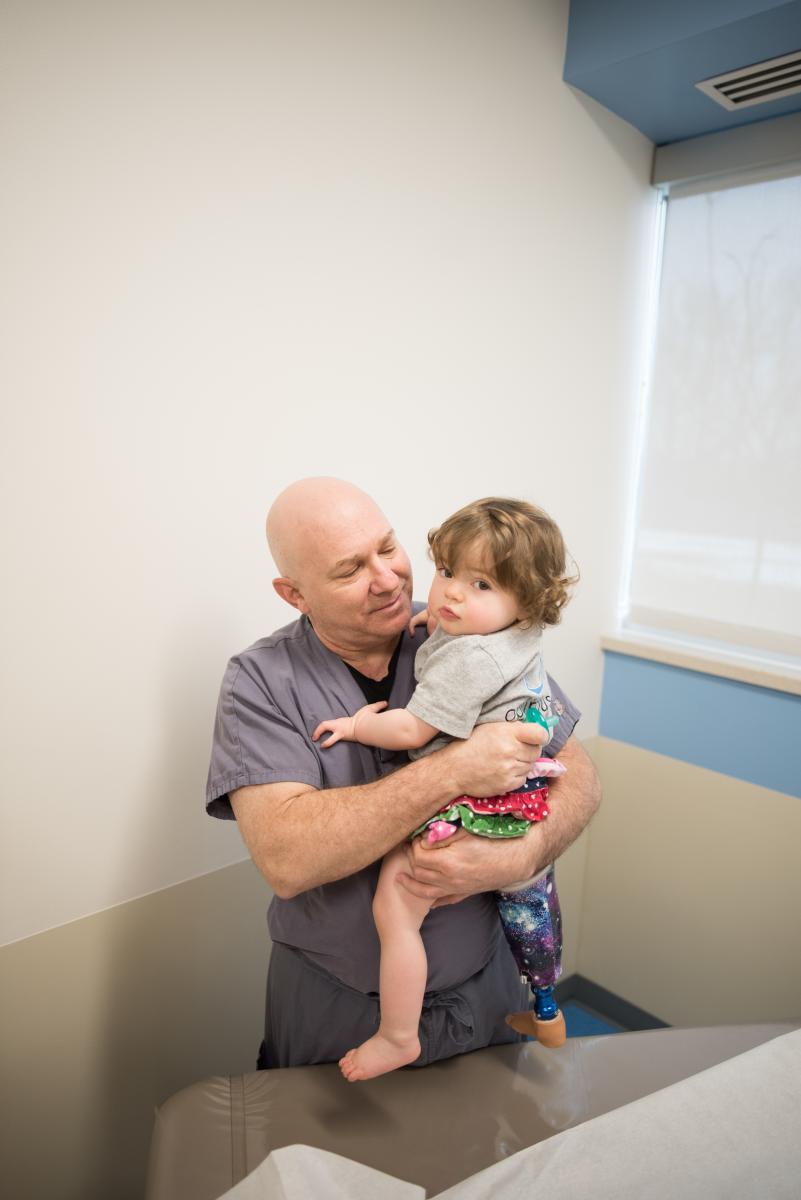 Chris and Megan's decision to amputate her daughter's foot and lower leg was matter of fact, and relatively easy.
"We were worried that she would face a lifetime of surgeries and would never walk normally," Megan says. "Dr. Albert was afraid she would never be able to bear weight on her right leg, so honestly the decision to amputate was pretty easy because her quality of life would be better without her lower leg and foot than if we left them part of her tiny body."
Though the decision to amputate was relatively easy, explaining to Gwen's little brother that she would no longer have a foot was not quite as simple.
"It's so hard to explain 'amputation' to a 4-year-old, so we finally just told him Gwen was going to have surgery to remove her foot. He ran into daycare that morning told all of his friends his sister's foot was going to get 'cut off,' like it was a cool thing," Megan says.
On November 1, two days after Gwen's first birthday, she went in for surgery. "We were pretty calm because we knew the plan and knew this was the best option," says Megan. "Surgery was the easy part, spending four days in the hospital with a one-year-old was much harder."
A month later, right before Christmas, Gwen got her new leg.
"She hated her prosthetic so much at first, but then one day something clicked, it was like finding the missing puzzle piece," says Megan. "Given Gwen's feisty personality, I just know I'm going to get a call from daycare one day that she's taken off her leg and hit a kid with it," Megan laughs. "That's just how she is. She doesn't let anyone – or anything – stop her from what she wants."
For now, the main goal is to work with physical therapy to teach Gwen how to walk on both legs with her prosthetic and occupational therapy to continue learning how use both hands with five fingers total. For her parents, it's just another childhood milestone. "I know there are families who have it much worse than we do," says Megan. "People always ask how we stay positive with all that we have going on with Gwen. We tell them, 'Tt is what it is. There's nothing we can do to change it, we just try to make the best of it.'
I don't know why God made her this way, but he did and she's perfect."
Make a gift today to help provide essential services and programs to ensure kids like Gwen have the special care they deserve.