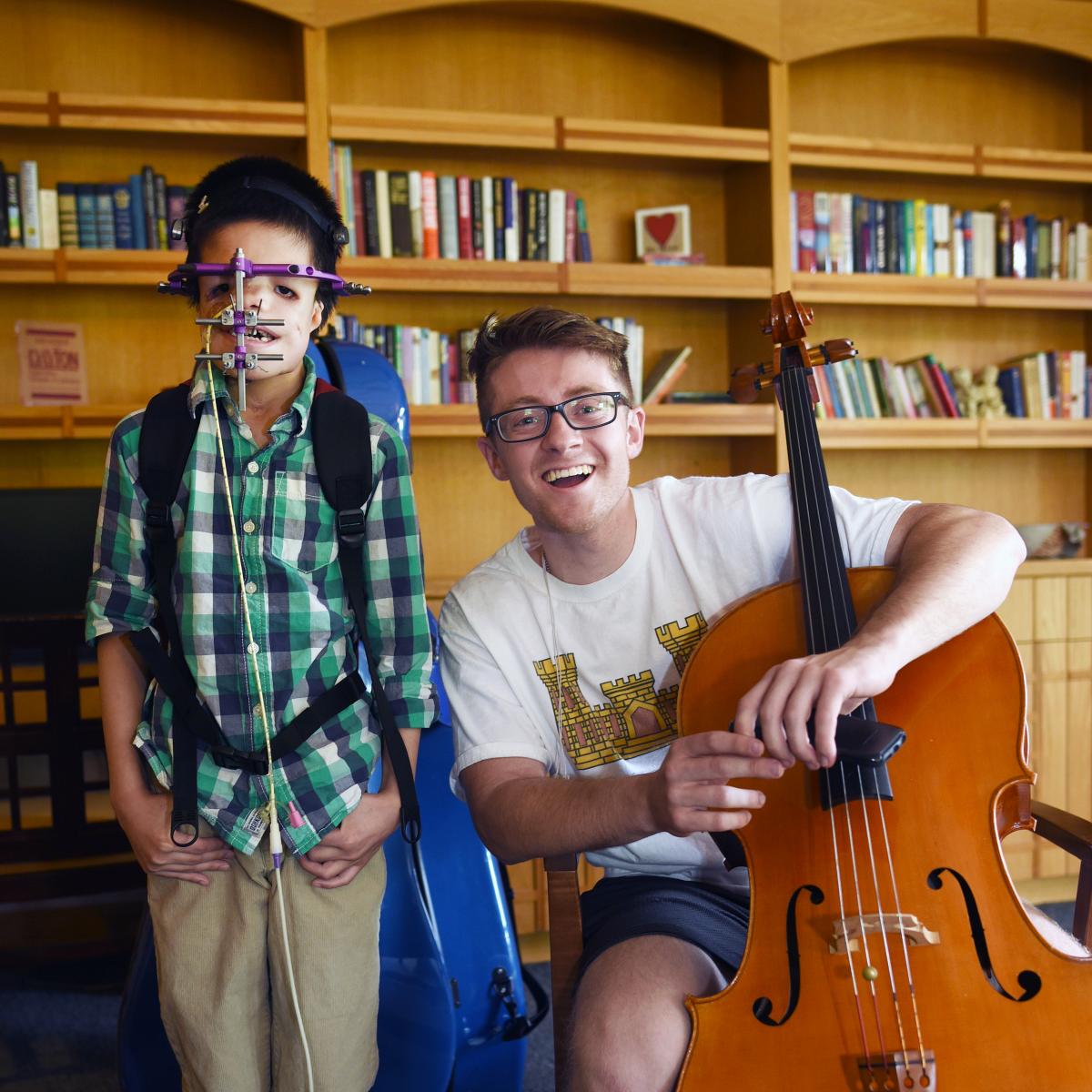 Every musician will tell you, it's not the quality of the instrument but the passion of the player that makes the difference.  A practiced and patient player can coax the sweetest sounds out of a banged-up bassoon.  A tenured teacher can make heart-stopping harmonies on a student's saxophone.  
When 10-year-old Kent Wu sits down behind his cello, he knows that all the hard work he puts in today will lead to a melodious future. And Kent and his parents, Annie and Simon, know that the work they are putting into treating his Treacher Collins syndrome will lead to a happier life.
Treacher Collins syndrome is a relatively rare craniofacial condition that affects the formation of the face including the jaw, eyes, cheekbones and ears.  An estimated 1 in 50,000 people will deal with its effects.
For Kent and his family, it's a story that began just a few days after he was born when genetic tests confirmed that he had Treacher Collins.  One of the most common problems associated with the syndrome is a constricted airway and Kent wasn't breathing well on his own.  Being in Los Angeles at the time, Kent was in the neonatal intensive care at UCLA Mattel Children's Hospital.  The doctors and nurses inserted a nasal tube to help Kent breathe but also had to sedate him so that he wouldn't pull the tube out. At just 2 weeks old, Kent had his first surgery, a tracheotomy, which created an opening in his windpipe to help him breathe. 
This would only be the first of many surgeries for Kent.  As anxious parents, Annie and Simon spent a lot of time online, searching for information about the syndrome and related surgeries.  They took Kent to a host of pediatric specialists in California - an ophthalmologist, ear, nose and throat specialist, pulmonologist, craniofacial (skull and face) surgeon, dentist, genetic counselor and orthodontist. 
After moving to Connecticut, Kent had a surgery to open up his nasal passages so he could breathe better, and a few days later, had the trach in his windpipe removed. However, the procedure was less successful than the family had hoped it would be.  A sleep study revealed that Kent had obstructive sleep apnea, a serious condition that causes a child to stop breathing during sleep. Annie didn't give up in her search for a doctor who could give Kent the breathing help he needed. Through her connections in the Treacher Collins Network - a support system for families of patients with the syndrome - she learned about Christopher Gordon, MD.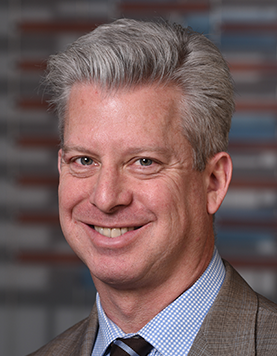 "I chose Dr. Gordon because he has done more than 600 jaw procedures. I wanted someone who knows a lot about treating this condition," Annie said. "When a doctor does more of a procedure, they tend to get a better outcome."
Dr. Gordon's highly specialized experience and training at some of the most prestigious institutions in the world make him an expert in surgeries to correct the most severe malformations of a child's face and skull. His specialty is complex jaw surgeries, in which the bone is stretched, almost like pulling taffy, to create a well-balanced face and allow a child to breathe better.
Dr. Gordon is pioneering new techniques in jaw distraction procedures. He created and built technologically advanced tools which he used in Kent's first procedure in 2012. The tools are fully customizable so a child's pain level is minimized. 
Dr. Gordon used the custom-made device to pull Kent's jaw forward in 2012 and again in 2017 when the bone structure in his jaw didn't keep pace with the rest of his body's growth.
The family was now living in Texas and brought Kent all the way to Dayton Children's for the 2017 surgery, specifically for Dr. Gordon's specialized approach to properly extend both his upper and lower jaw, and successfully open his airway.
"This is a game changer for those with Treacher Collins" says Dr. Gordon.  "After working with so many children like Kent, finding a way to help them have a better quality of life became my mission. Each child is different so I knew when creating this procedure and the device that they had to have the flexibility to be customized.  We now get faster results, with less trauma to the face and children no longer have to live with a hole in their throat just to breathe." 
changing the face of jaw distraction surgery
In this procedure, Dr. Gordon cuts the jaw bone then fastens a titanium, U-shaped headframe to Kent's head and jaw.  For six weeks following surgery, Kent's mom used a special tool to adjust the device a little more every day.  Just as Kent tunes his cello by slightly adjusting the tension on each string, the device was doing the same thing to his jaw – gradually lengthening it each day and allowing new bone to grow in the gap where Dr. Gordon made the cut.
While the head frame may appear imposing and the procedure is aggressive, it is much better for the growing bones of a child and leaves fewer and smaller scars on the face. "Other approaches to jaw distraction limit future growth potential. This is something that parents really need to consider and factor in when choosing a physician," says Dr. Gordon. 
During Kent's six week recovery, he and his mom stayed at the Ronald McDonald House across the street from Dayton Children's. Being so close to the hospital also gave them easy access to the entire care team in the event they needed it. It's a team who was committed to easing the process for Kent's family, before they even left Texas. 
"The process has been easy and the people are so helpful.  The Ronald McDonald House is cozy and a restful place to heal," shares Annie.  "Also the coordination of care is outstanding.  Dr. Gordon even provided his personal number so I can call him directly, if I need to.  With all the attention, Kent is doing great!"
The surgery couldn't have happened without critical pieces in place, like the Ronald McDonald House or the support staff that has not only the skill and knowledge to handle a case like Kent's but also the heart to make it the best experience it can possibly be. It takes a small army of nurses, respiratory care therapists, rehabilitation therapists, dietitians and many other providers to care for children with medically complex needs.
"The entire care team at Dayton Children's has the patient's best interest in mind," says Dr. Gordon. "Whether it's across the street at the Ronald McDonald House or in the operating room.  For example, in a child with airway troubles, anesthesia can be a major concern.  Our anesthesiologists have been instrumental in the way we treat and correct a Treacher Collins patient's airway. It's just one of the ways we wrap the child and his or her family in care."
"Dayton Children's has the unique opportunity to offer world-class care that Dr. Gordon and many other physicians and staff provide, right here in a small, comfortable location," says Adam Mezoff, MD, chief medical officer, vice president of medical affairs and health care transformation.  "Families travel from across the country to Dayton Children's to have access to the skill and groundbreaking techniques that physicians like Dr. Gordon provide.  It is part of our commitment to this community, and to all kids wherever they may be, to provide this expert level of care in a place that feels like home."
To add to that comfort of home while Kent recovered, he also got a special visit from a fellow classical music lover.  22-year-old Ryan Lyons - cello instructor, aspiring Army Officer and son of Dayton Children's photographer - stopped by to share a few notes with Kent.  Both Ryan and Kent study with the Suzuki method.  Conceived by a Japanese violinist who wanted to bring beauty to his country after the devastation of World War II, Suzuki believed that every child was capable of a high level of musical achievement. With proper musical education, his goal was to raise generations of children with "noble hearts."
While Kent focuses on his music and his healing, Dr. Gordon is helping Kent's family determine the next steps in Kent's treatment. He will need an ear reconstruction, a cheekbone procedure and likely a jaw surgery again before he's finished growing. Dr. Gordon also recommends eyelid reconstruction, a procedure much like a brow lift. These procedures should be done by the time Kent is 18 and his physical appearance will be set for the rest of his life.
In truth, Kent has been working on building his body as his instrument for all his life and will continue to do so.  But there is no doubt that, his heart is truly noble, and with it he creates beautiful music and inspires joy and hope in everyone around him.
The Craniofacial Center at Dayton Children's 
From cleft lip to rare genetic disorders, our pediatric experts treat every patient with exceptional care and compassion. From medical needs to counseling, we explain your child's condition and answer all your questions while helping you understand your treatment options and make choices that are right for your family. To speak with our craniofacial patient coordinator, contact Judy Mosher at mosherj@childrensdayton.org or 937-641-4755.