Feb 20, 2023
patient story
Harper Wright
finally breathing on her own thanks to a modified RED device
patient name: Harper
age: 9
condition: Treacher Collins syndrome
seen in: The Craniofacial Center
providers: Christopher Gordon, MD
---
On a crisp October evening in 2013, Whitney and Brett Wright welcomed their first child into the world. After a seemingly uneventful pregnancy and slightly more challenging labor resulting in a c-section, Harper made her debut.
Whitney and Brett knew there was a chance that Harper would be born with a small jaw, but no other malformations were identified during the pregnancy. While scared, the Wrights were excited to finally meet their daughter.
Everything that followed the c-section replays in Whitney's mind as vividly as the day it happened. When Harper didn't cry after being born, the Wrights instantly knew something was not okay.
"I remember the neonatologist listing all the things wrong with Harper. 'She was born without ears; her jaw was small, and she had a cleft palate,'" said Whitney. "But when I saw her for the first time, a couple of hours later, she had long dainty fingers, lots of dark hair and was the most beautiful thing I had ever seen!"
The next day Whitney and Brett learned that Harper had Treacher Collins syndrome (TCS). This syndrome is a genetic craniofacial condition involving the formation of the face and skull bones. It mostly affects the eyes, cheekbones, ears, jaw and chin, and especially the airway. A tracheostomy tube was surgically placed in the front of Harper's neck and into her windpipe to help her breathe. It is not uncommon for those born with TCS to have compromised airways. From the moment Whitney and Brett learned of Harper's diagnosis, their world forever changed.
Harper has undergone several surgeries since she was born, some of which occurred before her first birthday. When she was just 6 months old, Harper had her first internal jaw distraction, a surgical technique used to lengthen a small or recessed jaw. At 10 months of age, she had her cleft palate repaired, which a cleft palate is also common in TCS. When Harper turned five years old, she had her second internal jaw distraction, both done where they live in Iowa. Jaw distraction procedures are performed for a few reasons; one of which is to open the airway large enough to get a breathing tube (trach) removed. Some jaw distractions are done with an internal device while others are done externally. The hope was to have Harper's trach removed after the second distraction, but unfortunately, she still didn't get the movement she needed to open her airway enough for trach removal (decannulation). This realization prompted Whitney to contact Judy Mosher to find out what other devices and procedures are out there.
from friend to advocate
Even though living miles apart, Whitney found Judy on social media when she joined a Treacher Collins support group that Judy helps moderate. Judy and her daughter actually share the same syndrome as Harper. For more than 25 years, Judy has passionately helped families affected by TCS and other craniofacial conditions navigate their journeys with support and advocacy. Judy also happens to be the craniofacial patient specialist and advocate for The Craniofacial Center at Dayton Children's Hospital, so Whitney knew Judy would be able to answer her questions and provide resources and guidance!
Prior to contacting Judy, Whitney had seen mention in the support group about Dr. Christopher Gordon. She contacted Judy to know more about him. Judy sent her a video of Dr. Gordon on why he wanted to become a craniofacial and reconstructive surgeon. Just by watching the video, Whitney could tell that Dr. Gordon had a passion for helping children and wanted to learn more about the surgical options he had to offer.
Judy quickly arranged a telehealth visit with the family and Dr. Gordon. He thoroughly explained his minimally invasive facial distraction (MIFD) technique he pioneered using a rigid external distraction (RED) device. Using this technique, Dr. Gordon explained that a halo type device would be attached to Harper's skull and stabilized. Foot plates would then be anchored to her upper and lower jaws and would be distracted over a few weeks, with the goal being to enlarge Harper's airway and enable decannulation.
The idea of the RED device sounded scary to Whitney and Brett, but after seeing before and after photos of children who have had the surgery done at The Craniofacial Center at Dayton Children's, they became hopeful and excited!
surgery in Dayton
In December 2021, 8-year-old Harper and her family made the trip from Iowa to Ohio to have her jaw distraction surgery with Dr. Gordon at Dayton Children's.
"Our first trip to Dayton Children's was also the first time we met Dr. Gordon in person," said Whitney. "As soon as we met him, my husband and I knew we had made the right decision. Dr. Gordon sat down with Harper and made her feel comfortable, made her laugh and definitely eased our minds about surgery."
No matter how much information is shared with families from advocates or doctors about the procedure, this type of surgery is never easy on families. No amount of confidence or information prepared the Wrights for the challenges Harper would face throughout the process. The recovery was hard. "It was hard to watch Harper in so much pain," said Whitney. "It broke our hearts and made us question if we made the right choice regarding surgery."
Over the next week and a half, Harper remained at Dayton Children's. She worked continuously with physical therapy, occupational therapy and Millie, canine co-pilot, to regain strength and adapt to everyday tasks while wearing her new device. During this time, Harper's pain became more manageable and the swelling from the surgery reduced significantly. A few days before Christmas, with the distraction phase only having two weeks left of turning, Harper was discharged and the Wright family headed back to Iowa to celebrate the holidays at home! Harper would still wear the RED device for several weeks more after the turning stopped to allow the new bone to heal.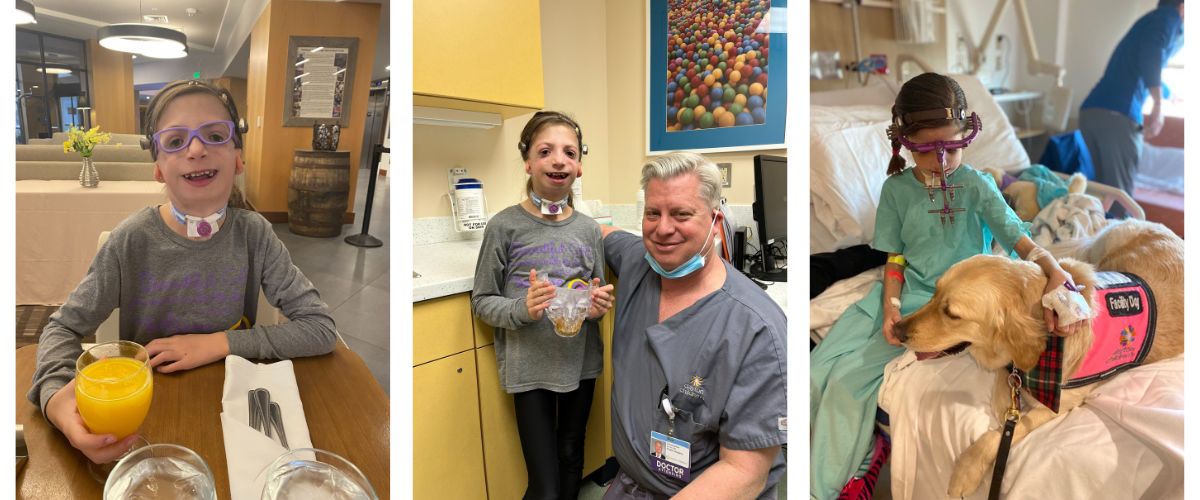 heading back to Dayton
Since her first visit to Dayton Children's in 2021, Harper has returned to see Dr. Gordon twice more. But January 2022 was special; Harper was returning to Dayton to have the RED device removed! The device did exactly what everyone had hoped for, it opened her airway enough to allow for typical intubation through her mouth. Harper's airway had never been this large before, which meant she was one step closer to having her trach removed.
After a busy summer of dance, golf, art and volleyball, Harper made another trip to Dayton to see Dr. Gordon. This time, she and her family were hopeful this would be her last surgical visit until she was quite a bit older. This surgery was to help with Harper's deficient facial bone which is typical in TCS individuals. During surgery, Harper had bone and fat grafting around her eyes to provide support and protection since she does not have cheekbones. Dr. Gordon also lengthened her chin to help improve other functions. Everyone was optimistic that the distraction surgery had been successful but only time would tell; a little more healing had to be done. "Harper's surgeons in Iowa were not optimistic about her trach being removed," stated Dr. Gordon. "But I was hopeful and knew it could be done after her jaw distraction."
the moment she's been waiting for
Each of the procedures Harper has endured since she was born have provided benefits and a quality of life she could not have achieved without surgery. However, the most exciting moment for Harper was in January 2023, when she heard the words "It's time for the trach to come out!" After nine years, three months and seven days of relying on a tracheostomy to help her breathe, Harper's trach was removed!
When asked what she wants to do now that her trach is out, Harper replied, "I just want to swim underwater!"
"Don't settle. If you think there are other surgical options, take the chance and find the best option for your kids." - Whitney Wright
The Craniofacial Center at Dayton Children's
From cleft lip to rare genetic disorders, our pediatric experts treat every patient with exceptional care and compassion. From medical needs to counseling, we explain your child's condition and answer all your questions while helping you understand your treatment options and make choices that are right for your family. To speak with our craniofacial patient specialist, contact Judy Mosher at mosherj@childrensdayton.org or 937-641-4755.
Learn more about The Craniofacial Center at Dayton Children's.
about Judy Mosher
Judy Mosher is the patient specialist for The Craniofacial Center at Dayton Children's. She specializes in craniofacial syndromes, craniofacial genetics research, advocacy, networking and hosting annual retreats for syndromic families. She is also the co-founder of the Treacher Collins Network.
Judy comes to Dayton Children's with more than 20 years of advocacy experience to assist in building the hospital's craniofacial center. As the craniofacial patient specialist, she intakes and follows craniofacial patients throughout their treatment process.
Throughout Judy's many years of advocacy and networking, she has participated in a number of presentations and retreats. One special presentation, in particular, was a 2004 Discovery Channel documentary called UNMASKED: Treacher Collins Syndrome.
As she and several of her family members have Treacher Collins syndrome, Judy understands the importance of her advocacy and work to a higher degree. She enjoys working with families to guide and help parents find resources that can make a world of difference for their kids. She is excited to work at Dayton Children's to care for children, before, during and after their treatment. In her free time, Judy is also a beagle rescuer and has four beagle rescues of her own.
"Judy has a lifetime of perspective and knowledge that is valuable to our patients. She offers an honest and critical perspective and does not hesitate to share everything she knows: the good, the bad and the ugly. The candor is what makes her opinion so respected. Our families praise her as one of the best parts of their Dayton Children's experience. We are very lucky to have her." - Dr. Gordon