patient name: Jasey
age: 8
condition: dentigerous cyst
seen in: emergency department, plastic and reconstructive surgery
providers: Christopher Gordon, MD
---
When your child is sick, you'll turn anywhere looking for answers. But for April, she never expected that turning to Tik Tok for support during her daughter Jasey's medical journey would take their story and experience viral. 
In December 2022, April discovered a mass inside her daughter, Jasey's mouth. In that moment, April's heart sank, and she began crying because the first thing that came to her mind was cancer.
After multiple appointments with dentists and doctors, it felt like they were getting nowhere closer to a diagnosis or solution for Jasey's mass. Finally, after getting an X-ray of the mass, Jasey's dentist recommended the mass be removed as soon as possible.
Unfortunately, that recommendation was easier said than done. Finding a surgeon who would operate on Jasey was filled with hurdles. April went back and forth with various oral surgeons and insurance, trying to find a solution as quickly as possible - she was starting to feel helpless.
Fifteen days after finding the mass in Jasey's mouth, her family still didn't have an answer and it felt like there was no end in sight. So, on a whim, April signed Jasey out of school and took her to the emergency department at Dayton Children's Hospital.
a solution on the horizon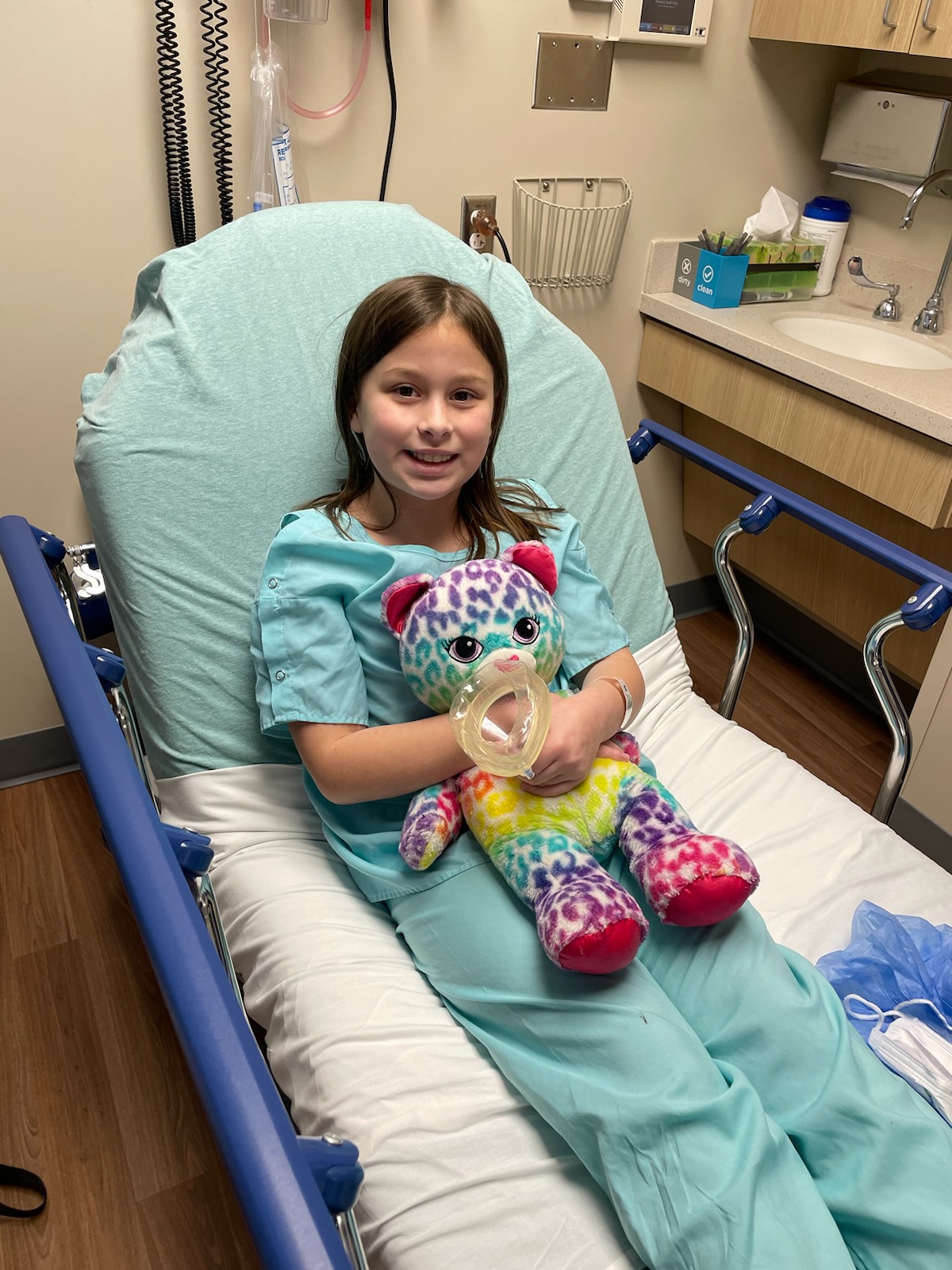 Jasey was admitted, and her care team began prepping her for surgery, just in case the surgeon wanted to take her to the operating room right away.
April felt a sense of relief because she knew Jasey was going to get help right away and they wouldn't be sent away with a referral. Christoper Gordon, MD, division chief of plastic and reconstructive surgery met with Jasey and her family. He answered all their questions and assured them he would take care of Jasey.
Dr. Gordon ordered a CT scan to get a better idea of the size of Jasey's mass and he scheduled her surgery for the following week. "Finally! The end was in sight," exclaimed April. Jasey was discharged from the hospital, and she went home knowing a solution was on the horizon.
The following week, Jasey returned to Dayton Children's for surgery. "The check-in process was easy," said April. "Everyone we talked to was great, we had all our questions answered and we knew Jasey was in great hands." A little less than two hours later, Jasey was in the post-anesthesia care unit and reunited with her family.
Dr. Gordon felt confident that the mass was just a nasty cyst, but he removed it, cleaned the area out, gave her a bone graft to repair the jaw and ordered a biopsy to be on the safe side.
becoming a viral sensation
Going viral on TikTok was never in the plans for April. But she grew anxious waiting for the biopsy results to come back.
"Waiting is something I'm bad at and the anxiety ate away at me. I was horrified that the news of Jasey's biopsy wouldn't be good and that my biggest fear would become a reality. So, I made a video hoping to find someone out there who had the same experience and could give me peace of mind. I guess I was just looking for someone to tell me everything would be okay, even if it was a stranger on the internet," said April.
One week and millions of TikTok views later, Jasey and April returned to Dayton Children's to find out the results of the biopsy. Dr. Gordon confirmed that Jasey had a large dentigerous cyst, and she was going to be okay. Dentigerous cysts are usually harmless masses that develop in the jawbone, causing pain and swelling around the molars and canines.
Until that moment when Dr. Gordon said Jasey's mass was harmless, April had been in a dark place mentally. She spent every moment wondering if her daughter was going to be okay.
"Not knowing what is wrong with your kid is one of the worst feelings and Dayton Children's was able to create some light during a dark time for me," said April. "I will forever be thankful for the staff and all that they did."