Gabby Heck is a Dayton Children's ambassador. There is no better person to share their experience about Dayton Children's than a child or teenager who is a patient. Throughout the year, these Dayton Children's "ambassadors" attend fundraising opportunities and media events to benefit the hospital.
Hayley Heck took one step onto her front porch on a bitter cold January night eight years ago and made a decision that she later learned saved her daughter's life. Her daughter Gabby had bouts of croup every winter since she was an infant that left her hospitalized at Dayton Children's for several days up to a week. This instance seemed no different, the "barking seal" cough was back.
Her parents drove her to Dayton Children's with the window rolled all of the way down to help her breathe. They pulled into the parking lot of the emergency department. Gabby insisted she felt better, the cough had settled. They drove home. "The minute I picked her up and took one step back onto our porch, the terrible cough was back," explains Hayley, Gabby's mom. They drove back to Dayton Children's.
After a series of breathing treatments, the physician quietly explained that coming back saved Gabby's life. They discovered that her airway - at age 6 - was the size of an infant's and she was desperately struggling to breathe. She had developed bacterial tracheitis, which often follows the flu or an upper respiratory infection. Bacteria invades the trachea, causing infection, inflammation and rapid swelling. She had emergency surgery and was placed into a medically-induced coma.
Following diagnosis, her narrowed airway required two additional scope procedures and regular visits to the pulmonary clinic at Dayton Children's.
Hayley was desperate to find a way to help her daughter. "Her pulmonologist said the best thing I could do for her was to help train her lungs through vigorous exercise," she explained. As a personal trainer, Hayley was up to the task of physically training her daughter, but she was not prepared for the emotional pain.
"She was doing sprints with me at age 7 and would break down sobbing from the pain," Hayley shares. "She had side stitches, and her throat and lungs would burn. She would look at me with her huge blue eyes filled with tears and I would break down sobbing, too. But I knew this would not only make her life better, but ultimately save her life."
A year later, Gabby could outrun her mom and her marathon-loving father. Her airway continues to grow as she continues to grow. Now at age 14 she plays center middle for a select soccer team, Metro, and she can run a six-minute mile.
For the last seven years of Gabby's life, she would visit the pulmonology clinic every other month. At her last appointment, she was doing so well that she can now come annually.
"Gabby is my hero," says Hayley. "Thanks to the pulmonology team at Dayton Children's, Gabby has overcome what most kids will never experience and has worked incredibly hard to play soccer at this elite level."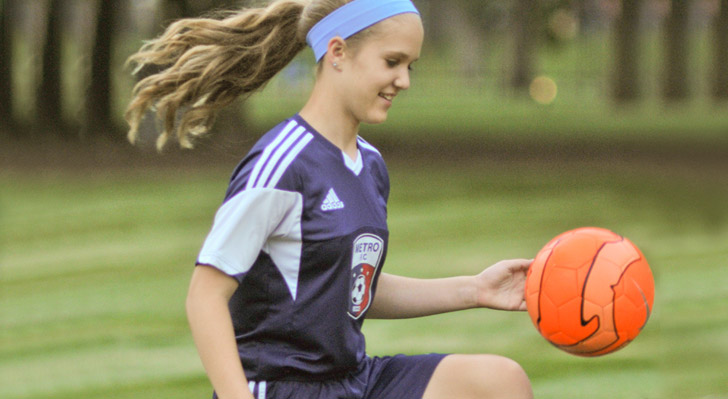 Gabby Heck overcomes narrow airway and runs a six-minute mile
Gabby is a star soccer player and can run a six-minute mile. But unlike many other kids her age, Gabby hasn't gone through the normal training to get to this point. At the age of 6 doctors discovered that Gabby's airway was the size of an infant's, making it very difficult for Gabby to breathe. Gabby underwent an emergency surgery and was placed in a medically-induced coma. After recovery, Gabby began seeing the pulmonary specialists. She also began intense physical training with her mom to improve her breathing and ultimately save her life!