03/13/23 event
thank an awesome doctor this Doctor's Day!
Monday, March 13, 2023 - Thursday, March 30, 2023 | 2:39 p.m. - 12:00 a.m.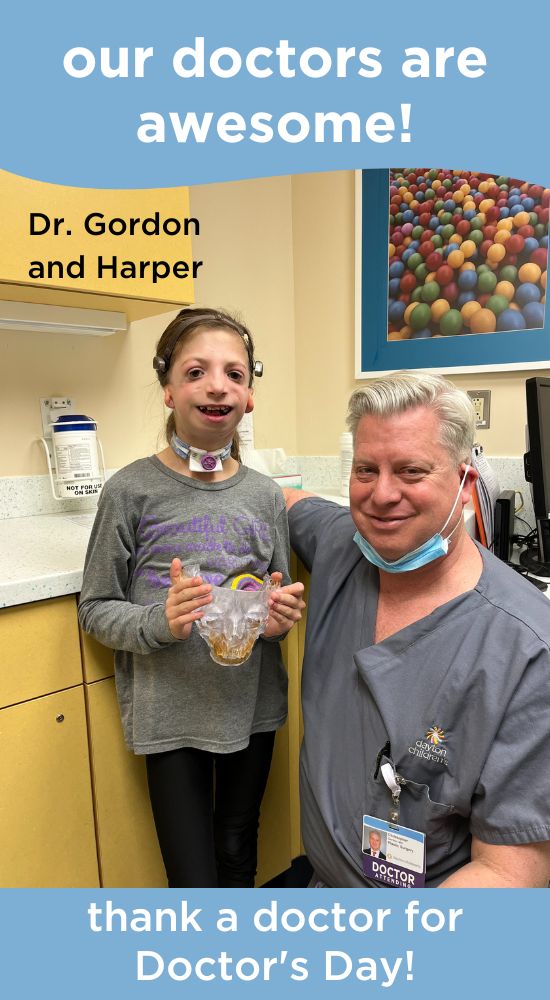 9-year-old Harper says her doctor, Christopher Gordon, MD, is AWESOME! That's just one reason why we're making a big deal about Doctor's Day on March 30, and we need your help!
Share the name of a doctor you're grateful for, and how they impacted your life or your child's life.
"As soon as we met Dr. Gordon, my husband and I knew we had made the right decision,"says Harper's mom, Whitney. "He sat down with Harper and made her feel comfortable, made her laugh and definitely eased our minds about surgery (for Treacher Collins Syndrome)."
We'll share your message with the doctor you honored, and include their name on a Doctor's Day display in the hospital!
You can also honor a special doctor by making a donation, and the doctor will receive a special certificate to display for all to see! 
thank a doctor now!