11/11/23 event
Ezra J. Hartke Race for Hope
Saturday, November 11, 2023 | 9:30 a.m. - 12:00 p.m.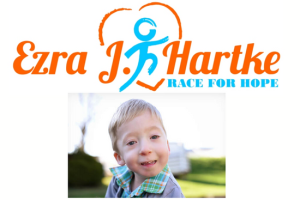 Ezra loved trains, cars, superheroes, and all things "boy." In August of 2017 at the age of 3, Ezra was diagnosed with a malignant brain tumor. After a year of living life and fighting the disease, Ezra unfortunately lost his battle in September of 2018, at the very young age of 4.
During his illness, Ezra and his family were humbled by the support they received from so many people. As so much support was provided during Ezra's illness, the family is raising money to honor Ezra's legacy in support of pediatric brain tumor research. 
The Ezra J. Hartke Race for Hope has raised over $50,000 for pediatric brain tumor research!
This year's race is Saturday, November 11th!
time: 9:30am
location: Kyle Park, Tipp City, Ohio
Registrations available:
5K walk - $30 (not timed, includes t-shirt), $35 after 11/4
5K run - $35 (timed, includes t-shirt), $40 after 11/4
10K run - $40 (timed, includes t-shirt), $45 after 11/4
Virtual 5K - $25 (t-shirt ordered separately)
Teams of 10+: $5 discount per person
Age 18 and under registrations: $5 discount
Ages 5 and under free- no t-shirt
In-person race registrations must be received by October 21st to get a t-shirt!
Optional Team Ezra Wristbands available for purchase 
Awards:
5K & 10K run Men's & Women's
Under 19
19-40
41-60
61 and over
register