4/22/10news article
Terry Wiegel awarded Ohio Speech-Language-Hearing Association's Elwood Chaney Outstanding Clinician Award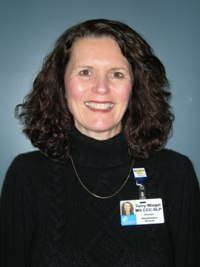 The Children's Medical Center of Dayton is pleased to announce that Terry Wiegel, director of rehabilitative services at Dayton Children's, has been awarded the 2010 Ohio Speech-Language-Hearing Association's (OSLHA) Elwood Chaney Outstanding Clinician Award. 
The award recognizes an individual's significant accomplishments in the advancement of clinical practice and service in speech-language pathology and/or audiology. 
Wiegel, of Springfield, was nominated by rehabilitative services staff members Donna Edwards and Lee Ann Damian. 
Her supervisor recognizes the outstanding rapport she has with her staff. 
"Her leadership style is very positive and participatory. She is an absolute role model for high professional standards," he said.
In his nomination letter,  he also notes that Wiegel's management of rehabilitative services has made a tremendous impact on the hospital. 
"She continues to develop several new clinical programs, maintains high level of productivity, creates a culture of extremely high staff morale and does so with a tremendous sense of professionalism, good humor and commitment to patients." 
Wiegel has worked at Dayton Children's for 20 years and has been the director of rehabilitative services for 17. Before that she worked for the Hearing and Speech Center for 10 years. 
"I was completely surprised and touched to find out that several of my coworkers had nominated me for this award," Wiegel says. "It will certainly be a highlight of my career, and I hope that I can continue giving back to my job and profession." 
"Terry made a decision a couple of years ago not to accept holiday gifts from her staff," says co-worker Lee Ann Damian. "Instead, she wanted her staff to give the money they would have used for her gift to a cause that was related to rehabilitation. This past year, the money went to Operation Smile, an organization that provides free surgeries to repair cleft lip/palate and facial deformities around the world. This gesture shows her dedication to the profession as well as her selflessness." 
Wiegel is an active member of Ohio Speech-Language-Hearing Association (OSLHA) and is now its director of marketing. Founded in 1945, OSLHA is a professional association representing more than 2,800 speech-language pathologists and audiologists throughout Ohio. OSLHA members provide services for the evaluation and rehabilitation of communicative disorders. 
Wiegel will accept her award Friday, March 12 at OSLHA's annual convention in Columbus.
For more information, contact: 
Marketing Communications Department 
Phone: 937-641-3666 
marketing@childrensdayton.org