3/9/15news article
teens donate 1,000 coloring books to Dayton Children's
This week, patients at Dayton Children's Hospital and the Urgent Care location in Springboro will be getting free coloring books and crayons, thanks to the ingenuity of three teenagers and the generosity of a community.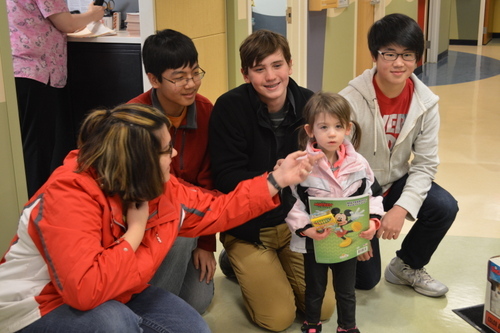 Michael Joo, Josh Wang and Noah Young started Coloring for a Cause last month. It was an idea for a service project for the National Junior Honor Society. The three Springboro Junior High School students wanted to make a difference in the lives of children with their project. "Lots of people were raising money for the school, however we knew that this project would make sick kids feel at least a little bit better, so we wanted to make that kind of impact," said Noah.
They asked five locations to serve as collection points, including The Donut Haus, Bright Beginnings, Minds in Motion, Clearcreek Elementary and Dennis Elementary. In two weeks, they collected more than 1,000 coloring books and crayons.
Little Maggie Ramer was the first to get her choice of coloring book when the boys dropped the items off at Dayton Children's Urgent Care in Springboro last week. Dayton Children's hands out more than 10,000 coloring books to patients and visitors every year.
For more information, contact:
Stacy Porter
Communications specialist
Phone: 937-641-3666
porters@childrensdayton.org