9/19/17news article
take time to tether during Child Passenger Safety Week September 17-23
Research shows 64 percent of kids in forward-facing car seats not protected by tether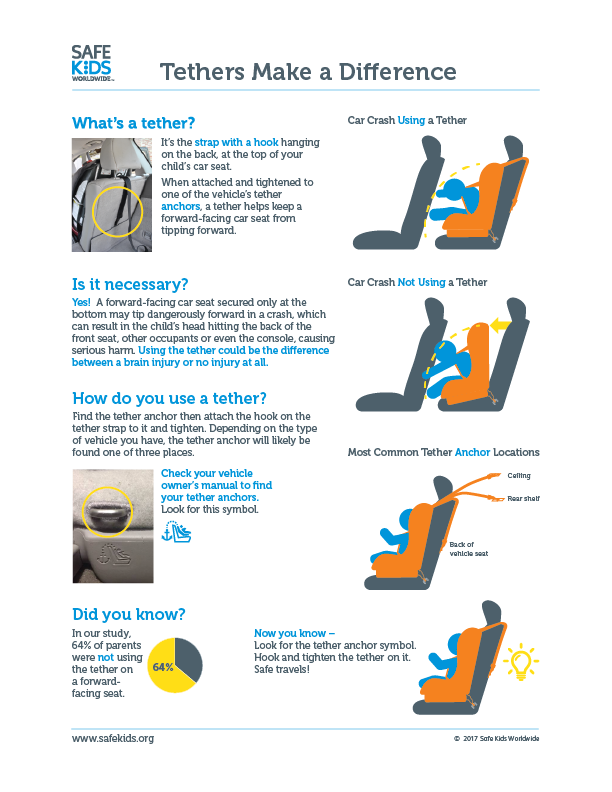 New research shows that more than half of forward-facing car seats are not used properly because of one misunderstood but essential step in installation: attaching the top tether. In a 2016 study of those who came to car seat checkup events, 64 percent of forward-facing car seats with harnesses were not attached using the tether.
This is a serious concern because the tether is an important safety device to protect children in cars.
Here's why:
The tether is the strap on the back of a forward-facing car seat that secures the top of the car seat to a dedicated anchor in the car. All vehicles made after 2001 are required to have at least 3 tether anchors.
When attached and used correctly, the tether keeps a forward-facing car seat from pitching forward in a crash or sudden stop.
Without this protection, a child's head can move an additional 4-6 inches, which could cause serious harm if the child's head hits the back of the front seat, other occupants or even the console.
Using the tether could mean the difference between a serious head injury and no injury at all.
"Many parents don't know about the tether, and don't realize that their child is not fully protected. We want to fix that." said Abbey Rymarczyk, Safe Kids Greater Dayton coordinator and Dayton Children's community relations and prevention coordinator.  "We host car seat checks every week and we encourage parents to come out.  Families can also get expert help online with the Ultimate Car Seat Guide, which is available in both English and Spanish."
Upcoming car seat checks:
September 20, 2017 

10:00am-2:00pm
Evenflo, 225 Byers Road, Miamisburg, Ohio 45342
No appointment required

September 28, 2017

9:30am-2:00pm
Dayton Children's Hospital, 436 Valley Street, Dayton, Ohio 45404
For appointments call (937)-641-3700
The research also shows that lack of tether use is an historic problem. Over a ten-year span, tether use is consistently low and many families who use it don't use it correctly.
But the good news is education works. In 2016, parents and caregivers were shown the importance of using the tether at a Safe Kids car seat checkup event. At a follow-up event six weeks later with the same families, correct tether use increased by 37 percent.
"We know parents and caregivers want to keep their little ones as safe as possible," said Tricia Morrow, Chevrolet Safety Engineer. "That's why when we design our vehicles we look for ways to make tether anchors visible and plentiful, because we know how important tether use is for children in forward-facing car seats. We want all caregivers to understand that tethers are key to getting the most protection from a child restraint system."
With one child younger than the age of 13 involved in a car crash every 33 seconds, parents need to be extra vigilant about keeping kids safe in cars.
This announcement builds on Safe Kids Worldwide's enduring, 20-year partnership with Chevrolet and General Motors, dedicated to protecting children and teens in and around cars. Since its launch in 1997, the Buckle Up program has grown into the most comprehensive child passenger safety program in the nation. Over that time, there has been a 50 percent decline in child deaths for children 8 and younger in car crashes.
Download the Report, "Car Seat Tethers: Essential for Safety but Consistently Overlooked"
Download the Infographic, "Tethers Make a Difference"
About Child Passenger Safety Week - September 17-23
Child Passenger Safety Week is September 17-23 and culminates with National Seat Check Saturday on September 23. In September, Safe Kids will host nearly 500 car seat events and inspection stations across the country, offering guidance from certified Child Passenger Safety Technicians on proper car seat and booster seat installation and usage, with a focus on the use of tethers. Parents and caregivers can visit SafeKids.org to locate an event in their community.
About Safe Kids Greater Dayton
Safe Kids Greater Dayton works to prevent unintentional childhood injury, the number one cause of death for children in the United States. Safe Kids Greater Dayton is a member of Safe Kids Worldwide, a global network of organizations dedicated to preventing unintentional injury. Safe Kids Greater Dayton is led by Dayton Children's Hospital. For more information, visit safekids.org or childrensdayton.org