5/14/21blog post
preventing unsafe sleep related deaths in infants
know your ABC's... of safe sleep!
Since February 2021, Dayton Children's emergency department has pronounced four babies dead after they were found in unsafe sleep environments.
Unsafe sleep is a significant public health issue as approximately 4,000 infants die annually in the United States from sleep-related infant death. These deaths include those from known causes such as accidental strangulation or suffocation in bed and from unknown causes such as sudden infant death syndrome.
While the ABC's of safe sleep basics remain the same – babies should sleep alone, on their back and in a crib, there are other recommendations that further clarify many questions that parents and caregivers may raise as they work to implement safe sleep practices.
breastfeeding and safe sleep
Over the years we have struggled to ensure a healthy marriage between breastfeeding and safe sleep because a common myth is that mothers who may choose to breastfeed need to sleep with her baby. The American Academy of Pediatrics (AAP) continues to highly encourage breastfeeding and they give additional guidance for parents to ensure convenience while in a safe sleep environment. Their recommendations states that infants should sleep in the parents' room, close to the parents' bed, but on a separate surface designed for infants, ideally for the first year of life, but at least for the first 6 months.
will my baby choke if they sleep on their back? q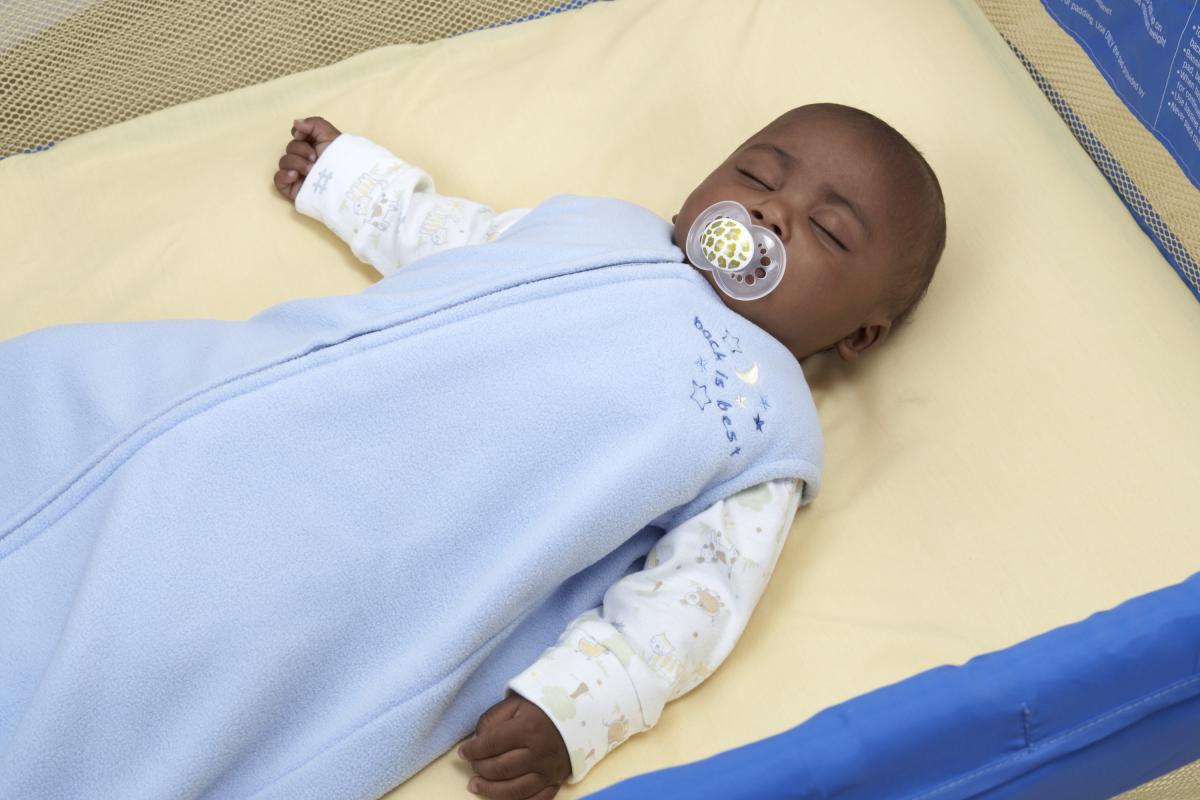 Another common misconception is that the baby will choke when sleeping on the back.
When a baby vomits or spits up, it can go down the wrong tube causing him/her to stop breathing or choke. When a baby is sleeping on their back, the trachea lies on top of the esophagus. Anything spit up must work against gravity to be aspirated into the trachea.
However, when a baby sleeps on their stomach, anything spit up will pool at the opening of the trachea, making it easier to be aspirated into the baby's lungs.
According to the AAPs, even babies with reflux or who regularly spit up should sleep on their backs in a crib next to the caregiver's bed, unless recommended by a pediatrician.
positioning wedges and other commercial devices
The AAP suggests parents should avoid the use of commercial devices that are inconsistent with safe sleep recommendation – these could include positioning wedges, Boppy pillows and swings. When it comes to safe sleep – simple is better.
the mother's health
It's very important for mom to stay healthy in order to keep the baby healthy. Mothers should refrain from smoking and drug use, especially during pregnancy, and obtain consistent prenatal care leading up to a baby's birth.
Given our local and national statistics regarding safe sleep deaths, there clearly is work to be done. To get the safe sleep information out to our communities, we need partners to learn about safe sleep and spread a consistent message supporting safe sleep as a norm in our community.