2/5/16news article
a personalized approach to solve sleep troubles
Maninder Kalra, MD, PhD, joins Dayton Children's with dual roles in the pulmonary department and the sleep center
Every parent knows sleep is sacred. They are either fighting to get the kids to go to bed or wishing they could go to bed themselves. But for some kids, sleeping is the worst part of their day. They can't fall asleep, they can't stay asleep or they don't feel rested when they wake up.
Maninder Kalra, MD, PhD, knows that many times those sleep struggles are related to problems the child has breathing. He joins Dayton Children's with dual roles in the pulmonary department and the sleep center.
Dr. Kalra says trouble breathing during sleep can be caused by many things, including obstructions in the airway, obesity and muscle weakness as in muscular dystrophy. "Many conditions first manifest with breathing difficulties at night that interfere with sleep," says Dr. Kalra. "A sleep study can identify the disorder before any other symptoms arise. For patients with Duchenne muscular dystrophy, a sleep study is now common as part of the screening for breathing issues."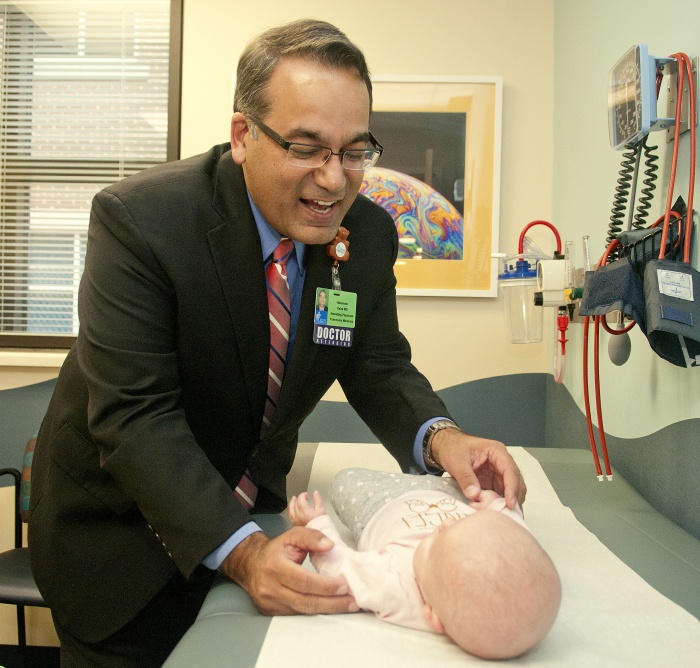 Dr. Kalra also utilizes a personalized approach for pulmonary sleep issues. "If you are overweight, you may not be a good candidate for having your tonsils and adenoids out – the most common first approach in pulmonary sleep issues," says Dr. Kalra. "Another approach would be working with orthodontics to provide a mouthpiece that would help breathing issues at night. Advanced MRI imaging can help us predict what will work and what won't."
Dr. Kalra's most recent positions were as president and CEO of Midwest Sleep Medicine Consultants in West Chester and the director of pediatric sleep disorders at Columbus Sleep Consultants. Dr. Kalra is board certified in sleep medicine. He is a board member of the Ohio Respiratory Care Board and the Mallory Wilson Center for Healthcare Education at Miami University. He was on the medial staff at Cincinnati Children's and an assistant professor at University of Cincinnati Department of Pediatrics, as well as on the staff and faculty at St. Joseph's Children's Hospital in Paterson, New Jersey.
Fast Facts:
Undergraduate, doctorate and residency – Punjab University, India
Residency – St. Joseph's Children's Hospital, Paterson, New Jersey
Pediatric pulmonary fellowship – Cincinnati Children's Hospital Medical Center
PhD in epidemiology – University of Cincinnati
Dayton Children's pediatric sleep center is one of just a few centers in the country accredited by the American Academy of Sleep Medicine. Inpatient and outpatient sleep studies are scheduled Sunday through Friday, making every effort to accommodate working parents.
Dayton Children's pulmonary department provides comprehensive treatment for the full spectrum of breathing-related conditions, from asthma and undiagnosed wheezing and coughing, to pulmonary hypertension and cystic fibrosis. Because many patients have a complex medical condition, the pediatric specialists collaborate with other experts at Dayton Children's to ensure that their unique needs are met. These can include experts in cardiology, sleep disorders, speech pathology, rehabilitation therapy and many others.
For more information, contact:
Stacy Porter
Communications specialist
Phone: 937-641-3666
newsroom@childrensdayton.org