1/28/16news article
new provider adds more ways to help children with brain injuries or illness
Dayton Children's welcomes Margaret Hudepohl, PhD, neuropsychologist
Illness and injury rarely impact just one area of the body. When you injure your knee, your other muscles are forced compensate when you limp. If you have a stomach bug, the rest of your body does not get the nourishment it needs. Some illnesses and injuries also have an impact on the brain, modifying the way a child thinks or processes information, how they see or hear things and what they can pay attention to or remember.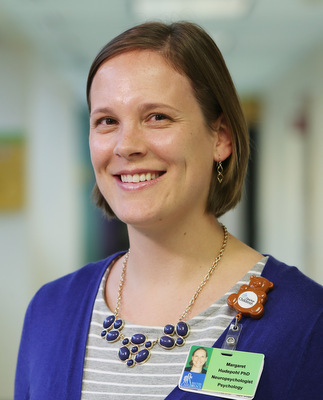 Margaret Hudepohl, PhD, joins Dayton Children's as the new neuropsychologist to address issues like this. A neuropsychologist has special training in how brain development changes due to medical conditions or treatment and can affect a child's thinking, learning, mood and behavior. Examples of children who might benefit from a neuropsychological evaluation are those with cancers and blood disorders, brain injuries, neurological conditions and some genetic conditions.
While many children Dr. Hudepohl works with are struggling with a life-long illness, some have their lives changed in an instant, such as with a brain injury in a car crash. Dr. Hudepohl completes evaluations that show the strengths and weaknesses of a child's thinking skills and then is able to give recommendations to the family, school and medical team to help them improve the child's functioning.
"Many times families and schools have tried a number of approaches to help a child struggling with a medical or brain-based condition and have not had much success," says Dr. Hudepohl. "Through a neuropsychological assessment, we gain insight into the child's strengths and weaknesses and can use that information to guide the best approach for teaching and working with the child, based on their unique needs. It is so gratifying to be able to give families a solution to help their child succeed."
Dr. Hudepohl just completed a pediatric neuropsychology fellowship at Cincinnati Children's Hospital Medical Center. She earned her psychology degree from the University of Richmond in Virginia and her master's and doctorate in clinical psychology at Georgia State University in Atlanta. She completed her clinical neuropsychology internship at Emory University School of Medicine in Atlanta.
The addition of neuropsychology is just a part of Dayton Children's Destination 2020 plan to make sure this community's families have a strong, vibrant children's hospital close to home. 
For more information, contact:
Stacy Porter
Communications specialist
Phone: 937-641-3666
newsroom@childrensdayton.org