2/22/11news article
Michael Brandon selected as 2010 Elsie T. Mead Lifetime Achievement Award winner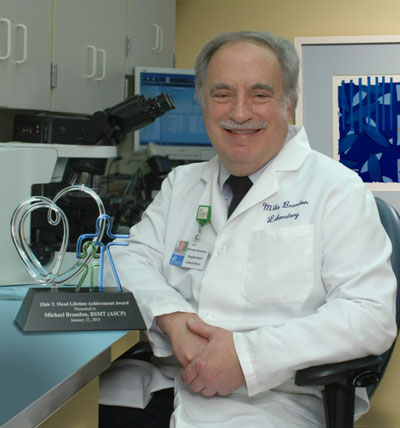 The Children's Medical Center of Dayton is pleased to announce that this year's winner of the Elise T. Mead Lifetime Achievement award winner is Michael Brandon, BSMT (ASCP).
The Elsie T. Mead Lifetime Achievement Award recognizes a current or former Dayton Children's employee who has made an outstanding contribution to Dayton Children's and the community. Former employees are eligible for up to five years after their departure from Dayton Children's. Award winners must have been employed by Dayton Children's or one of its subsidiaries, made a major lifelong contribution to Dayton Children's mission, be active in the community, contribute a significant innovative idea to Dayton Children's and be recognized as a positive mentor and role model.
Serving as supervisor in the microbiology and virology laboratory at Dayton Children's since 1976, Brandon's quiet, behind-the-scenes leadership and clinical expertise has made a difference for the children, employees, physicians and the community. He is respected by his coworkers and Mike's selection as the recipient of the Elsie T. Mead Lifetime Achievement Award has given those around him the opportunity to celebrate his quiet dedication, unwavering commitment and sly sense of humor.
"He is a warrior in the lab and always prepared to help in any situation," explains Hila Collins, nurse practitioner at Dayton Children's. "Without Mike, it would be impossible for us providers to treat any patient with an infectious disease." 
Sherman Alter, MD, medical director of infectious disease, said of Brandon, "He serves as an educational asset for physicians, including this one, whenever specific, serious or puzzling conditions arise. He is always willing to both interpret the data and make recommendations for further evaluations that assist in patient management."
Brandon is also involved in the education of students at all levels of training – from the elementary school student needing assistance with a science project to the formal training of medical technology students to the teaching of medical students and residents.
In addition to his work at Dayton Children's, Brandon is active in multiple organizations serving on the board and as program chair for the South Central Association for Clinical Microbiology (SCACM), a position which he has held for 10 years, and was recently selected as SCACM's recipient of Outstanding Contributor to Clinical Microbiology, the organization's highest honor.  Brandon serves on numerous hospital committees including infection control, safety, MDRO (multidrug resistant organisms) and standardization for disinfectants, and collaborates with infectious disease at Dayton Children's on research studies and has contributed to several process action teams.
About the Elsie T. Mead Lifetime Achievement Award
Elsie T. Mead believed that children needed their own hospital. She was a community leader and the wife of the chairman of the Mead Corporation and was accustomed to getting things accomplished to improve life in the greater Dayton area. After witnessing a child admitted to an adult hospital in Dayton, she knew there had to be a better way to deal with ill and injured children. She had a vision of improving care for children and engaged others in her vision. The Elsie T. Mead Lifetime Achievement Award honors an employee who is also dedicated to caring for children and embodies that deep sense of commitment, those same values and that spirit of doing whatever it takes for children and families.
For more information, contact: 
Marketing Communications Department 
Phone: 937-641-3666 
marketing@childrensdayton.org