1/30/12news article
MeadWestvaco Family Resource Center opens at Dayton Children's
The new MeadWestvaco Family Resource Center (FRC) at The Children's Medical Center of Dayton opened December 27, 2011. This new center was made possible with a $150,000 gift from the MeadWestvaco Foundation.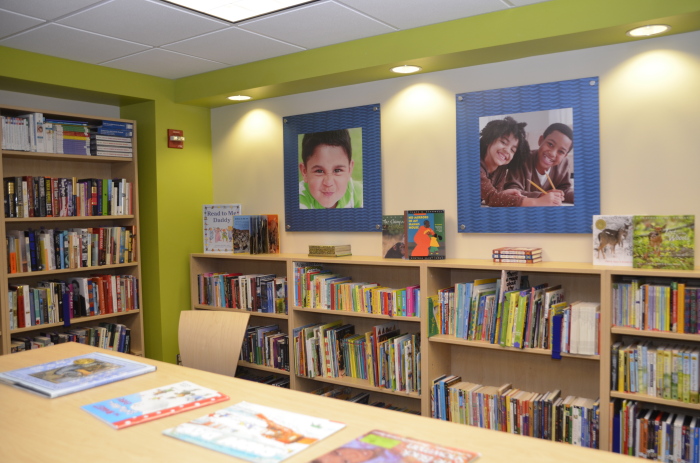 "We are so fortunate to have the support of the MeadWestvaco Foundation for this vital center," says Vicki Giambrone, vice president for marketing and external relations at Dayton Children's. "When a child is seriously ill or injured, parents and families need access to resources of all kinds. Having a fully equipped space that is comforting and calming, with a staff ready to help, makes a difference at a time when it matters most. Plus, there is never a charge for any of these services. This is a gift that will keep making a difference for families many years to come."
The MeadWestvaco Family Rosource Center is a free family library that offers books, DVDs, internet access and other materials to help parents, families, caregivers and partners better understand child health, safety and psychosocial issues. The center also offers guest services such as free access to internet, fax and phones for families of children being treated.
The center provides support and information for parents and families of recently diagnosed children to support their understanding of the illness or condition. The FRC staff can provide information tailored to the parents' or families' needs and connect them to support groups or other community resources. Research demonstrates that trusted information about a child's diagnosis and treatment helps parents and families become more involved in their child's care, which contributes to quality outcomes.
"MeadWestvaco has a long-standing history of supporting Dayton Children's dating back to when Dayton Children's first opened its doors under the leadership of Elsie T. Mead," says Kathryn Strawn, vice president and executive director of the MeadWestvaco Foundation. "Over time, the Family Resource Center has become an important aspect of our partnership. Today, we are excited to celebrate the opening of the new center and the increased capacity it will provide for families to access the educational resources they need to care for their children."
These free services are made possible through ongoing support from The Little Exchange of Oakwood, a gift from Ronald McDonald House Charities of the Miami Valley and donations from other individuals and organizations.
Dayton Children's has had a family resource center since 1996. Since that time, the family resource center has helped an ever-increasing number of parents, families, staff and community partners locate trusted information and resources on child health, safety and psychosocial issues. Today the family resource center fills an average of 1,000 information and resource requests every month. Community outreach activities such as health fairs and car seat checks are also coordinated from the MeadWestvaco Family Resource Center.
The new center with more than 1,300 square feet of space offers a children's area with special furnishings and wall-mounted toys, six computer stations for guests offering easier access and increased privacy,  a private room for families to  review materials, view videos or discuss their information needs, and comfortable seating to review information materials. The center is also located near patient relations and pastoral care services.
Photos available upon request
For more information, contact: 
Grace Rodney 
Marketing communications specialist 
Phone: 937-641-3666 
marketing@childrensdayton.org