4/10/20blog post
is it safe to bring my child to the hospital if they are injured?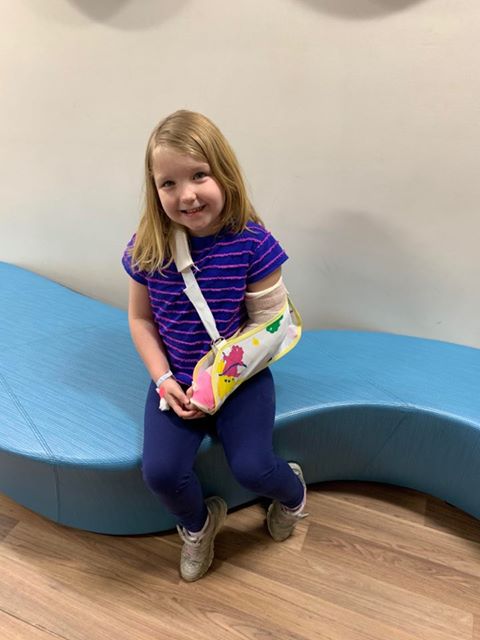 Like many kids these days, 5-year-old Katie McElroy has been enjoying being out on her bike when the weather has been nice. But last Friday, Katie took a spill and hurt her arm while riding her bike.  
Parents may be wondering if it's safe to come to the hospital for treatment during this time or if they should ride it out at home. At Dayton Children's, we are doing everything we can to ensure that when you bring your child in for an illness or an injury that they will be safe.  
Katie's mom shared on Facebook: "We had to be at the ER on Friday after my daughter broke her arm riding her bike. I will admit seeing everyone in face shields and masks really made all this hit home for me, but your staff was so fantastic, and my daughter wasn't afraid at all. A medical professional met us at the ER door and grabbed a wheelchair when they saw me struggling to walk and brace my daughters' arm. They quickly scanned my temperature and got us into a room. We were checked on frequently to make sure we were safe and comfortable. They checked on my daughter but also repeatedly asked if I needed anything and if I was ok. Everyone was great and when they heard it was a bike accident and that she was wearing her helmet they praised her for doing so and even gave us a new red helmet which she loves! You guys are the best!" 
injured at home- what should you do? 
As a parent, you know how challenging keeping kids active during the stay-at-home order can be. It can be even more challenging when your child becomes injured while playing at home. When jumping on the trampoline or riding a bike turns into pain and tears, it's hard to know if your child has a sprain something or worse, a broken bone. What should you do and how can you safely seek treatment?  
how do I know if it's broken? 
Falls are a common part of childhood, but not every fall results in a broken bone. Signs that a bone is broken are: 
You or your child heard a snap or a grinding noise during the injury. 

There's swelling, bruising, or tenderness around the injured part. 
It's painful for your child to move it, touch it, or press on it; if the leg is injured, it's painful to bear weight on it. 

The injured part looks deformed. In severe breaks, the broken bone might poke through the skin. 
when in doubt, get it checked out 
If you do think it's broken or sprained, it's best to seek treatment. With hospital visitor restrictions and precautions to reduce the spread of COVID-19, you should avoid adult hospitals and other facilities that treat sick patients.  You can be assured when coming to Dayton Children's that we have taken extensive precautions to ensure our patients and staff are safe. Learn more about our visitor restrictions and how we are keeping our staff and patients safe.  
The best option for a patient under the age 18 is to see a pediatric orthopedic specialist. An orthopedic appointment will allow you to avoid areas with high levels of ill patients such as urgent cares and emergency departments.  Plus, these specialists are trained to treat the growing body and offer imaging, casting and bracing services all in one appointment saving you time and money! 
If your child needs to be seen, Dayton Children's orthopedics offers same-day appointments from 8:00 am- 4:00 pm. To make an appointment, call 937-641-3010.  
If your child is injured after 4:00 pm and needs immediate attention, Dayton Children's offers 24 hour emergency care at our main and south campus and urgent care in Huber Heights.