6/16/15news article
gun shot admissions at Dayton Children's outpacing last year
time to review gun safety with children
Toy guns are consistently one of the most popular toys for kids. So it should come as no surprise that they would want to play with a real one, should they find it. With the recent cases of children seriously injured or killed by gunfire, Dayton Children's is urging parents to take extra steps to secure any guns they have and teach children gun safety. That includes BB guns, which can be just as dangerous as a gun that shoots bullets.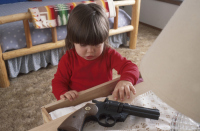 Emergency crews at Dayton Children's are seeing a disturbing trend. So far this year, ten children have had to be admitted for BB or gunshot wounds. That's already on par with last year's figures, which saw 11 children admitted for those types of injuries, and the year is only half over.
Unlike what happens on cartoon shows, people don't just get up and walk away after being shot, so children may have a false view of the dangers of guns. In addition, guns are in more than one third of homes, so they're a very real danger to children, whether you own one or not.
If You Have a Gun in Your Home
Many kids are raised with guns in the home, particularly if hunting is a part of family recreation. If you keep a gun in the home, it's important to teach your kids to act in a safe and responsible way around it.
To ensure the safest environment for your family:
Take the ammunition out of the gun.
Lock the gun and keep it out of reach of kids. Hiding the gun is not enough.
Lock the ammunition and store it apart from the gun.
Store the keys for the gun and the ammunition in a different area from where you store household keys. Keep the keys out of reach of children.
Lock up gun-cleaning supplies, which are often poisonous.
When handling or cleaning a gun, adults should never leave the gun unattended.
If you own a gun or have found one in your home and want to dispose of it, call your local police station.
Talking to kids about gun safety
Gun safety does not end when your child leaves your home. Kids can still come in contact with a gun at a neighbor's house, when playing with friends, or under other circumstances away from home.
"Ask your child if they know of any guns in their friends's homes," says Lisa Schwing, trauma program manager at Dayton Children's Hospital. "Also discuss gun safety with the parents. It may feel like an awkward conversation, but stress you just want to make sure everyone is safe."
Teach kids to follow these rules if they come into contact with a gun:
Stop what they're doing
Do not touch the gun
Leave the area where the gun is
Tell an adult right away
It's particularly important for kids to leave the area to avoid being harmed by someone who doesn't know not to touch the gun. A child as young as 3 years old has the finger strength to pull a trigger.
BB Guns are real guns
"Although BB guns don't use bullets the BBs can still penetrate the skin leaving more than just a flesh wound," says Schwing. "The BB from a pump action BB gun travels up to 1,200 feet/second, as fast as a bullet leaves a 44 magnum. This velocity contributes significantly to the BBs ability to penetrate deep into the body."
Sometimes the wound is so small, it is difficult to tell whether the BB entered the body. Children may think the BB bounced off them. They don't tell their parents right away what happened out of fear of getting in trouble. Delaying telling a parent makes things worse.
The U.S. Consumer Product Safety Commission (CPSC) recommends that kids under age 16 not use high-velocity BB guns or pellet guns. These guns should only be used under the supervision of an adult. Kids who have a BB gun, or are likely to come into contact with one, must know to never point it at anyone, including themselves.
For more information, contact:
Stacy Porter
Communications specialist
Phone: 937-641-3666
porters@childrensdayton.org