5/20/21blog post
get to know: Linh-Han Ikehara, MSW, LISW-S
The center for the female athlete at Dayton Children's is led by a group of physicians, specialists, dietitians, and athletic trainers dedicated to the current and future health and wellness of the female athlete. Each caregiver plays an important role on the team, providing total wellness of the young female athlete and the unique situations that affect them.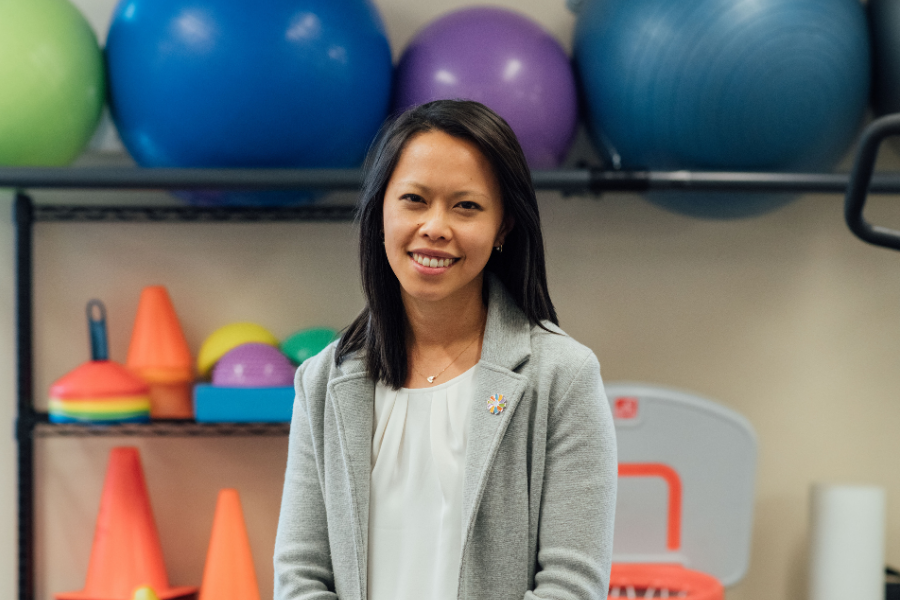 Name: Linh-Han Ikehara
Role on the center for the female athlete team: Behavioral Health Therapist
Why is it important to have your specialty as part of the center for the female athlete team?
Now more than ever, it is important that our youth, particularly our teen female athletes see emotional health as part of our overall health and wellbeing. Together, the two promote optimal wellness and resilience in facing challenges.
The two systems of mind and body are intimately connected and reap reciprocal benefits of affecting each other.
It is helpful to think of an athlete with depression, anxiety or another mental health concern as "injured" – just as you would of a student athlete who has a physical or medical problem that requires patience for recovery.
As with physical injuries, mental health problems may, by their severity, affect athletic performance and limit or even preclude training and competition until successfully managed and treated. In other cases, teen female athletes often will experience depression or anxiety as they struggle to cope with an injury placing them at increased risk or re-injuring. It is important that our teen athletes see their wellbeing a priority that enables them to enjoy the sport, as well as perform.  
What are your goals for the program?
My vision is for our teen female athletes to recognize and utilize their personal strengths that will enable them to be healthy and confident individuals and athletes. These strengths are the catalyst to transforming negative self-beliefs into positive and realistic ones and the development of stress management. My focus is to promote our girls' overall wellness and empower them to see that their self-worth is connected to who they are as a person, rather than their sports performance.  
What do you want female athletes to know about the program?
"She can do this" is our motto. That means our girls don't have to have all the answers to what's going on with them, but they can work with the team to identify the areas for continued growth and make intentional plans in the development of a healthy mindset and habits.
One final thought
Although mainly an athlete in high school, I continue to strive to keep myself and my family active on a daily basis through trail running, biking, and hiking. It brings me joy to see my son experiencing the benefits of developing healthy habits and enjoying himself. I see now how exercise has a positive impact on the emotional well-being for myself and others. I am honored to have the opportunity to empower our teen female athletes to also invest in themselves.