3/26/12news article
former Miss America to speak on child sexual abuse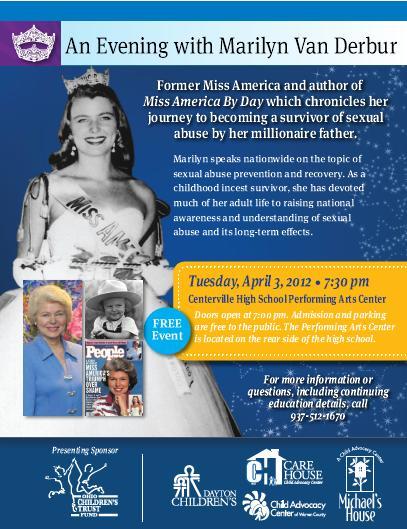 To raise awareness of sexual abuse, the local child advocacy centers will host an evening with former Miss America (1958) and author of Miss America by Day, Marilyn Van Derbur, who will talk about her experience with and recovery from sexual abuse by her millionaire father.  The free event, which is open to the public, will be at 7:30 pm on April 3, 2012 at the Centerville High School Performing Arts Center. April is child abuse awareness month.
Three of the region's child advocacy centers, CARE House, Warren County and Michael's House have teamed up to bring Van Derbur to the area in order to raise awareness about child and sexual abuse. The presenting sponsor for this event is the Ohio Children's Trust Fund.
Van Derbur speaks nationwide on the topic of sexual abuse prevention and recovery. Her book Miss America by Day chronicles her journey of being sexually abused by her father from age 5 to age 18. It was not until Van Derbur was 53 years old that she was able to talk about these events in public. Since opening up about her abuse, she has been able to help many others learn about the signs of sexual abuse and how to provide help and support. She has devoted much of her adult life to raising national awareness and understanding of sexual abuse and its long-term effects.  
According to Darkness to Light, an organization dedicated to ending child sexual abuse, one in four girls and one in six boys will be sexually abused before they turn 18, and 20 percent of victims are under the age of 8. More than 90 percent of abusers are people children know, love and trust.
Van Derbur's website, www.missamericabyday.com outlines that she believes sexual abuse prevention is the best weapon for keeping our children safe. She urges parents to take an active role in prevention with their children, as young as 5, and provides suggested guidelines for important conversations that will, hopefully, evolve into continuous dialogues.
An Evening with Marilyn Van Derbur is free and open to the public. Parking and the Centerville High School Performing Arts Center are both on the rear side of the school. Doors will open at 7:00 pm. Ellen Bryan, current Miss Ohio will introduce Van Derbur. Miss America by Day, will be for sale both before and after the event. For more information please call CARE House at 937-512-1670.
About CARE House
CARE House is Mongomery County's advocacy center for child victims of abuse and neglect. Its mission is to provide a multidisciplinary team response to child abuse for the purpose of protecting and supporting children and their non-offending family members, holding offenders accountable, and educating the community. CARE House is a partnership of The Children's Medical Center, Dayton Police Department, Montgomery County Children Services, Montgomery County Prosecutor's Office and Montgomery County Sheriff's Office. For more information visit  www.thecarehouse.org.
About Child Advocacy Center of Warren County
The Child Advocacy Center of Warren County is a winning solution for abused children and their non-offending family members, providing comprehensive, coordinated services in one community-based facility. Necessary specialized medical, emotional, legal, investigative and victim advocacy services exist in one child-friendly location, ensuring that children are not further victimized by the systems intended to protect them. For more information visit http://www.cacwarrencounty.org
About Michaels House
Michael's House, centrally located in Fairborn, Ohio, provides a warm and welcoming environment for children who are suffering from all forms of abuse. It provides a single place for multidisciplinary, multijurisdictional investigations to occur and is comfortable, private and child-friendly. As a national model for child advocacy, it is designed, furnished and staffed to promote healing. For more information visit http://www.michaelshousecac.org
###
For more information, contact: 
Grace Rodney 
Marketing Communications Specialist 
Phone: 937-641-3666 
marketing@childrensdayton.org