6/14/21blog post
Fisher-Price recall leads to questions about safe sleep environments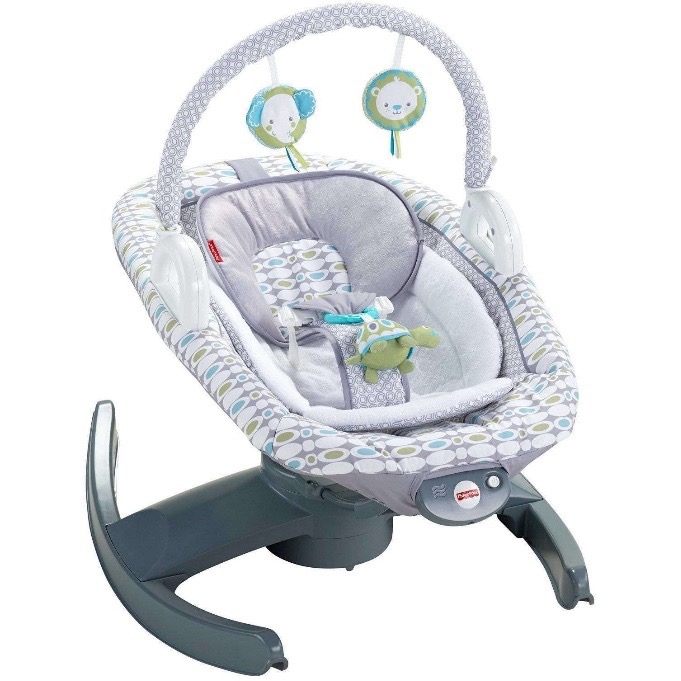 You may have seen the buzz over a couple of recalls for infant gliders and be wondering is anywhere safe for my baby?
If you didn't see the news, the U.S. Consumer Product Safety Commission (CPCS) and Fisher-Price recalled its 4-in-1 Rock 'n Glide Soother and 2-in-1 Soothe 'n Play Glider after reports of four infant deaths. This is in addition to the 2019 recall of the Rock 'n Play sleeper which the commission linked to 30 infant deaths.
why are these rockers dangerous?
Elaine Markland, nurse educator at Dayton Children's shares two main reasons: 
1. These rockers are designed to elevate the head of the baby at an incline of 10-30 degrees. A baby, 4 months and older, left unrestrained in an infant rocker can roll over and be trapped. Once entrapped at an incline, the baby cannot self-correct by turning over or lifting the head and can suffocate in the padding.
2. Infants have large heads and small weak necks.  When left on an inclined surface, the baby's head can roll forward and block the baby's airway or breathing tube. When the airway is blocked, the baby cannot breathe and dies.
how common are unsafe sleep deaths?
The American Academy of Pediatrics reports around 3,400 infant deaths in the U.S. every year while sleeping, often due to sudden infant death syndrome (SIDS) or accidental deaths from suffocation or strangulation. Since February 2021, Dayton Children's Hospital has seen six babies die after being found not breathing in an unsafe sleep environment.
Dayton Children's encourages you to make a safe sleep area for your baby by following the ABCs of safe sleep:
Alone. A baby should sleep alone. Never let your baby sleep with you, another child, adult or pet.
Back. A baby should sleep on his or her back—the safest position for a baby to sleep.
Crib. Do not let your child sleep in any other place besides a crib with a firm mattress.
"We know that it is exhausting to care for a new baby and parents are desperate to get their baby to sleep, but safety is the number one priority," explains Markland. "The absolute safest way for a baby to sleep is flat on his/her back in a separate sleep surface such as a crib, pack-n-play or bassinet. Keep blankets, toys or pillows out of the crib. Caregivers should explain these safe sleep tactics to everyone who cares for the baby to ensure that the baby is sleeping in a safe environment every time."
For more information on safe sleep recommendations, you can visit Dayton Children's website here, or the American Academy of Pediatrics website here.  
For a list of other infant sleeper recalls please visit the Consumer Product Safety Commission website here.