12/9/16news article
Dayton Children's patient inspired John and Annie Glenn
remembering the legacy of Ohio heros
There is no question that John Glenn made a tremendous impact on our country, through his dedication to service and discovery. But in the early 1990's, a Dayton Children's patient also made quite the impression on him.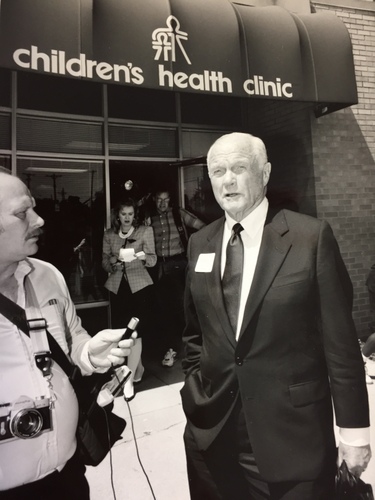 "He was always somebody who was deeply interested in children and serving their needs," says Vicki Giambrone, former vice president at Dayton Children's. "He was an original supporter of children's health insurance program – which creates a safety net of insurance for children in modest income families who don't qualify for Medicaid. He was also instrumental in helping us gain support for a separate bill (CHGME) that ensures children have access to great pediatric care, by providing funds to help train the next generation of pediatricians and pediatric specialists."
While serving as Senator, Glenn had come to Dayton Children's before, but it was the visit in 1992 that truly inspired him. That's when he met 8-year-old Ashley Justice. Ashley was one of the first children in the region to get a cochlear implant, or "bionic ear." It's a surgically implanted device that sends electrical signals to the hearing nerve and allows the user to hear. Senator Glenn was in the room when the device was turned on and Ashley could hear for the very first time.
"Senator Glenn was enamored with the technology and wanted to know everything about it," recalls Giambrone. "He was almost as excited as Ashley!"
That moment of inspiration drove him to return the following year to introduce his wife Annie to Ashley. Annie knew what it was like to struggle to communicate - she spent most of her life trying to conquer a stutter that impacted 85 percent of her speech. She rarely spoke because communication was so difficult. She intimately understood the miracle that took place in Ashley's life that day and both Glenns shared their support of the remarkable work being done in pediatric medicine.
After the implant procedure, Ashley underwent eight months of intense therapy with Dayton Children's speech pathologist Terry Wiegel. She learned how to associate different sounds with objects such as drums, bells, and other instruments. Ashley was taught how certain letters sound and how to understand different words and sentences.
It was also a special sort of speech therapy that changed Annie's life. "We have a national award given out our speech therapy convention each year called the Annie Glenn award," says Wiegel, who is now the director of rehabilitation services at Dayton Children's. "She had always been so active in supporting our profession because of her personal history with a disability."
While John Glenn impacted countless lives, it's certain that Ashley also impacted him. More than 20 years after her surgery and meeting Glenn, she continues her inspirational role by sharing her story with others and encouraging them to explore their options. "While at work one afternoon, an older man approached me and said he was told I had the cochlear implant surgery. He mentioned to me how he didn't know if it was worth it and whether or not he should do it. After talking to him for a while and giving him advice on the entire process, he went through with the surgery," says Ashley.
Ashley's ambassador picture still hangs proudly on the walls of Dayton Children's and she says the hospital and its team still hold a special place in her heart as well. "Thank you for taking care of me and working so hard," says Ashley. People would tell me I was brave and had courage but I didn't believe it until now, so thank you."
For more information, contact:
Stacy Porter
Public relations manager
Phone: 937-641-3666
newsroom@childrensdayton.org