4/2/15news article
Dayton Children's new autism diagnostic center will help families get answers faster
center will help families find answers faster
It's more common than Down syndrome, diabetes or even childhood cancer. It is the fastest growing developmental disability in the country, increasing ten-fold in the past 40 years. Estimates are that 1 in every 68 children has been diagnosed. What is this disorder affecting our children more than ever before? It's autism.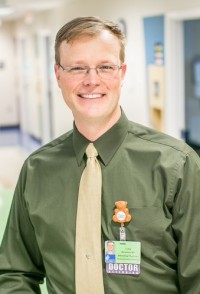 Autism spectrum disorder (ASD) is a developmental disability that can cause significant social, communication and behavioral challenges. Children with ASD have different ways of learning, paying attention or reacting to things. They may not make eye contact. They may not want to be held, even by their parents. They may perform repetitive motions or not be interested in exploring their environment.
Signs may begin to develop in children as young as 6 months, however a clear diagnosis normally can't be made until a child is 2 years or older. Research shows that early intervention treatment services at that time can improve a child's development. That's why Dayton Children's is building the autism diagnostic center with medical director, Craig Boreman, MD, at the helm.
Dr. Boreman just retired from the Air Force at Wright-Patterson Air Force Base, where he was a developmental and behavioral pediatrician. He has great relationships already built at Dayton Children's as he led the base's military pediatric residency program and also partnered with the hospital to extend services for his patients. He also teamed with Dayton Children's and Nationwide Hospital to track genes in patients across Ohio with autism. That research is making remarkable discoveries about what genes are involved and finding better treatment options.
Under his direction, the autism diagnostic center at Dayton Children's is taking shape. Right now, there are so many children in need of a screening for autism, it currently takes several months to get a diagnosis anywhere in the state. The goal of Dayton Children's autism diagnostic center will be to to provide quicker answers for parents of children under the age of five who have concerns about austim, as well as provide a centralized location for them to access information and research. Dr. Boreman is building the staff right now who will be able to realize this vision.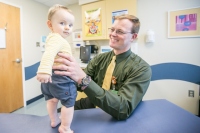 "The new autism diagnostic center will meet a growing need for timely and appropriate diagnosis, treatment and service provision for autism and other developmental issues," says Dr. Boreman. "Our vision is not restricted by the relative size of our city, rather we seek to be a leader in providing excellent care for children and families affected by autism as we work alongside our outstanding community partners."
Parents who have concerns about autism and their child should first visit their pediatrician. If the pediatrician shares those concerns, he or she can refer a child to Dayton Children's hospital for further evaluation.
For more information, contact:
Stacy Porter
Communications specialist
Phone: 937-641-3666
porters@childrensdayton.org