1/26/16news article
Dayton Children's donates cribs to St. Vincent de Paul shelter
partnership will provide safe place to sleep for babies in need
Today a truck full of cribs made its way from Dayton Children's hospital rooms to the family shelter rooms at St. Vincent de Paul.  The donation is a partnership between the two organizations to better serve Dayton-area children and families.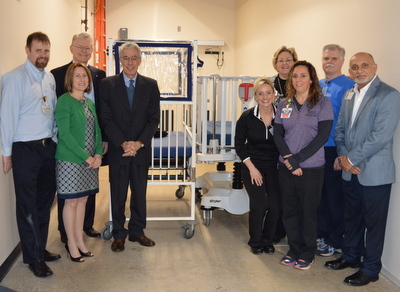 The idea for the donation was born on a recent volunteer visit by Dayton Children's leaders to the St. Vincent de Paul shelter. They noticed that the shelter did not have any cribs.  At that same time, they learned that the need had never been greater.  "The innocence of childhood is no protection against homelessness," says David Bohardt, executive director of St. Vincent de Paul.  "In 2015, St. Vincent de Paul housed more than 55 homeless children on an average night, reaching as high as 90 on any given night.  That's more than double the average of any year before." 
Leaders at Dayton Children's saw this as an opportunity to fulfill the hospital's mission – to improve the health status of all children, regardless of whether they ever set foot inside the hospital doors.  "These are our community's children," says Deborah Feldman, president and CEO of Dayton Children's.  "It is our responsibility and our privilege to take care of them. By providing these cribs, we not only make babies safer, we can teach parents about the principles of safe sleep – knowledge they will take with them long after they leave St. Vincent's."
As the hospital invests in a multimillion dollar campus renewal project, current cribs are replaced by those with more technological features to improve baby's care and safety while at Dayton Children's. "While at the end of their life from a health care perspective, the replaced cribs still can have a long life outside a clinical setting," says Matt Graybill, vice president of human resources and chief administrative officer. "By donating them to St. Vincent de Paul, we are guaranteeing that more babies in our community are sleeping safely – alone, on their back, in a crib."
The importance of safe sleep
Each year 4,500 unexpected infant deaths occur with research showing 80 to 90 percent of those deaths related to unsafe sleep practices. It's critical that parents follow the ABCs of safe sleep.
A – Alone. A baby should sleep alone. Never let your baby sleep with another child, adult or pet.
B – Back. A baby should sleep on his or her back – the safest position for a baby to sleep. Also, the baby should wear a one-piece sleeper to avoid other chances of suffocation or strangulation.
C – Crib. Do not allow your child to sleep on any other surface besides a crib.
For more information, contact: 
Stacy Porter 
Communications specialist 
Phone: 937-641-3666 
newsroom@childrensdayton.org