6/6/17news article
Dayton Children's officially opens new patient tower
Hospital's gift to the children of the community unveiled
Dayton Children's officially opens the new patient tower on June 5, 2017 with a special event revealing the hospital's gift to the children of the Dayton area.
In the middle of the hospital's main campus on Valley Street, the new 260,000-square-foot, eight-story patient tower rises above the existing hospital.  "Each space inside the new patient care tower was created to embody Dayton Children's unique patient care mission and to facilitate the delivery of world-class pediatric care," says Deborah Feldman, president and CEO. "Patients, families, physicians and staff all gave input to create an operationally efficient, supportive environment that includes a flexible and innovative technology infrastructure."
The design theme of the tower is "things that fly" to honor Dayton's rich aviation heritage and innovation in flight.  Visitors will notice themed elements the moment they cross the family-friendly lobby into the three-story atrium called the Take Flight Gallery.  Filled with light, color and whimsy, this space houses the Culinairy Kitchen full service cafeteria, the Up Cafe for grab-and-go food items and the Altitude gift shop.  Visitors will also notice the main design feature in the Take Flight Gallery is the Dragonflyer.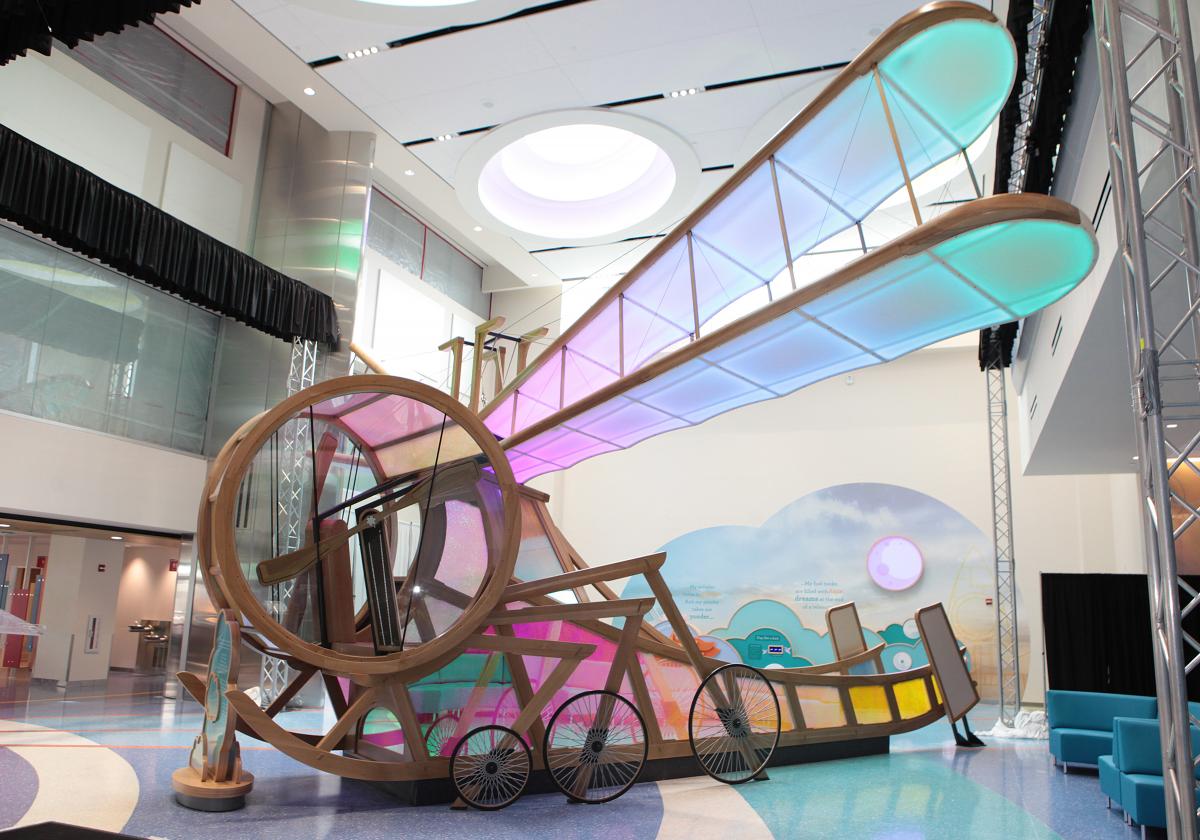 The Dragonflyer is a specially commissioned piece of art that is a play space for children as well as a place to imagine all the possibilities.  She began with an idea – an idea as big and bold as the blue sky above.  An idea to mash-up what is and what could be, only limited by the imagination of children. She combines the beauty of a dragonfly that skims over the green fields of Huffman Prairie and the daring spirit that launched two Daytonians on wings of canvas and wood from the very same spot.
While Dayton Children's serves this community's children, those children also provide the inspiration to soar higher, think bigger, dream fearlessly and hope that every heartbeat will bring an innovation to make life better.  So the Dragonflyer is a gift to them for supplying that vision. 
The new design also feature a children's garden with a fountain on the ground level, as well as a rooftop garden with a mosaic created by Dayton Children's patients, staff and partners. To make it easy for families to find their way, each floor has a designated number, color and playful icon, selected from things that fly, both man-made and those found in nature, such as hummingbirds or hot air balloons.
Key design elements of the new patient tower include:
Continuity of care - The new Comprehensive Cancer and Blood Disorders Center is a combined inpatient and outpatient unit and includes a pharmacy, infusion rooms for chemotherapy and an enhanced patient experience with dedicated child life specialists, indoor/outdoor play spaces, multiple space for family/patient interaction and a teen room.
Better outcomes – The Newborn Intensive Care Unit further enhances the commitment to family-centered and developmentally-sensitive care through single-family room design which has been proven to increase skin-to-skin contact, enhance success rates of breastfeeding, further reduce infection and noise, and increase privacy – ultimately creating better outcomes for the region's most fragile babies. The new NICU also has a dedicated milk lab.
Critical care technology – The critical care complex is a custom designed space to maximize efficiency and patient safety, while also providing more space for technology and family comfort for our most critically-ill and injured children in the pediatric intensive care unit and technology-dependent patients in our transitional care unit.
Optimal healing environment: Patients requiring an overnight stay will benefit from the enhanced general pediatrics inpatient unit which will feature larger single-family rooms, improved technology and upgraded family amenities.
Local investment
While Dayton Children's built a new patient tower, it was also important to build our community at the same time.  Local firms Danis Construction and Champlin Architecture worked with national architecture firm FKP which specializes in building children's hospitals. Spending on this project to date is 83 percent local with more than $101 million injected into the local economy and 506 people on the construction staff so far.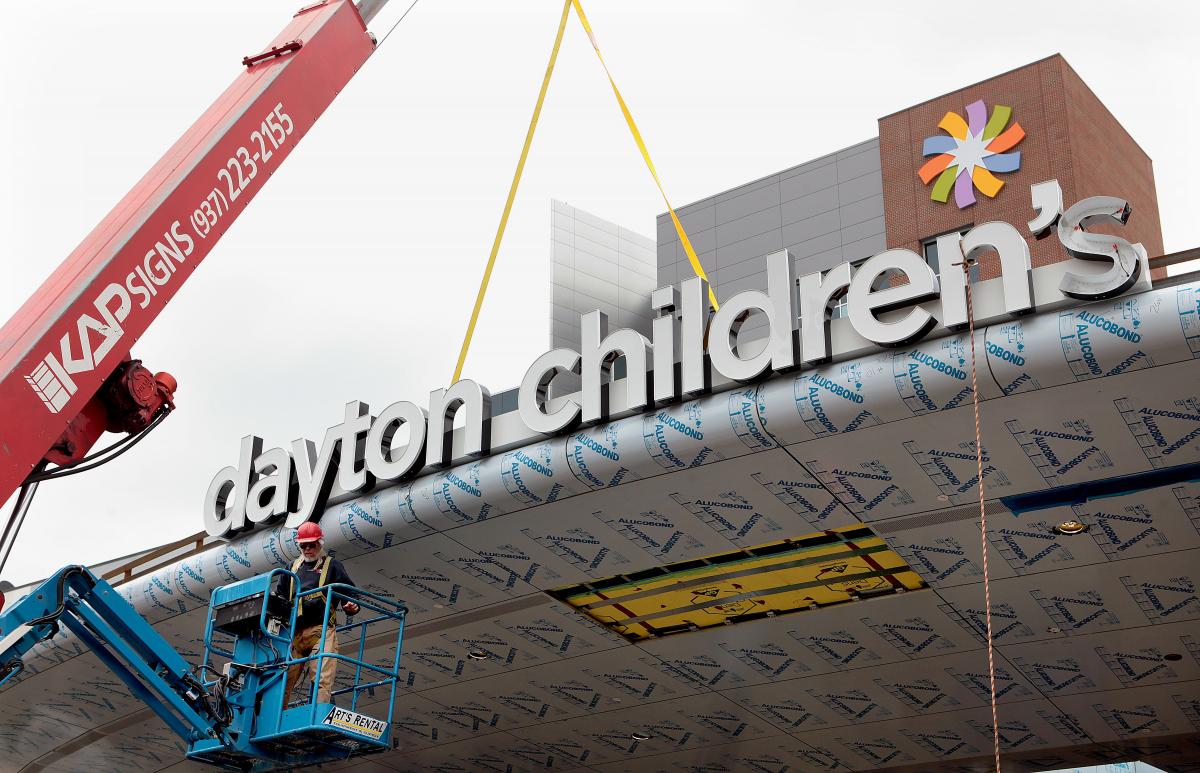 A look back on the building of our patient tower 
Join us on a journey as we look back on the construction of this 8-story patient care tower!.
Community support
But as always, this would not be possible without the unwavering support of the community.   The goal of the Reaching New Heights capital campaign was $25 million and as Dayton Children's officially opens the front doors of the patient tower, the community has graciously donated more than $27 million to the effort.  As a thank you to our generous and gracious community, the west side of the Take Flight Gallery showcases a beautiful donor wall that lists all those who contributed to the capital campaign. 
"There are miracles happening here at Dayton Children's and we need to get behind that effort," said Javan Conley.  Conley's son, Ethan, was treated at Dayton Children's and is the only person in the world to have survived a severe rare muscle virus.  "I look at my son as a miracle because he should be standing here today, but by the grace of God and the staff here at Dayton Children's, he is. After seeing these new spaces today, I look forward to the future miracles that I know will happen here – it's truly beautiful."
"Anything is possible," says Feldman.  "That is what we believe and that is what we want every family who comes through the doors of Dayton Children's to believe.  So as we reach one ending, a new beginning takes shape. We will keep our hopes and aspirations for our children and their families, always above the clouds, always reaching for the stars to ensure that the kids of the Dayton region have world class pediatric health care close to home. We could not be more excited to share this wonderful new patient tower. It is our gift to the children and families of Dayton demonstrating them that this is a community that puts kids first."
Community celebration
Dayton Children's invites the community to an open house in the patient tower on Sunday, June 11, 2017 from 1:00 pm to 4:00 pm.  Everyone is welcome to see the amazing spaces and hear the inspiring stories here.  They will also see how the hospital is partnering with community agencies to improve life for children even if they never set foot inside the hospital walls.