6/5/12blog post
the dangers of detergent pods
By Oakwood mom Amanda Hoying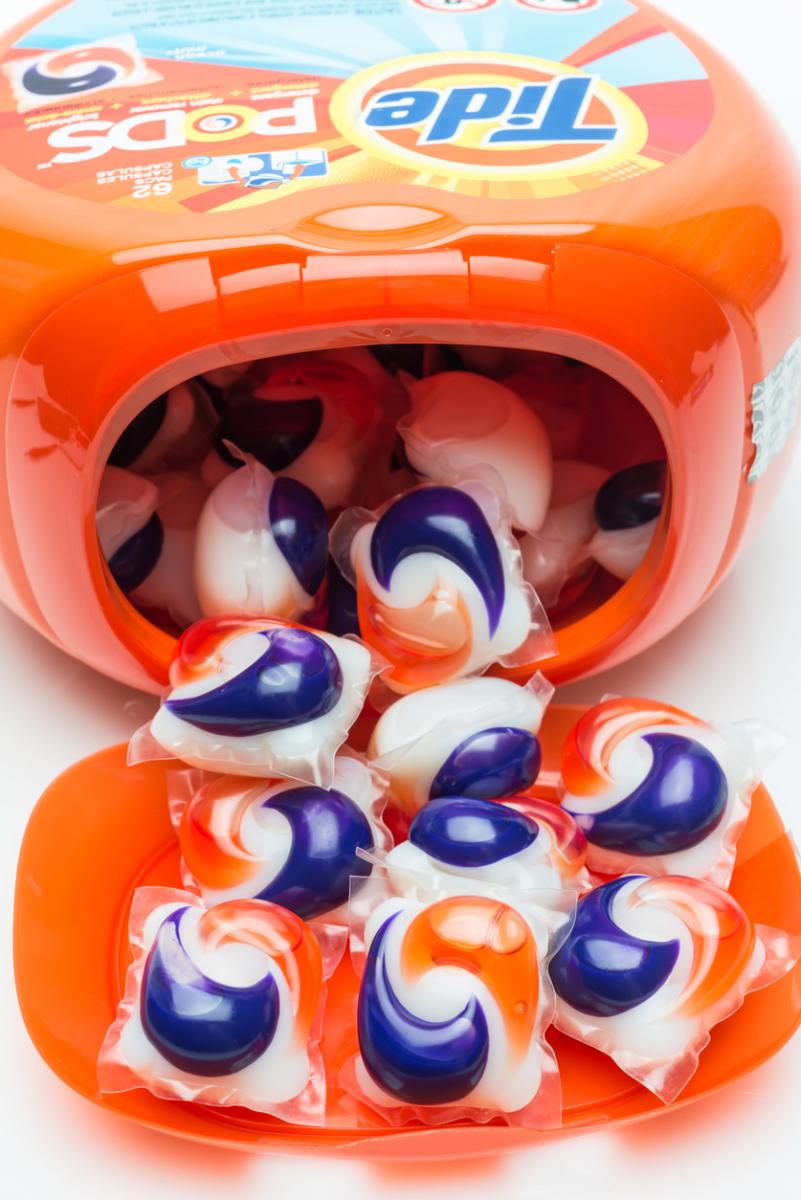 Two years ago, I made the decision to leave the classroom and become a full time mom. Little did I know what I challenge this was going to be! I envisioned days of arts and crafts, baking cookies, playing at the park, and lots of smiles and hugs with my then four year old daughter (Abby) and almost one year old daughter (Grace). For the most part, this was how our days were spent. What I wasn't prepared for was the whining before nap time, the tears over not sharing toys, or how much I really needed to baby-proof the house now that Grace was spending most of her days at home and was cruising around pretty well on her own.
The last part is key…the baby-proofing part – I couldn't do it fast enough. This is exactly how Grace ended up biting into a dish washing detergent pod one fateful day. Grace and I had just dropped off Abby at preschool. At this point, we had our routine down to a science. Or so I thought. I would put Grace on the floor in our living room with a pile of books and toys and then I would proceed to go work on laundry. This morning ritual had been going on for about two weeks. Apparently, two weeks of the same thing was too long for Grace.
Without my knowledge, she managed to get herself into the kitchen, pry open our door under our sink (yes, I didn't have a child lock on the door –now, there is a lock that will remain there until the girls go away to college!) and pull out a dishwasher detergent pod from the box.
This colorful, squishy object was very enticing for Grace. I can imagine her little eyes lighting up and a big smile growing on her face as she grabbed a hold of this toxic object. Like most almost one year olds, Grace was teething and liked to put everything in her mouth. So, of course, that's directly where the dishwasher detergent pod went.
About this time, I approached the kitchen carrying a laundry basket filled to the brim with clean clothes. I shrieked in horror as I saw blue goo all over my baby girl's face, clothes, and hands. Immediately, I threw down the basket and ran to her in a panic. I picked her up, put her firmly on the kitchen counter, and told her to open her mouth as I gently squeezed her checks to aid her in the process of opening her lips.
Nothing seemed to be inside her mouth, but since I hadn't seen exactly what happened, I reached for the box still in the cabinet. I quickly turned it over and saw the poison control number. Carrying Grace, I grabbed the phone and started dialing.
The lady from the poison control center could not have been more kind, calm, or reassuring. Her first question was how much I thought Grace ate. I told her I thought she just bit into it and then immediately pulled it back out of her mouth since the pod itself appeared to be intact, except for some of the contents that were now on Grace's hands, face, and shirt. She then told me to give Grace a few sips of water. After I did that, she asked how Grace seemed to be doing. I told her she was acting fine; she just seemed startled by my reaction.
I was then given instructions to watch her closely for the rest of the morning. If anything seemed to change, then I should either call her pediatrician or go to emergency room at Dayton Children's. The poison control lady explained that Grace's stomach may be unsettled but she really thought she would be okay. We hung up; I hugged Grace tightly, and then took her into her room to be changed.
An hour later, Grace was doing great and we were reading in her room when the phone rang. It was poison control to do a follow up call to make sure Grace was doing okay. I was so impressed with this service! They were extremely professional and caring. To this day, I cannot thank them enough.
So, two weeks into my new fulltime job as a mom, I learned several lessons. One, never leave your mobile baby by herself. Second, the baby-proofing of cabinets is essential. Last, laundry detergent pods are irresistible toxic treasures for babies! Hopefully, other moms will read this and realize the importance of storing all cleaning products out of reach from children.
Three quick safety tips from mommy safety blogger Jessica Saunders!
Make sure to childproof your home with door and cabinet locks. Pay particular attention to the bathroom and kitchen or anywhere else where more dangerous items may be stored.
Ensure all poisons are stored up high and away – ideally in a locked cabinet above eye level of curious toddlers.
Make sure you have the poison control number (1-800-222-1222) near every phone.
About the author:
Amanda Hoying is the mother of two who lives in Oakwood. She is a stay at home mom who loves instructing and choreographing at a local dance studio in the evenings. Amanda is involved with the Junior League of Dayton, Oakwood's Relay for Life, Boonshoft Children's Museum, MOMs of Oakwood, and Kettering Holiday at Home all of which are non-profit organizations. For personal "mommy time," Amanda trains and participates in half marathons.