5/15/20news article
cameo of caring nursing award winner
Allison Scott, RN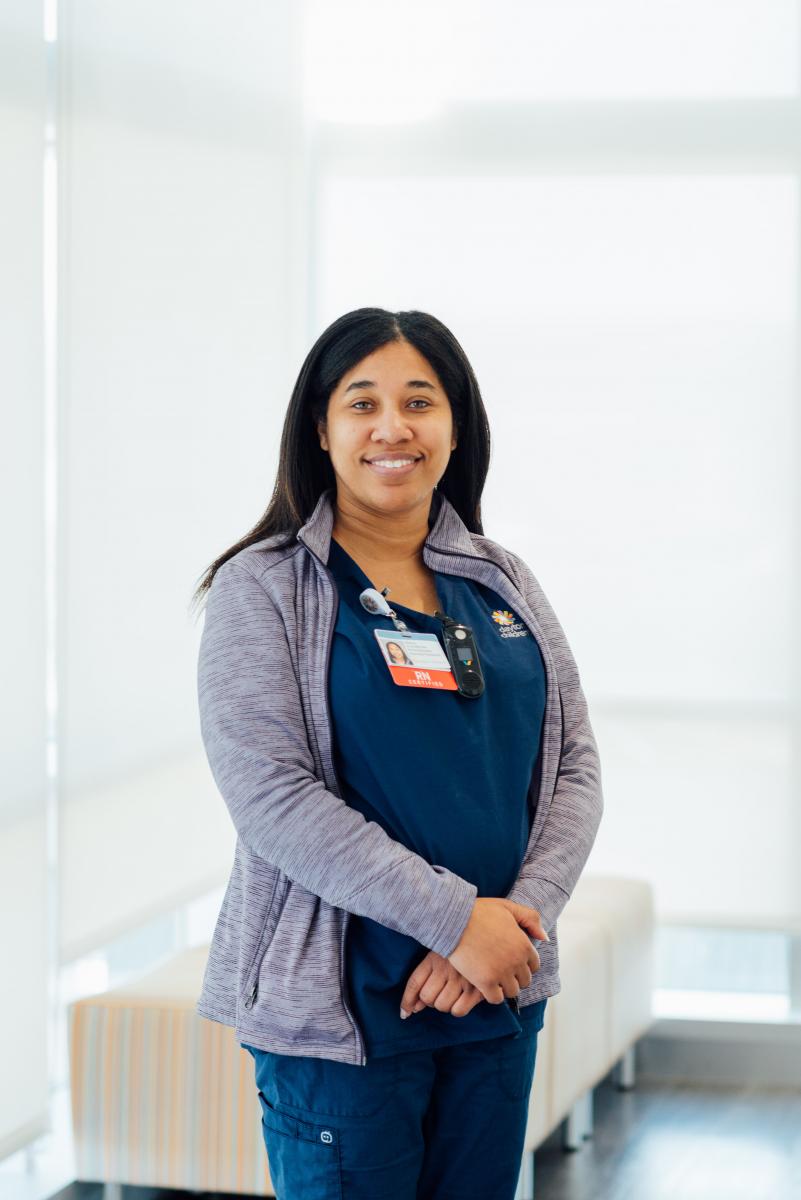 We love our nurses at Dayton Children's! Nurses week gives us a chance to honor those amazing caregivers that make a difference every single day in the lives of children, their families, co-workers and the community.
cameo of caring winner: Allison Scott, RN
Each year we choose one nurse to receive our top award, the Cameo of Caring. This year's winner is Allison Scott.
Allison's nomination:
Allison has many outstanding attributes. She is extremely passionate, and it shines through in everything she does. She is self-motivated in seeking opportunities to improve the care of our patients and families and elevating the practice of our internal teams. Her ability to assess and listen to the perspectives of others make her interactions deeply meaningful and insightful. 
Allison critically appraises situations and processes in a positive manner, and never hesitates to ask questions for clarification or make recommendations for process improvement. Allison has been with Dayton Children's for eight years. She started as a nurse extern, then a SNAP and nurse. 
As a bedside clinician, Allison's compassion for the patients and families she cares for is obvious. She far exceeds the needs of her patients and families on a continual basis. Allison progressed from novice to expert in a short time. Her attention to detail and her ability to assess, listen, absorb and respond appropriately in both low and high stress situations make her an exceptional caregiver. 
In addition to making sure that her patients and families are cared for, Allison has always made it a priority to assist her team. The natural ability she exhibits in assisting others and seamlessly educating them in the process has been apparent from the start of her career.
Five years into her career at Dayton Children's, Allison became the nurse educator for 3 west and 3 east, and most recently 3 west and tower 8. She is one of our certified pediatric nurses, and an amazing teacher and role model for our staff.
Allison was instrumental in assisting our GI providers to develop new processes and provide the nursing education for many of our GI procedures as we prepared to move into our specialized tower spaces. In addition to her work in providing education around PH studies and manometry for this specialty, she assisted in revamping the process for patients to have their enteral tubes replaced after hours.
Allison was also involved in developing and disseminating information around our standardized process for the care of our newly placed g-tubes. In addition to her unit level responsibilities, Allison has been extremely engaged organizationally with her commitment to our behavioral health population. She has dedicated herself to assisting with the planning, implementing and ongoing renewal of the care of these children within our organization in preparation for the opening of our inpatient behavioral health unit. 
Allison also serves as the current chair of the patient experience council. She is sought out by many throughout the organization for her professional knowledge and leadership skills as it relates to our areas. Allison also has a strong commitment to caring for the community. She recently completed her MSN with a focus in nursing education and has already started serving as a clinical instructor for one of our local universities. In addition, Allison has been an active volunteer with the Dayton Police Department and their outreach programs aimed at aiding at-risk children.
Allison is a transformational leader who naturally exudes a calm sense of strength all while exhibiting an overwhelming sense of humility. She is not easily flustered by situations that others might find stressful. Allison is a hard-working individual who is committed to doing what's right and going above and beyond in all of her interactions and commitments.  Her positivity, dedication and willingness to learn and grow, and her ability to collaborate make her a fantastic addition to any team and the perfect candidate for this great honor.