1/4/12blog post
baby it's cold in the car seat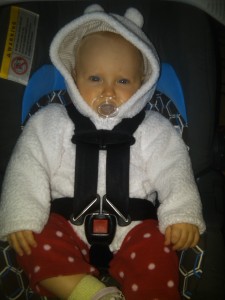 Winter has arrived and with it - at least for those of us in Ohio and the northern states - cold and blustery weather!
With the cold and the snow comes the challenge of keeping Mary warm in her car seat. Challenge you may ask...what about a coat? Well believe it or not a child's bulky winter jacket can interfere with the safety of a car seat! In some cases, the extra layer can make it hard to get the harness tight enough on your child. Here are a few tips to check if your child's winter coat is OK to use in a car seat:
Put the jacket on your child.
Buckle your child into the car seat.
Tighten the harness straps until you are not able to pinch any excess webbing.
Unbuckle, but don't loosen, the harness straps.
Take your child out of his or her jacket.
Buckle your child back into the car seat - but this time do not tighten the harness.
Check the harness for proper fit. Can you pinch any of the webbing? If you can, the jacket allows too much slack and isn't a safe option for keeping your little one warm. The same would hold true for snowsuits or buntings that you might have for littler ones.
What can you do if your jacket or snowsuit allows for too much slack? Here are some other safe options:
Have your child wear the jacket backwards! After you have secured your child in the car seat with the chest clip at armpit level and harness pulled snug, put your child's coat on backwards tucking the hood down inside and tuck the edges behind your child's arms. This way his or her front will be nice and warm but won't interfere with the car seat harness.
Use a bathrobe or poncho! A warm bathrobe, wearable blanket (Hello Snuggie) or poncho can be used. After securing your child in the car seat with the chest clip at armpit level and harness pulled snug, cover him or her up and tuck in the sides.
Choose wisely! Avoid using any products that are designed to line the car seat under the your child - most car seat manufacturers do not allow them.
Stay safe and warm this winter!