9/7/16news article
area partners renew their commitment to protecting kids from abuse
recommiting to Michael's House
Greene County leaders and area partners reaffirmed their commitment today to keeping children safe from abuse and neglect, by signing an interagency agreement to support Michael's House. Designated representatives from 21 agencies renewed their support of the child advocacy center and its unique approach to handling the most serious, complex cases in the community.
Located in Fairborn, Michael's House is one of three child advocacy centers in the area – the other two are CARE House in Montgomery County and the Child Advocacy Center of Warren County. Dedicated in December 2008, it is named in honor of Michael Mercurio, who passed away unexpectedly on July 4, 2007 at the age of 37.
"Michael devoted his life to improving the lives of others, particularly children, even when he was a child himself," says Elaine Mercurio, Michael's mother and co-founder of Michael's House. "He traveled to Romania every year to give dental care to children in orphanages. The partnership here and the dedication to making lives better for children is a fitting legacy for his name."
Michael's House provides a warm, welcoming, safe environment for children who have been abused to share their story one time with those who need to hear it – from police officers to prosecutors, from therapists to doctors. This protects children from telling what has happened to them multiple times, reducing further trauma.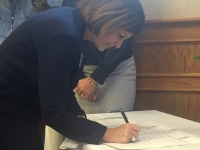 "For Dayton Children's, being a part of Michael's House means providing and supporting the medical and mental health experts who can give these children the best care possible, not just today, but in the future, in the hopes of a full and lasting recovery," says Deborah A. Feldman, president and CEO of Dayton Children's Hospital.
"Michael's House is a safe haven that allows children in Greene County who have been abused to begin the healing process immediately," said Ohio Attorney General Mike DeWine. "Michael's House provides the support children need from a variety of local agencies that are working together on the child's behalf."
"Children can quickly become overwhelmed by sharing all the sensitive and painful details with up to a dozen people in the justice system," says Stephen K. Haller, Greene County Prosecuting Attorney. "Michael's House removes those extra layers of abuse while preserving the details we need to get a conviction."
Interagency Agreement Community Partners:
Beavercreek Police Department
Bellbrook Police Department
Cedarville Police Department
Dayton Children's Hospital
Fairborn Police Department
Family and Children's First Council
Greene County Board of Developmental Disabilities
Greene County Children Services
Greene County Coroner's Office
Greene County Court Appointed Special Advocates
Greene County Juvenile Court
Greene County Prosecutor's Office
Greene County Sheriff's Office
Jamestown Police Department
Mental Health & Recovery Board of Clark, Greene and Madison Counties
Ohio State Highway Patrol – Xenia Patrol Post 29
Sugarcreek Township Police Department
TCN Behavioral Health Services
Wright State University Public Safety
Xenia Police Department
Yellow Springs Police Department
As a National Children's Alliance accredited center, Michael's House is designed, furnished and staffed to promote healing, featuring:
Specially equipped rooms for child forensic interviews

A playroom that safely accommodates a variety of age groups and reflects the cultural diversity of our community

A mock courtroom to help children feel more comfortable in upcoming trials

Offices for mental health treatment and a medical examination room

A state-of-the-art training room and comfortable, private meeting rooms

A living exhibit of fish and turtles to provide a relaxing distraction
Child abuse statistics
More than 1,100 reports of abuse and neglect come to Greene County Children Services.

Almost 3,000 children then receive services.

In 2015, 311,686 children were served in 795 child advocacy centers across the country.

Since opening, Michael's House has served nearly 1,100 of the most seriously abused children in Greene County.

96% of perpetrators are family members or are known to the child. (U.S. Department of Health & Human Services, 2012)

A child is abused every 36 seconds across the country. (Children's Defense Fund)

Every day, four children die from abuse or neglect in America. (Children's Defense Fund)
In Ohio, types of abuse are placed in six categories. The following chart shows unduplicated number of new reports in 2013 and the percentage of total reports they represent.
| | | |
| --- | --- | --- |
| Type of abuse | Children | Percentage |
| Physical abuse | 28, 817 | 29% |
| Neglect | 28,819 | 29% |
| Sexual abuse | 10,153 | 10% |
| Emotional maltreatment | 1,505 | 2% |
| Multiple allegations of abuse and neglect | 13,348 | 13% |
| Family in need of services/dependency/other | 17,541 | 18% |
| Total | 100,139 | 100% |
Public Children Services Association of Ohio Factbook, 12th Edition 2015-2016
For more information, contact:
Stacy Porter
Public relations manager
Phone: 937-641-3666
newsroom@childrensdayton.org