9/25/13blog post
are seat belts a hidden danger?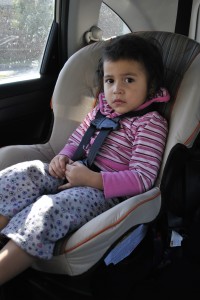 You've probably had it happen to you. You are driving, quickly stop and your seat belt "locks" into place, getting tighter and tighter, requiring you to unbuckle and rebuckle the seat belt.
Seat belts are designed to do this for safety. Unfortunately, this safety feature can be a danger to children.
As more and more car seats are installed using the Lower Anchors and Tethers for CHildren (LATCH) system, seat belts actually become a danger. When the seat belt is used to install a car seat into place it should be "locked" to ensure the car seat doesn't move. When the LATCH system is used, the seat belt hangs freely. (Remember, you install using one system, not both). Unfortunately, because these seat belts are hanging freely, children have been known to play with that seat belt (either in their own seating position or the one next to them). If the child is playing with the seat belt and it accidentally "locks," it can get tighter and tighter – in some cases causing strangulation if placed around the child's neck.
The easy fix: if you are installing your car seat using the LATCH system, first buckle the seat belt in behind the car seat, pull the seat belt all of the way out to "switch" it into the lock mode, feed the seat belt back into the "retractor" where is comes out of the seat or the car wall. You can then install the car seat using the LATCH system over this seat belt. In addition, use the same process for any seat belt adjacent to the car seat. Finally, teach kids never to play with seat belts – they aren't toys.