5/12/15blog post
8 tips to eat healthy while camping
Do you camp? A cabin is how far I go with camping. But, maybe this season we will glamp with a friend and her family who camp in their RV. Since I don't have firsthand experience with camping and cooking, I asked a co-worker and friend, Lauren, to share how she eats healthy while camping. Enjoy the read!
Shared by: Lauren Lavretsky: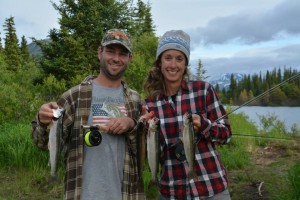 In the summer of 2014, I was lucky enough to enjoy multiple camping expeditions. July I had my first backpacking experience through the backcountry of Alaska. As a dietitian, while planning the 6 day backcountry adventure, one of my concerns was how I will be able to eat a varied diet (and good tasting food) with no refrigeration and carrying all my food on my back. I made it happen –all our meals on the trail included delicious dishes such as fish tacos (with fresh caught trout, avocado, and cucumber slaw), pesto chicken pasta (using preserved chicken pouches and "just add water" pesto mix), vegetarian chili, and even high protein pancakes with dried fruit. Yes, I did get some slack from my husband and friends for carrying in a few pounds of fresh fruit, but it was all worth it.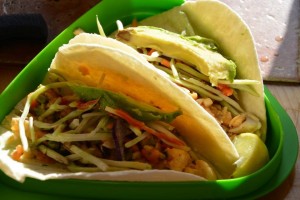 I understand this is the "extreme" of camping, but the point is, you can still eat healthy while participating in any sort of camping, whether staying in an RV, tent, or cabin. The last weekend in July, I did a more "glamping" trip with my family which entailed a combo RV/tent weekend at a campground on a lake in Northern California. This included the luxuries of a full kitchen, refrigerator, oven, multiple ice chests, small outdoor propane BBQ, and (most importantly) a shower!
The moral is, no matter how you are camping, it's still possible to eat a healthy, balanced diet. When preparing meals just think of MyPlate to create balanced, nutritious meals for you and the family. Include whole grains, fruits and/or vegetables, and a source of protein.
Here are 8 tips to help continue eating healthy while enjoying the great outdoors!
Bring fruits and vegetables that hold well at room temperature while whole and be creative.

Apples, bananas, oranges, and canned fruit in water/its own juice.
Avocado (can even mash and use as a sandwich/wrap spread)
There are many brands of "fruit pouches" on the market which include only pureed fruits/vegetable and hold at room temperature. Yes, these are marketed for children, but great for adults too!
If not worrying about carrying your food on your back, canned goods are easy and don't need to be kept cool!

If you have the luxury of an ice chest, keep it stocked full of ice, and keep Ziplocs of easy to grab fresh fruits and vegetables for snacks. (cut-up oranges, baby carrots, grapes, watermelon)
For breakfast, oatmeal is an easy, non-perishable, versatile, and filling breakfast. Add cinnamon and dried/fresh fruits (and/or even nuts of your choosing) with boiling water for a quick meal. Peanut butter is also a non-perishable protein source that is easy to pack and very versatile. Use it as a dip for fruit, or on a wrap/sandwich for a quick lunch.
Go to your local outdoor store or larger grocery stores. There are so many new items on the market today to aid with backcountry cooking. From miniature lightweight propane stoves, to your larger camping BBQ for those not having to carry their gear.

Also, companies such as Backpacker's Pantry, Mountain House, Coleman, and AlpineAire Foods have large lines of dehydrated meals including main courses, vegetable sides, and even (delicious) desserts that all you need to do is add boiling water! The sodium content is usually a little higher in these packaged items, so just be aware.

Live off the land! If you fish, the more power to you. If camping by water, you will usually have a whole lake of fresh fish at your fingertips (you just have to catch them first) to provide a lean, protein-packed meal. Catch the fish and cook right away, so you don't have to worry about refrigeration. Bring a few basic spices/seasonings to mix up the flavors.
Use your campfire as an oven. Wrap vegetables such as potatoes, sliced zucchini, squash, corn, fresh green beans, and onions, in foil, sprinkle with a little pepper/seasoning and put in the fire pit for maintenance (and dish) free cooking.
Bring easy snacks. Usually when camping the whole family is more active (all day long). Bring easy snacks such as fiber/protein packed bars, fruit pouches, and dried fruit and nuts for in between meals.
Stay hydrated!!! Bring plenty of water if driving, or have multiple methods of sanitizing your water if in a more remote location (water filter, UV sanitizing option, or sanitizing tablets).
And remember it's possible to continue eating the MyPlate way even when you aren't at home and in the middle of nowhere!!
Thank you, Lauren, for sharing your trip and tips with us! Lauren Lavretsky is one of Dayton Children's medical floor dietitians and the Employee Wellness dietitian.