12/16/14blog post
8 qualities of the REAL mother of the year
Have you ever…
… placed dirty socks on your child's feet because you just cannot manage to find a clean pair, even a clean pair that doesn't match.
… fed your child a yogurt parfait from McDonalds on the way to school because no one woke up early enough to have breakfast. I mean even if it was McDonalds, at least it was yogurt, right?
… used the excuse about no room in your car due to car seats to get out of your turn to car pool, when in reality you are just too embarrassed by the volume of food crumbs and other unknown particles collecting in the seat that you know will be seen once you have to move said car seats.
… hid in the cupboard or fridge pretending to look for something, so that you could stuff that cookie or brownie in your mouth because you know you would have to share if you were caught.
… pretended to go to the bathroom for #2, with the door locked, just to have a moment of peace to scroll through Facebook, or read one more page of your book, all the while tuning out the banging and yelling on the other side of the door.
… had the "special treat" of cereal and milk for dinner because you are just too tired to cook.
… or ordered a different pizza for the second time in one week, because pizza can have all 4 food groups, right?
… if you do not actually remember the last time your child has bathed, but they DID have swimming lessons yesterday and that kind of counts, I mean the chlorine cleans them off, right? And you have been warned not to OVER bathe them and dry their skin out more.
If you can relate to any of the scenarios above then you win my REAL Mother of the Year Award.
We all have our moments, days, weeks, even months where we are not at our best. Where, too late, we realize our child is taking a big drink from the sippy cup that you put milk in… yesterday… and all you can do is pray that they did not take enough of a drink to cause them to puke. I find that at this time of year the craziness seems to go up even a notch higher. Add to this the stress of runny noses and coughs that never seem to end. I challenge each of us, myself included, to give yourself a break, this time of year and any other time of the year you need it. Take my Real Mother of the Year award and cash it in for a moment of forgiveness and grace. I know that you are trying your best. More importantly your children know that you are trying your best. Thankfully your children were designed to be some of the most forgiving people on Earth. Be humbled by their unconditional love and take more than a moment to bask in their confidence in you.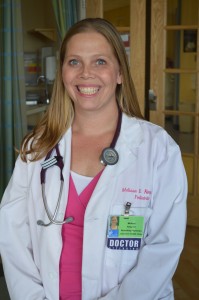 May God Bless each of you! Happy Holidays!
Take a moment to please share your "outstanding" moments and share some more holiday cheer that we can all relate to, we promise to love you anyway!!!
Dr. King is the medical director for urgent care at Dayton Children's and the mother of two kids. As part of the "Dr. Mom Sqaud," Dr. King blogs about her experiences as both as doctor and a mom and hopes to share insight to other parents on issues related to both parenting and kids health. Learn more about Dr. King.